Email Luke Essays Profiles Archives Search LF.net Luke Ford Profile Dennis Prager Jan 31
Jackson has children in his room for 'sleep-overs'
By Hugh Davies, Entertainment Correspondent (Filed: 04/02/2003)
Michael Jackson is still indulging in "sleep-overs" with children, despite his multi-million-dollar, out-of-court payment to the father of a boy nine years ago following allegations of sexual abuse. The singer was questioned about the pay-out to Jordan Chandler, 13, by Martin Bashir in a television documentary screened last night.
Bashir had assumed that the singer was now more cautious about his house guests but, to his "utter astonishment", he discovered in visiting Jackson on his Neverland ranch that children were still sleeping over, "sometimes in his house, sometimes in his bedroom".
One 12-year-old boy told him that he slept in the singer's bed. Jackson said of the night that he slept on the floor in a sleeping bag, feeling he was "four" not 44. "I see God in the face of children. And man, I just love being around them all the time."
The singer said that "very few" had actually stayed in his bed. Asked if he thought it appropriate conduct for a grown man, he replied: "Why can't you share your bed? The most loving thing to do, is to share your bed with someone.
"Yes, we have guest units but whenever kids come here they always want to stay with me. They say: 'Can I stay with you tonight?' So I go, 'If it's OK with your parents then yes you can'."
Bashir said he felt uneasy, thinking Jackson had an obsession with children. The singer said: "When you say bed, they make that sexual. It's not sexual. We're going to sleep.
"I tuck them in and put a little like, er, music on and when it's story time I read a book and we go to sleep with the fireplace on. I give them hot milk, you know. We have cookies. It's very charming. It's very sweet. It's what the whole world should do."
Maligned Reporter Nikki Finke Winning Her Suit At Every Turn
Cynthia Cotts writes in the Village Voice: Imagine an aggressive reporter interrogating Rupert Murdoch and Michael Eisner under oath, accusing them of unsavory attempts to control media coverage, including her own. This scenario is not a Hollywood fantasy. It's a reality that beckons to Nikki Finke and her lawyers.
Finke is the media and entertainment reporter whose stories about the Walt Disney Company got her fired by the New York Post, after which she sued Disney and the Post for $10 million. The odds that she will get her day in court have been increased by a California judge who recently rejected motions by both companies in which they claimed that her lawsuit threatened Disney's First Amendment rights.
Los Angeles Daily Journal reporter Garry Adams, who has followed the case from the start, told the Voice, "Disney and the Post failed to convince the judge that the case is about corporate free speech and not about firing a reporter for Mickey Mouse reasons. It's always possible that a case will settle, but this one looks like it will be hard-fought every step of the way."
Luke Finds No Comfort In The World Of Objects
I was inspired by David Poland's appearance on Michael Medved Friday and his Hot Button column today, Tuesday, to come out exclusively on David's site as a homosexual.
"There is no comfort, it seems, in the world of objects, and Clarissa fears that art, even the greatest of it (even Richard's three volumes of poetry and his single, unreadable novel), belong stubbornly to the world of objects." (The Hours, the book)
Jack writes: Won't your girlfriends be disappointed? Everyone would be happier if Jeffrey Wells came out... then they wouldn't have to worry about him creeping up behind them.
Chaim writes: Until you prove that this woman really exists, I don't know that any further commentary is warranted. So much of your correspondence seems to be pure fantasy.
Khunrum writes: Gentlemen I think we are beginning to define "Crapulance Journalism" as invented by our brother Luke Ford. Fact and fiction meld together...never let truth get in the way of a good story. Sure miss "what's her name" probably doesn't exist, but let's pretend she broke our boy's heart and go on to the next page.
Rob writes: This one's a keeper. She's smart. Tolerates your (multiple) idiosyncracies. Don't let a little thing like Jesus Christ being her Lord and Savior sour the deal.
Reclusive Record Producer Phil Spector Charged With Murder
Here's the website of the dead woman, Lana Clarkson: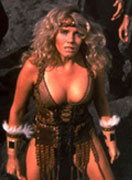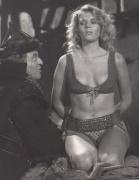 The website, livingdollproductions.com, includes this bio of Lana, who attended Pacific Union College Prepatory School, a key place of my youth:
Born in Southern California but raised in the beautiful hills of the Napa Valley, Lana is one of a rare breed, a California Native. After fate brought her back to Hollywood in her teens, she knew that she had to pursue her lifelong dream of becoming a performer.
Here's Lana in Cloverdale, California at age 11 riding bareback on her Strawberry Roan mare, Breeze. Her blond hair and legs already long!
Lana began working and studying at an early age to prepare for her ultimate vocation, that of an entertainer. Though she has studied with some of the best teachers the West Coast has to offer, Lana feels that her "on the job training" has been the most beneficial.
From her early television work in shows such as Three's Company and Happy Days or films such as Scarface and Fast Times at Ridgemont High, Lana was working with the best in the business, gaining invaluable knowledge and discipline.
She then began a long association with producer Roger Corman where she attended what she likes to call the "boot Camp" of filmmaking. She had the opportunity to make several films, working on location in foreign countries, playing her sword wielding character Barbarian Queen in the film series of the same name, a character Roger fondly calls "the original Xena."
Lana has gone on to guest star in over 50 television shows from Knightrider and Wings to Silk Stalkings and Black Scorpion and films such as Amazon Women on the Moon and Blind Date. She has recently been spending her time doing National Commercials creating comedic characters for companies such as Mercedes Benz, Playtex, Nike, Anheuser Busch and KMART. Working for the KMART Corporation, Lana makes personal appearances as the character she created for the Route 66 clothing campaign, Katie Earline Wilson.
Lana is a vintage movie fan and was inspired by blonde bombshell Marylin Monroe. She surrounds herself with Marylin memorablia. Whether acting, writing, singing or dancing, doing sketch and stand-up comedy or entertaining her clients at Project Angel Food, where she volunteers weekly, Lana has a unique gift for generating laughter wherever she goes. A firm believer that laughter is one of the healing forces of the planet, Lana hopes to bring her comedy to an ever-widening audience.
Cyclone Hitting Ford Family In Brisbane, Australia
My Mom writes: My web site is just being put on some search engines. I received the first submissions. We'll see what happens. Not much I expect.
Dad is well. He's 74. I bought him a star chart, but it was for last year, so back to the book shop.
Uncle Val is next door at the moment. LN [my sister] told him he could live next door, but he didn't take the bait.
Big cyclone going on. I was in the yard all afternoon getting soaked, planting 18 parsley plants, 12 tomato plants, 8 silverbeet, six bok choy, two basil, and one rosemary, and a few minor details. Planted part of LN's garden as she is not here. It's a wonderful opportunity while it's raining. Usually too hot and dry to plant anything.
I think [my brother] Paul is getting the brunt of this storm. He'll be glad as long as it doesn't knock his store over. It is re-forming out to sea (was ex-Benny) and could be here until the weekend. We really needed it, even here. Dry for over a month. We must be the last place in Aus without water restrictions.
I was going to college yesterday but it was put off till Easter. So good. Back to the correspondence class. I have only finished one tutorial. I may be finished by the year 3,000 at this rate.
Dad is calling LN. We hardly hear a peep these days. They are focused on mangoes!
What Was The Point Of My Arnold Kopelson Article?
Cyrus Miles writes: There must have been some point to the article about Kopelson, but I'm still trying to figure out what it was. You cobble together old interviews and stale quotes from other sources, toss in a few random observations, wedge in a one-line note saying Kopelson wouldn't talk to you, and then run that as a story on your website?
As with most of your articles, it's virtually impossible to tell what your opinion on Kopelson is--assuming you have one, that is. What starts out as a somewhat flattering article quickly turns into a bitter slam-fest, ending on a whiny note from someone who sounds like he has some unresolved issues.
So, Mr. Ford, please enlighten your readers, and let us know why you chose to write that article and what purpose you believe it might serve.
Khunrum writes: It was cut and paste Monday...
Fred writes: Not to be confused with cut and paste Tuesday or cut and paste Wednesday.
Rob writes: Nor "Wholesale Plagerize Chaim Thursday."
Helpful writes: Again accusations of "crapulence." Your audience is turning on you.
Khunrum writes: Just as Hunter Thompson allegedly invented Gonzo Journalism, Luke Ford may have given birth to "crapulence".
Luke says: Brother Miles, thank you for your inquiry. I must pray upon it. For now, I have no opinion on Arnold Kopelson or most of the people I write about. Human beings are way too complex for flip judgments. One thing I like about my internet site is that I don't have to come to conventional journalistic conclusions. I just gather information. I am but a humble servant of the truth, though a mentally and morally deranged one.
On second thought, I think the point of my article was to get chicks, to prove that despite the slings and arrows of outrageous fortune, I am still sexually desirable. Unfortunately, yours is the only email I've received on my Kopelson essay so far, and I assume you are not a chick. Not a hot-loooking young chick anyway.
Cyrus Miles replies: Mr. Ford: Thank you for your non-answer. I fail to see why "just gather[ing] information" is a worthwhile endeavor--especially when the "information" you claim to be gathering is months (or even years) old. Why publish the Kopelson story now? Did you just happen to come across an old notebook with some hastily scribbled notes from past interviews or something? What "truth" is to be found in that article? Isn't it instead filled with nothing more than spurious quotes from sullen individuals, with the exception of the "teddy bear" quote from an anonymous source?
What is the selection process for who you choose to profile and interview for your site? If you have no opinion on them, do you randomly choose them by throwing darts at a Jewish Daily Forward or a copy of Variety?
Luke replies: Dear Mr. Miles: How long have you been reading me? My Kopelson essay was par for the course with me. This is the way I've operated for six years on the net.
The Arnold Kopelson compilation was just a random act, triggered by reading Peter Bart's praise of him in an essay. I then did a search of lukeford.net for all mentions of Kopelson and put them together in a profile. Over time, the profile will build and become more coherent. I have dozens of profiles on my site. Some of them are coherent and some are not, as yet. They are all a work in progress. The web is different from writing for a newspaper, magazine, or book.
I'm interested in history as well as current events. I'm not like most reporters who only want to break news. Old news can be good news in my view.
My selection process: I'm gathering information for a book on producers. I seek feedback from people. To get it, I have to share information I've accumulated. From feedback I develop sources, correct errors, learn what readers are interested in. This helps me write a better book, be a better journalist, and a happier person. I'm insatiable for feedback.
I've found in life that people don't tend to take you seriously until you demonstrate you can effect them. I have asked all the major producers, very nicely and often, for interviews. Some have granted them and some have not. A purpose of lukeford.net is to remind those producers who did not grant me interviews that I can effect how they are viewed. The Kopelson essay, like the dozens like it on my site, are shout-outs for an interview.
My evaluating the producing abilities of Arnold Kopelson with my meager storehouse of knowledge about him and the industry is like asking an ant to evaluate an elephant.
I don't care if people slam Kopelson (or any subject I write about) or praise him so long as I believe such people are telling me what they honestly believe. I honestly believe that my quotes of various producers about Kopelson honestly reflect their beliefs. I did not not include any positive comments about Kopelson. I gathered every quote I had of him on my site. My cobbling together of various quotes about Kopelson is just an awkward first step on the way to what I hope will be an insightful profile that will end up in print one day. I've demonstrated what I can do with my Edgar Scherick and Cathy Seipp profiles, et al...
Are You Right With God?
I only publish the following missive to prove that the battle against bigotry is not yet won.
Fatima Muhamet, an Oxonian convert who has discovered Islam, writes: Why can't you write about something interesting for a change? Why not start interviewing administrative assistants for the skinny on what it is like to work for this or that great man.
I got this idea after seeing the documentary "Blind Spot". The cognazinti amongst my readers will know what this means.
I saw this great documentary, "Blind Spot," in which Adolf Hitler's secretary tells all. Apparently, he was a regular guy in lots of ways.
What is it with the Jews? They never seem to marry. Nobody is good enough for your kind. No wonder they are going to singles events when other ethnic groups are cheered by the arrival of their first grandchild!
Nothing pleases you jews - not the food you eat in restaurants, not the movies you see, and not the people you date. Especially the latter. And that is because you have a grossly exagerated sense of your worth in this world.
You know the truth of what I speak. You jews spend most of your time complaining and threatening to sue someone. Muslims do not complain, and muslims do not sue.
Ugh ..... the Lower Manhattan Development Corporation has narrowed its WTC choices down to two hideous plans that are the work of jews.
Jews suck as architects. They design like sniveling dorky accountants. I would bar the Juden from the profession.
This would be a better country if there were no jews allowed in architecture, law, or accounting. American jews are the absolute worst. The men should be castrated and the women forced to bear the children of Negroe prisoners.
Okay, maybe castration is too harsh. Maybe just deported to North Korea or Africa. The original WTC was the work of such Titan Christians as the Rockefeller Bros. Now they turn the site over to a bunch of jews, and what do you get? Sniveling, pathetic demonstrations of weakness before our enemies. No wonder nobody who does not fear lawyers fears the jew.
Khunrum writes: Luke, Ms. Muhamet brings up some interesting points. I for one would like to know why every city in American has a holocaust museum but nothing commemorating the Turkish slaughter of the Armenians (1915).
"WHO NOW remembers the Armenians?" Hitler asked, just before he embarked on the destruction of European Jewry... Who, I wonder, chooses which holocaust we should remember and which we should not? The six million Jews who were murdered by the Nazis must always have a place in our history, our memory, our fears. Never again.
But alas, the Armenians who perished in the rivers of southern Turkey, who were slaughtered in their tens of thousands in the deserts of northern Syria, whose wives and daughters were gang-raped and knifed to death by the gendarmerie and their Kurdish militiamen - they have no place in our memory or our history.
Could this be because unlike the Jewess, Armenian women have mustaches and are overall rather unattractive?
By the way, would you please ask Ms. Muhamet how she is celebrating black history month?
Producer Arnold Kopelson
Peter Bart writes in the 10/97 issue of GQ: "A decade ago, Arnold Kopelson wrote himself off as a failed, middle-aged lawyer. But the death of his first wife, combined with a series of disastrous investments, set Kopelson on a new course: reinventing himself as a showman. A succession of megamovies, such as The Fugitive and Eraser, earned him one of the richest producer deals in town at Twentieth Century Fox, where he, like his stars, earns a percentage of the gross of each movie in which he is involved. "Arnold is the most relentless negotiator and also the most decent human being in the business," says one Fox executive. "Only he could have negotiated his own deal here." Kopelson employs his intense negotiating skills in making deals for material and talent, but his relentlessness is cushioned by an almost childlike enthusiasm for his movies and the talent he mobilizes. "What sets him apart is that he's a teddy bear," says a top agent. "You have to love him even though he drives you crazy."
Producer Pierre David told me 7/12/02: "I was instrumental in Arnold Kopelson's career. When I first met him, around 1976, he was a lawyer in New York. He was doing tax deals. He brought in my 1981 movie Dirty Tricks.
"I was friendly with [Italian director] Sergio Leone. Sergio was upset at his American distributors. I told him that Arnold Kopelson would do well by him. I called Arnold."
Pierre: "Arnold, you know Sergio Leone?"
Arnold: "Who?"
Pierre: "Sergio Leone. He makes spaghetti westerns."
Arnold: "Oh yeah, I've heard of him."
Pierre: "You can have his next movie."
Arnold: "Why would I want a movie by an Italian?"
Pierre: "You don't understand. These movies have a following."
Arnold: "Yeah, well, it'll be my standard deal. Tell him..."
Pierre: "No, no, no. This is an enormous name. You have to go to Rome to sell yourself."
Arnold: "What? Me have to go sell myself?"
Pierre: "You have to go sell yourself and trust me, you can make a lot of money."
Pierre: "So Arnold borrowed the money to fly first class because Arnold would never fly economy. He went to Rome. He was impressed by Leone. Saw his work. And Arnold came back with the movie My name is Nobody. Arnold made a deal with Universal Pictures for US distribution. I distributed it in Canada. Arnold made $300,000 and he used that money to buy his present house on Sunset Blvd.
"I moved to Los Angeles May 1, 1983. Arnold sponsored me for my greencard. He asked me to be president of his production company. I put at least 20 projects into development. I left as Platoon went into production.
"I remember when I called agent Jeff Berg at ICM, who represented Oliver Stone, and asked for an option on Platoon for a few months, he said, you can have any option you want. Nobody has been able to put it together and you won't be able to. It's a waste of time.
"It had gone to every producer.
"Platoon came to Arnold's desk. He read it. I read it. I found a domestic distribution deal. It was not easy as everybody had already passed on it.
"I went to Barbara Boyle (head of production under Mike Medavoy at Orion), who agreed to read it. She changed her mind about it because of her kids. They asked her what she was reading. She said a really good script about the Vietnam war, but who wants to see that? Her kids said, mom, we talk about Vietnam in school. We ask questions. We're interested. That was a revelation. She came back Monday morning and said, let's do this. Pierre, my kids want to know about the Vietnam War. What if other kids want to know about the Vietnam War? We will make the movie. We will give you the money for US rights.
"That immediately triggered the sale of the foreign rights and Arnold went to make the movie. We then parted company."
Luke: "What ended your relationship with Arnold Kopelson?"
Pierre: "Egos. We liked each other but we didn't see eye to eye and it became better that we didn't work together."
Producer Chris Mankiewicz told me 5/20/02: "When I developed A Perfect Murder [1998], Arnold Kopelson was invited in on my project against my will by Warner Brothers. Arnold had a big deal with Warners and he didn't have many pictures [in production], so Warners brought him on to my movie. Arnold told me he didn't like the script. I asked him what he did like about it. He said, 'I love the title [based on the Alfred Hitchcock film Dial M For Murder].' I said, 'We can't use that original title. We're not making a remake.'
"I said to myself that this is insane. He looked around for something to find, and he looked for good titles. That's how deep it went. He never attended a single writers meeting during the entire development of the movie. As soon as the script was finished and we started looking for a director, it came time for him to strut his stuff. Suddenly he wanted to get involved. Suddenly his wife, Anne Kopelson, who I never even met, showed up in the credits as a producer. How bizarre! Gee, maybe I have a cousin that I could make a producer too."
Luke: "Has your wife ever shown up in the credits as a producer?"
Chris: "No. She has nothing to do with the film business, thank God."
Luke: "Tell me more about A Perfect Murder [1998]."
Chris: "It's not a happy subject. Arnold tried to package it with different combinations of mostly lowball talent.
"I've been a fan of Hitchcock material. I had a deal to develop projects at Warner Brothers. I thought that we should take one of his less successful movies, Dial M for Murder, which was shot as a 3-D stage play. It was made to get rid of a commitment [by Hitchcock] to Warner Brothers. Hitchock was anxious to move on to Universal where he had a good deal.
"Warners had bought the play, Dial M for Murder. Hitchcock made no bones of the fact that it wasn't one of his terrific movies. It was stagy and not cinematic. It was a one-set play. And because it was shot 3-D, you couldn't pan without strobe problems with the 3-D cameras.
"I'm against remaking masterpieces but I thought this was a good opportunity. So we tried with one writer and it didn't work. Kopelson came in. We found another writer, Pat Kelly, who became the writer of the final script. He came up with an interesting gimmick: The person who's supposed to commit the murder, is not a down and out acquaintance as in the original movie, but is the wife's lover.
"Kopelson's original idea when he came on to the project was to do a big action piece like The Fugitive [a terrific 1993 action film directed by Andy Davis]. Pat Kelly tried a couple of versions of that and it was just terrible.
"Warner Brothers doesn't make movies unless it has a star. We couldn't find anybody for our film. Arnold tried to cut me out of the packaging. I was happy to let him package it. That was something he should be able to do well. In fact, he didn't do it well. In fact, he didn't do it at all.
"On this movie, I was aced out by Arnold. I was kept on the sidelines. I wasn't on the set. He said, don't worry. You'll get your credit. You'll get your money. But let Arnold take care of this. And the picture was pretty good and did fairly well.
"The only thing that pissed me off was that Arnold Kopelson moved in on my project and never once in the history of this picture ever asked me to lunch or dinner or to have a drink with me, much less send me a gift Mercedes. 'Here, this is a present from me to you. Thank you for not minding that I barged in on your picture. The guy has no class. I'm sure he's done this before. He has a famous saying around town. 'Movie projects are like subway cars. There's always another one coming down the track.' That says a lot about his attitude to individual movies. He's a salesman and he just wants the action. The condition of the subway car doesn't interest him much.
"My bete noire [dark knight] Arnold Kopelson did this movie Outbreak [1995]. I know because I was developing another picture at Warner Brothers at that time with the same executive who was in charge of Outbreak. They had a two-guy writing team [Laurence Dworet and Robert Roy Pool] do the basic script. And they brought on board Dustin Hoffman who said that he'd like Elaine May to rewrite the movie for a million dollars. They refused. But they said ok to Carrie Fisher for $750,000.
"She rewrote the script. The studio was not happy. They went off to Hawaii to make the movie. They brought back the original writers. Then the director, Wolfgang Petersen, thinks of himself as a writer. So he rewrote the script. And in the mornings, before shooting, they'd all get together and have a paste-up. And each person had been rewriting the night before... And they'd take a third of a page of this script and a line from that script and they'd put it together like a jigsaw puzzle. As a young man, I went through that on the 1963 movie Cleopatra, that my father directed. There the scenes were written the night before. And what was going on was an absolute template on how not to make a movie.
"And this confusion is mirrored in the studio's willingness to give producers credits to anyone. Instead of giving someone a half a million dollars, they give a credit. And writers feel defensive because their work is changed. Star actors will sign on to a project and say, 'Oh, my character would never say these lines.' And these practically illiterate actors will become the writers. And the producers who've spent years developing the dialogue, that all gets chucked out the window. The lunatics have taken over the asylum.
"There were different sets of writers working on The Fugitive while it was shooting in Chicago. One person said to me that Andy Davis is the luckiest director in history that it all worked out. That picture should've been a total mess yet it came together. A producer today can only be a referee and try to stop people from killing each other.
"Today's big producers are mini studio heads mainly interested in the deal. When there were fights on Outbreak, Kopelson was nowhere to be found. The last thing a producer wants to do is to say to Dustin Hoffman, 'You're wrong.' Because maybe next year he needs Dustin Hoffman for a movie. A producer doesn't want to be here when there's trouble. I just want to be here when the TV cameras are here and I can show them that I am in charge.
"This line producer who just did Don't Say a Word, which Arnold Kopelson produced, said to me, 'What kind of producer are you? Are you like Kopelson? Do you only show up when the star is there? Or are you going to be there everyday.' His point is that Kopelson ain't there except when he can show off to the big star. Such producers like to ingratiate themselves with the power, which is the movie stars. At all cost, they must stay in good with the movie stars, because those are the people who will get movies made."
[Arnold Kopelson did not answer my interview request.]
Director David Fincher said in an interview: "Michael De Luca [former President and Chief Operating Officer of New Line Productions] went to the mat for Se7en. When we needed 18 more days to reshoot on Se7en and Phyllis Carlyle [producer of Se7en] was saying, "We need to fire this guy. He's a music video guy. He doesn't know what he's doing. We need to redo the ending. The head can't be in the box." When all that shit was going on, Mike De Luca was watching my back."
Producer-manager Phyllis Carlyle tells me: "That is not true. I did not try to fire David Fincher. I think almost all of us thought that the head in the box was too much. Arnold Kopelson wanted to change the ending. He walked around saying, 'I'm not making a f---ing picture with a woman's head in a box.'
"Brad [Pitt] did change the ending. The shooting draft had Morgan [Freeman] pulling the trigger. And Brad argued strenuously with David that his character should do it.
"When a movie does what Se7en did, you keep quiet. Everyone was right and we did it perfectly.
"I had so many arguments over the years with people on how to do Se7en. Paramount had this list of changes. I said, 'Why don't you do those things with the ten movies you've already got?' I went outside of the system completely to revive this project. New Line eventually financed the film. They called Arnold Kopelson in to help produce. Arnold is a complex guy. One part of him is a big teddy bear that will take care of the world. And then there's this other side of that is ego and has a hard time sharing any credit."
Producer Fred Kuehnert told me 2/27/02: "I entered the film business from a background in venture capital and real estate. In the mid seventies, the US tax code made it attractive to invest in film. I became the point person for my company. We packaged several films for the tax shelter market. During this time, I met Ed Cohen at a New York screening room. Because I was from Texas, he naturally assumed that I would be a good hit to raise money for his Buddy Holly film. A former agent, it would be the first film he'd produced.
"Ed worked with Arnold Kopelson at the time. And when Ed sealed his deal with me, it was at Arnold Kopelson's wedding, an elegant extravagent affair. You don't throw parties like that in Texas. Arnold was at a law firm at the time. I'd just helped finance a picture through Arnold, Out of Season [1975], starring Cliff Robertson, Vanessa Redgrave and Susan St. George.
"I've tried to act The Player role but it just doesn't work for me. My attorney Norman Rudman always tells me that I'm too nice and that is not a compliment in this town. This is not a business where the top producers like to help people. It's cut-throat. For example, I always return calls, even when I probably shouldn't. But if you were to take a successful producer like Arnold Kopelson, if you are not on his list, it is unlikely that you will ever get through to him.
"Arnold Kopelson read the father-son script I wrote, called me and said, 'You should stop all this other shit you're doing and concentrate on this project. Because if it works, it is going to establish you.' That's easy for him to say. He probably makes a $2 million a year salary while I have to pay the rent each month."
I read on Weaselsearch.com about journalist John Connolly's lawsuit against his former research assistant Hariette Surovell who sold his manuscript on Ken Starr: The Insane Clown Posse.
From Weaselsearch.com: We have obtained documents and other material that make it clear why Drudge and his right-wing pals wanted Connolly's book to never see the light of day. There is information in that book that proves that the people who went after President Clinton, and it could well be argued that he did deserve what he got, were as bad or worse as Clinton when it came to honesty and integrity. The book also raises very serious questions which go the very heart of Watergate Prosecutor Kenneth Starr's sworn testimony as to how he learned of Linda Tripp's tape recordings of Monica Lewinsky.
We have also learned that the supposed "Right-wing conspiracy" theory espoused by Senator Hillary Clinton may or may not have been a reality, but they certainly circled the wagons and went on a jihad to stop Connolly's book. A source who formerly worked at Talk magazine and who has asked for anonymity told Weaselsearch, "Contemporaneous with the attack by Drudge and Coulter, we received a very threatening letter from an attorney representing Richard Porter. He was one of Ken Starr's law partners and also one of the so-called "elves" who had kept the Paula Jones lawsuit alive for four years until they could finally bring Clinton down. We also had a call from someone at the Wall Street Journal asking if John Fund was to be in the book. Anyone with a brain would have know that this was a concerted plan to kill the book."
XXX says: John Connolly (not the novelist) has used Weaselsearch.com before to get information out.
Ken Auletta in his New Yorker profile of Harvey Weinstein says Harvey set Connolly up with a book deal with Talk Miramax books when it looked like Connolly was going to profile Weinstein for Premiere magazine. Yes, John had pitched Premiere but they were never going to allow an attack dog like Connolly to profile their friend Harvey Weinstein.
That whole Ken Starr book was a set-up. Talk editor Tina Brown called him in. 'Look, we want you to be a writer for Talk Miramax books.' John pitched this book, 'Murder on Staten Island.' They said, 'Great, but there's another book we want you to write.' And Talk Miramax, big Democrat Party supporters, assigned Connolly to go after Ken Starr, knowing it was never going to be published, but as a political exercise to do a hatchet-job on Starr and company.
When Talk dropped the book, Connolly said, 'Big deal. I never wanted to write it anyway.' He wanted to get going on his other book. So he took the $100k advance and went on his way.
Stop The Sobbing
XXX: It is time for you to stop all of your sobbing
XXX: Yes it is time for you to stop all of your sobbing.
XXX: There's one thing you gotta do to make me still write for you
XXX: Gotta stop all that sobbing
XXX: It is time for you to laugh instead of crying.
XXX: Yes its time for you to laugh so keep on trying.....
XXX: Just testing my typing while listening to the Pretenders
How are lukeford.net readers observing Black History Month?
David Poland On Michael Medved Show
Why am I more obsessed with Poland than Adolt Hitler was?
Talkshow host Michael Medved (www.michaelmedved.com) had his critic David Poland on his nationally syndicated radio show Friday from 1-2PM PST.
Medved had written a column in the USA Today attacking film critics for elitism and other foibles. Poland struck back.
Do I really think that my piece is representative of what David said on Medved? It's representative of the portion I taped. I don't have a complete tape or transcript. I tried to grab what was interesting.
Michael: "There is a certain amount of agenda-pushing by many critics when it comes to movies of gay interest, like Far From Heaven."
David: "I walked out of the theater [in Toronto]... I liked the movie. Rex Reed came out of the theater and said, 'That may be the best movie of all time.' There is a passion for Far From Heaven among gay critics that is not as intense among heterosexual critics."
Michael: "The movie is about Julianne Moore and Dennis Quaid living in a picture-perfect Connecticutt suburb in the 1950s. They have a perfect life until she finds out her husband is really gay...who ends up running away with a pretty blond boy. She comes to terms with it through the help of her friendship with her African-American gardener.
"It's at best a two-and-a-half star movie... When that film is chosen as the number one movie of 2002, it indicates an agenda."
David: "I don't believe in such things. Critics are idiots as a rule. Self-serving, self-indulgent people who are willing to give an opinion every day of the week."
Michael: "If a film is too popular, it will be disregarded by the critics."
David: "Absolutely. We see films before everyone else. These judgments are made before the pictures are seen by any. Then everybody feels like they have to defend them. A picture like WE WERE SOLDIERS got bashed early on as a conservative-agenda movie."
Michael: "One of my best movies of the year. You and I can think of many films put down as conservative. Can we think of any film put down as too liberal?"
David: "There are people putting down movies like THE HOURS because there is a gay-underpinning to it."
Jeffrey Wells phones: "I wanted to congratulate the critics throughout the nation of not identifying the true nature and subject of THE HOURS, and thereby allowing the universal truths of that film to come through for all our gay brothers and sisters."
David: "Jeffrey...is obsessed with THE HOURS being a gay-agenda movie."
Jeff: "Critics have failed to do, because they want to be universalized and not thought of as homophobic, they are not talking about the actual content."
Michael: "I disliked THE HOURS because it promoted suicide. It was a movie about the love of death."
Caller: "I left homosexual perversion 20 years ago..."
David proceeds to kick the guy around for homophobia before explaining: "I am not gay. I am a heterosexual.
"It's like saying THE PIANIST is a Jewish agenda movie."
Michael: "It is. There is an overemphasis on Holocaust movies while Hollywood has ignored the greater holocaust of Stalin, the greatest mass murderer in history."
David: "There is a stronger thread of anger and rage by liberals at conservatives in this city than the other way round."
Michael: "It's getting tiresome to have one screechy preachy pro-gay movie after another win critical awards."
David: "Nothing happens in a vacuum. Most film critics are more liberal than conservative. All opinions should be valued. Our job is to see the work and give our opinion."
LessThan666 writes David's site www.theHot Button.com: I think the lesson is that critics bring all kinds of baggage to their opinions, just as we all do. Apparently Michael Medved and Jeffrey Wells aren't comfortable with gay-themed films not only receiving critical accolades this year, but also (and presumably at this point) finding popularity with members of the Academy. Fine. But to suggest that these films are promoting a "gay agenda" is absolutely ridiculous. Yes, The Hours and Far From Heaven were made by gay filmmakers and, yes, they deal with gay subject matter, but what, exactly, is "the agenda"? Is either film promoting homosexuality as a lifestyle? I don't think so. The reason both films have succeeded is that they transcend the particulars of their stories. The Hours is a story about three women who are lonely in their lives and trying to figure out why. Far From Heaven is about the race/class/gen I used to enjoy Jeffrey Wells, but I'm beginning to wonder. A couple of chick flicks take the lead in the Oscar race and all he does is whine. As for Michael Medved, the less said the better."
Stone writes: Hey, This is one of my favorite quotes from The Hours (the book): THESE DAYS, CLARISSA BELIEVES, YOU MEASURE PEOPLE FIRST BY THEIR KINDNESS AND THEIR CAPACITY FOR DEVOTION. YOU GET TIRED, SOMETIMES, OF WIT AND INTELLECT; EVERYBODY'S LITTLE DISPLAY OF GENIUS.
Dennis Prager Considers Running For U.S. Senate
From Drudge Report: The dearth of clear Republican frontrunners to challenge California Sen. Barbara Boxer (D) in 2004 has prompted several wild-card candidates to consider making the race, ROLL CALL is reporting.
Conservative radio talk-show host Dennis Prager is now pondering a bid! His popular radio program has been a fixture on Southern California airwaves for 20 years, and has been nationally syndicated since 1999. His main focuses are Judaism and moral issues, and his official biography features a quote from Buzz magazine calling him 'one of the 10 most powerful people in Los Angeles.
But Prager is not the only talk-show host pondering a Senate run. In an unsourced item, United Press International's Capital Comment column reported last week that Michael Reagan, son of former President Ronald Reagan, "may be considering a bid."
Nutter Film Critics
Jeffrey Wells writes: I'm trying to cook up a piece about "nutter" film critics -- i.e., those whose tastes you've come to regard as so esoteric and peculiar and beyond-the-pale....or so conventional and flaccid and flat-footed -- that hearing them rave about a certain film makes you think right away, "Well, I guess I won't see that one" or, at the least, has you saying to yourself, "Uh-oh." Or, conversely, hearing them talk about how much they despise this or that film leads you to wonder and say to yourself, "Hmmm, this could be interesting or even good. If Blankey-blank hates it, it can't be all bad."
I'm looking for names of critics, your nominations for all-time nutters (you're allowed to include people like Larry King and Liz Smith, if you want), an explanation why you've found their opinions to be looney or mundane or whatever, and instances in which after reading an impassioned rave or pan from this critic, you saw the film yourself and had a much different reaction.
'Who knows, perhaps one day, he'll make us all famous'
Al Pacino, as Michael Corleone, The Godfather Part III
Ron writes: My first take on Luke Ford has not really changed all that much over the years, which is that he seems like a nice enough guy who just happens to be a little naïve and uninformed. But it takes years to develop the skills of looking naïve and uninformed when you're definitely not, and Luke's not that old. In fact, he looks young and handsome enough to get the attention of any girl in the business that he feels like talking to. Then when he gets them talking, they tend to tell him s--- that they probably wouldn't tell their mothers and certainly not guys like myself.
Khunrum comments: Actually Luke the article falls way short. There is nothing in here that suggests the deep spiritual path you have been on these many years. The writer, however, touches briefly on your continuing crusade that enrages the smut merchants of society but endears you to right-thinking people all over the globe. The wounds that Jesus received are nothing compared to the ongoing battle you wage daily in the interest of decency and fair play. Keep up the good work Luke. I am proud to call you...................friend.
Keep up the good work....while others wallow in the mire of debauchery and misery, you are on the path of truth and justice and just got a nice raise to boot.
Rishawn Biddle writes: INTERESTING CHOICE OF WORDS: Apparently former porn reporter Luke Ford--now one of L.A.'s most savage media profilers--can't get away from using old industry terms. Like "fluff" for example. Check out his choice words ["fluff job"] for one writer's recent front-page story. And yes, she's female.
Will This be a Holiday in Saudi Arabia?
Chaim Amalek writes: I have no doubt that the Saracen from New Jersey to Pakistan is cheered by the loss of the Columbia. He must take particular delight that among the dead is another Jewish astronaut, and one who helped slow down Iraq's march to nuclear weaponry at that.
But what of you, oh liberal Hollywood Jew? What will you do once news of the Saracen's good cheer reaches your ears? Will you content yourself to plug them with cotton, or will you send forth your lawyers to demand censorship (in the name of "sensitivity" and "tolerance", of course) so that others will not hear of this either?
Black Rapper Too Short Loves His White Hos
Why do many Jews hate me when all the blacks I know love me like a brother?
"Because Jews are a pushy, irritating, grasping race, with sharp elbows and even sharper business practices to match," explains Chaim Amalek. "Really, it is bred into the genes (which you happen not to possess). Now the negro, on the other hand, is - assuming he is not sticking you up with a gun or raping your wife, sister, or girlfriend - much more mellow. Being more secure in his sexuality (on account of his giant-sized penis), there is much less anger within him. Give him a white man's smile and some white women, and he is as happy as a German in Paris."
Khunrum writes: "Luke, I have noticed that you are very careful not to insult blacks in your column. If you were any nicer in your interview with Tony Eveready we would have thought you were queer. That is because you do not want some pissed off black goon bashing your face into pulp, which he will do in a moment's notice."
One of the saddest things in my lifetime has been the growing animosity between blacks and Jews. Thus, when I heard today that two Jewish brothers in San Diego, Darren (D$) and Kevin Blatt (KB), had made an internet marketing deal with black rapper Too Short, I wanted to celebrate. So I listened to D$'s internet radio interview with Too Short and friends Friday afternoon and looked for ways our two communities could get closer together.
Aly (English-accent) says on the D$ show how much Too Short likes his white girl whores and how much he enjoys calling women "bitches" and having them fetch things for him at his whim. To the thirty plus members of the chatroom, "pimp" is a complimentary term.
Somebody under the name "DUC" interrupted the chatroom, making racially incendiary remarks until he was booted by Darren Blatt aka D$. It was not me. I was always kind and sensitive in all of my remarks.
Aly: "Too Short was sitting there. He likes his light-skinned hos. The girl says, 'It's getting cold.' So Too Short says, 'Why don't you go to the car and get my jacket?'
"I think, that's nice. The girl goes to the car, gets his jacket, brings it back, and puts it on him. And he says, 'That's better. Thanks bitch.'"
D$ chuckles. "That's pretty funny."
Aly: "It was funny. A surreal reality."
D$: "It's not that disrespectful if the girl knows her place in the relationship."
Aly: "It's consensual." [Therefore, it's ok to call women bitches and knock them around.]
D$: "Him calling them a bitch is his way of saying he loves and cares for them."
D$ calls up Too Short: D$: "What's up, man? We've been hyping up this X-rated project with you. Welcome to the industry."
TS: "I'm Too Short, the X-rated rapper. I've been making records since 1985. From the beginning, I was in Oakland with explicit lyrics. I've just got a dirty mind like most of us. Too Short has always been like a lot of guys' alter ego. You wish you could just go up [to women and say], 'Hey bitch, ---- my ----. I'm a player. I'm a pimp. Keep me down.' I just put that on records.
"I've heard guys say they like to get a girl in a car and put on some Too Short. They may not be able to talk sh-- to her, but they will play Too Short. Just the whole sex and humor and fun of it has always been what I'm about.
"In my personal life, I've always been a fan of ----. I like to write my songs so that when you listen to my songs you're able to picture a ----- in your mind."
D$: "When you started out rapping, you were just true to the game of rap. When did you realize that what you were doing was mainstream?"
TS: "I got in the studio in the mid-eighties, I was boldly told that I could not say a curse word on records. I should keep everything clean. I finally got out to venture out with my own company, Dangerous Music, in 1987 and the first thing I did was [obscene] rap. The first song I did was Freaky Tales.
"I'm just trying to further my career. If you would've had a hidden camera on me since I first went on tour with NWA in 1989, it would be one big -----. I regularly have [too obscene to describe] and I'm just sitting there smoking some weed and just watching and kickin' and not even joining in.
"Sometimes I just wake up in the morning and the woman next to me is so beautiful - how did I end up in these shoes? Blessings on top of blessings."
D$: "Where do you want to go with this?"
TS: "I just want to be known as a guy who is seriously business-minded and put himself into the industry as a plus, and not just as a tagalong. I've been Too Short all these years. There's no other rapper who's put out more records than me. That's just the same work ethic I want to bring into the industry. I want to keep it real pimpin', which has always been my foundation."
D$: "I think my brother and I are good internet pimps - we know how to get a deal done. Connecting with you, I find a parallel universe between the adult webmaster communities and a true-to-life pimp.
"It's so fun to work with you on this because as you start recognizing other game out there, other game will recognize you back. There's overwhelming support for you now [among webmasters]. People are dying to hook you up."
TS: "Our objective from the beginning is to present the game properly. 'Game' is just another terminology for knowledge. I will trade you some of my game for some of your game. If you send me a bitch, I'll send you a bitch."
D$ chuckles: "That's a marriage made in heaven. Let's do these little parties where we get the girls over and maybe get some music industry friends to mix it up with ---- chicks. Let's do photoshoots right there at the party. Bring release forms everybody. You're cool with that?"
Cecile duBois writes: "A Modern Orthodox Jew (convert obviously, since the average Orthodox would not even dare interview or even converse with rappers), interviewing black rappers whose main vocabulary is f***, and S***, combined together with occasional English words to describe their love life. Ford just wanted to know about their careers, not being offered dope every other minute and bragged about how many girls they screwed. Even Eminem would be more interesting, he uses his language more cleverly especially since he has a daughter and reconciled with his wife. God, rappers like Too Short, even if they come from the ghetto, need to know how to do an interview!"
I had a chance the other day to sit down with some inner-city black men (Wesley and Country) to find out what was on their heart. It turned out to be attractive young white women.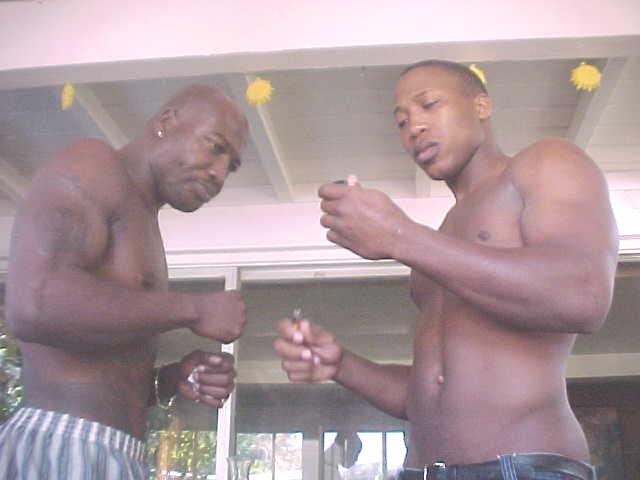 Wesley and Country.
I showed up at 9:45 AM to a house in North Hollywood for my sensitivity training.
I walk in and meet two black men - Wesley P8pes (pronounced 'Pipes') and Country (who spells his name in an obscene way that I've whitened to make more socially acceptable) who smoke marijuana from a pipe. They're first cousins from Mississippi who now live in Crenshaw (LA black ghetto).
Luke: "Hi, I write an internet column."
Country: "You smoking?" He offers me a toke on the pipe. I say no thanks.
Luke: "Is it ok if I take a picture?"
Wesley: "Yeah, but take my best side. I had a bad breakfast." He has a scratch on his face. Wesley coughs after taking a toke on the peace pipe.
"Some of the cats... COUGH, COUGH, COUGH... Some of the people I was looking at weren't like bling bling... One of the cats wasn't pleasing to me. One day, I was like, I can do that better than that. That's how Wesley P8pes got into the industry."
Luke: "Was it a childhood dream?"
Wesley: "No. I'm from the ghetto man. I was looking at some of these videos and the sh-- was not turning me on. I don't hear the guy saying sh--. I don't hear the girl saying sh--. Wesley P8pes is the wild one.
"I don't want to same the names of the videos I was watching because then the cats will be coming to me..."
Luke : "Why don't you work for Westcoast anymore?"

Wesley: "Not enough money, man. They ain't giving me my props. Those are deep issues.
"I brought my cousin down here, Country."
Country: "I've been here in three-and-a-half months. I've lived in Mississippi my whole life."
Wesley: "I was born in Mississippi and raised in California. So I'm a [Southern] gentleman plus I'm Cali slick. I was raised near San Pedro, on the East side [of Los Angeles]. Very f------- ghetto.
"Then I had to take a little vacation for ten years. I got back out and this is where I'm at now."
Luke: "How was your vacation?"
Wesley: "It wasn't nice. I've been through a lot. I went where airey boy goes to camp. Camp Snoopy, you know what I'm saying. The penitentiary or the 'pent.' Incarcerated. Whatever you want to call it. I was a bad boy."
Luke: "What did you do?"
Wesley: "Slanging drugs. Cocaine. Marijuana. I'm doing way better now than I was when I was selling drugs."
The black men I meet alway seem happy so long as there's plenty of white box around, as well as a paycheck and some dope to smoke. They're far nicer to me than my own people. They like to sing and dance and speak in a rhyming slang. They have big smiles with flashy white teeth.
Wesley has a .45 pistol tattooed to his side.
Luke: "How did you get busted for drugs?"
Wesley: "Wow. Wow. It was so big man. It was a ring man. An informant infiltrated the team, went back and bam. It took me ten years to get my act together."
Donna Marie, a white English girl from Nottingham, north of London, walks in.
White Bill: "Don't you boys be looking."
Wesley: "I love my white girls. I love my white girls. Ohmigod."
Luke: "Do you prefer doing black girls or white girls?"
Wesley: "I prefer doing white girls any motherf------ time of the day. I like my black girls. Sh--. I've been fu------ them all my life, you know what I'm saying? There's just something different when you have a white girl. They're a little more nasty. They're a little more open-minded."
Country aahs in agreement.
Wesley: "If you took ten ordinary white girls and ten ordinary black girls, the white girls will be doing something way more nasty."
Country chuckles in agreement. He says Donna speaks like Austin Powers. She sits beside us. It's her third trip to the US, second in two months. Country and Wesley hug her.
Country: "Nice pretty little warm..."
Donna: "Ahh, such a gentleman, aren't you? Can I pinch some of your green [marijuana pipe]?"
Country speaks in an imitative British working class accent: "You can have some of my green. Would you like some English tea?"
Donna: "No thank you. "My first time [trip to the US] was a disaster because there were all these big blacks. I had to go home. I couldn't take it. I didn't want no more money."
Country and Wesley cough after taking a toke from their peace pipe. Donna refuses any more. I don't want any. Country says I look like James Bond in "Die Another Day."
Country: "And you get all the p---- man."
Wesley: "You can play all day."
Country again offers me a toke on his peace pipe.
Luke: "No thank you."
Wesley: "Of course not. You're not going to pass my sh-- to the motherf----- man. He'd get f----- up and he couldn't ask his questions."
Country and Wesley are blood cousins.
Luke to Country: "Did you ever take a long vacation?'
Country: "Oh shoot. Yeah. I went for three-and-a-half years. Cocaine possession. I was selling it. Sh--. I feel Wesley's pain. Ten years.
"I'm looking at the kids coming up now. Sh--. They're f----- up now. This generation of kids coming up now."
Luke: "A lot of them are going to jail?"
Country: "Oh yeah man. Sh--. Sh--. I was a little knucklehead. A young mo-------- who didn't give a f---. Went wild, doing anything. Sh--."
Country: "I just came here [to LA] for three days and then f--- it, man, I'm staying. Sh--. I stay in Hawthorne. I'm from the ghetto. I see Mexican gangs...
"My all time favorite movie is Last Man Standing. Bruce Willis. You could pass for him too. You sure you're not a movie star, man?
"I like doing this sh--. I'm going to be honest about it. I'm going to play all day anyway. If my bitch don't f--- anyway, why not hussle? I like all girls. I won't be satisfied until I hit every race."
Luke: "Does it help you bond with your cousin to work together?"
Country: "Yeah man, we be kicking it every day. We stay with each other. That's my man, P8."
It's a chilly 60 degrees and Donna's shivering. I have on a sweater and a leather jacket. Rob walks in. The room is full of pot smoke.
Rob: "We're in the pot-smoking section? No, I don't smoke."
Country: "You are falling back into your laid-back kickback mode. You've got to kickback now."
Three people are smoking cigarettes and the rest seem to be toking on marijuana. Donna says she started smoking at age nine.
Luke: "Is it true that women who smoke are more likely to be promiscuous?"
Donna: "I suppose so."
Gary: "It's generational. Back in the old days, when smoking was a male thing... They showed they were more daring. Now it's such a common thing."
Ron: "That used to be a reasonable approach because smoking went with drinking. Even the most promiscuous women today are so health conscious. If anything, sexual promiscuity is a diversion from the stress of not smoking."
Luke to Silvio: "How come ----- hasn't hired you? Is it because you're a black man?"
Silvio, black male: "I don't know."
Rob: "You're on this black man kick again, are you?"
Luke: "Why isn't there more upper-middle-class story-oriented black features?"
Rob: "I had two black men in [certain movie]."
Luke: "But you kill them all."
Rob: "I only killed two of them. I shot them."
Luke: "Why do you kill all your black men?"
Rob: "I didn't kill the girl. She was the hottest black girl I've ever seen."
Luke: "Are you implying that most black girls aren't hot, Rob?"
Ron: "You're on a roll today."
Rob: "Luke, I'll take you to Watts. I'll tie you to a tree and yell 'nigger!' I went to Watts to buy a barbecue. Four black guys asked me what I was doing there. I love those guys. I sent them movies and everything."
Wesley smokes the dope pipe and goes into a coughing fit.
Wesley to Country: "That's some good sh--."
Ron, about 60 year-old white guy: "My son taught me that if you're not choking, you're not smoking. He offered me a hit of his marijuana one day.
"He came over to pick up the first statute he ever won for Best Ethnic Series in 1997. He's cool about it. But he was at my doorstep like that. He lights up his pipe in front of me. I take a hit on it and I start choking. And he said, 'If you're not choking, you're not smoking.' And he gives me another hit. And I start coughing. And he said, 'You're not getting off without that cough.' I don't remember what happened after that."
It seems like the whole room is filled with marijuana smoke and smoking hacking coughing happy people.
Tony, a black male around 34 years of age, went to jail on a warrant in Mariposa, Arizona a few months ago.
Tony: "It was a failure to appear warrant here in California. I was in jail for nine days."
Tony prefers to represent white girls unless the black girls are "real pretty and do ----." He books them into independent clubs around the nation.
"I go to the clubs every now and again. The girls pay $40-50 a night to the club, to the DJ and floor man. Here [in California] they have to give up half the money they make all night. So if she makes $300 a night, she only takes home $150."
Luke: "Are these clubs controlled by the Mafia?"
Tony shakes his head. "I'm black, man. I'm not Italian. I think only clubs in New York and Chicago are like that.
"It ain't my job to follow any money trail. That's for damn sure."
Luke Got Mail, A Long Time Ago, And On Another Website
Music critic J.D. Considine writes in 1999: "Although given the spelling skill of your other posters -- "irresponcible"? "pashion"? -- it's unlikely most readers would notice the difference. I'd be more willing to forgive Linda Thoren for her knee-slappers ("Linda Thoren: The biggest problen with Luke's site is that he publish anonymones sources. People in the biz uses him to get even. It can destroy a carrier." Destroy a carrier? What are you, Luke, a torpedo?) were I not aware that English has been compulsory in Swedish schools since the '40s. Of course, all porn actresses were all diligent students in their youth, right?"
JD writes 1/31/03: "Mr. Ford -- Given the age of the email from me excerpted on your current page, shouldn't the header read, "Luke Got Mail, A Long Time Ago"?"
Lord Peter Luther Christian writes: "Dear Mr. Ford: Might I suggest that, in lieu of the usual bottle of wine that you send your correspondents for Christmas, you instead send a good dictionary? Judging from some of the woeful prose that has appeared on your site of late, a good dictionary would be a godsend. Also, in looking with such unblinking eyes upon the illiteracy of these young (and not-so-young) women, are you not guilty of the very crime for which the dark-skinned son of Noah was condemned when he looked with glee upon his father's drunken shame? I suggest that in the name of Christian charity, you correct these persons' spelling and grammar before publishing their missives. Or are you guilty of the sin of sloth as well?"
Matt Weitz writes: Dear Mr. Ford: As a longtime reader of your site, I have admired the energy you pour into this exercise in self-creation.
Although it lacks the pizazz of your porn days, the site is still entertaining in the "train wreck" manner an earlier correspondent pointed out, and your efforts to make Mommy and Daddy cry by turning to Judaism are engagingly bizarre.
Lately, however, your site has been more a-brim with bullshit than a barn. I am referring in particular to the music biz essay by Tiffany "I was having an iced blended mocha at Coffee Bean and Tea Leaf in Beverly Hills" Stone.
Please don't get me wrong -- as a freelance writer who never took a J-school course in my life, I have a lot of empathy for your position. It is, however, equally true as a music writer of over a decade's experience I must note that this essay is about as full of shit as it could be without mentioning Nazi military installations on the moon.
Personally, I doubt Ms. Stone's existence, as her use of English is of Luke Ford-quality crapulence. "Cognoscente" is an actual word, but here the word would be "cognizant." What, pray tell, is a "linier" (linear, perhaps?) music biz person? One who moves in a straight line? Through time and/or space? Through the word salad of Luke Ford?
Ms. Stone is in her 20s and she thinks of Moby as "new?" Where'd she grow up, in a cave?
This could be attributed to an ergot-infused batch of lentils were it not just another installment in an almost-exultant series of phrase manglings ("running the gambit") and bad spellings (your recent item on the supposed racism behind The Two Towers managed to spell almost every character's name incorrectly). Don't you realize that if you can't spell Smeagol or Gollum, nobody's going to care what you think of them? That the inability to present words in their proper form indicates a corresponding shallowness of thought?
Having a website, "working on (or even publishing) a book," and interviewing people doesn't make you a journalist any more than dressing a rhesus monkey in a tuxedo makes him the conductor of an orchestra. You gotta have the chops. So get them.
Good Luck, Matt Weitz
P.S.: The news that you do fact checking for others is very, very scary.
Khunrum writes: Just another jealous Hebrew.
Tiffany Stone replies: "I have never heard of that guy. I know who a large percentage of the top music journalists are..I was friends with a few of the top-top ones when I lived in NYC..writers can be so funny. I would never take the time to write a letter like that. I like that my comedic writing style can infuriate someone so much. That's great... Your site wasn't the Wall Street Journal last time I checked.
"He was right about Moby being older/around for a while. Most musicians have been making music for years.... However, Moby is in his 30's...the music he makes these days is very progressive.
"Okay, I made the connection. The editor at moviepoopshoot, Chris Ryall, reviews music sometimes for The Dallas Observor. They apparently contacted him at some point because they had seen his music writing for someone else and really liked it. Matt must know Chris and read your post about me being copied. I read some of Matt's writing and it is very average. Ah, there was an emotional reason for him writing that letter. I am not impressed anymore..."
Antonio Silva writes: "I do wonder if you master sarcasm, otherwise I would like to welcome you to our century. My dear Mr. Ford, you do our species grave disservice with your ostensibly conservative opinions."
Noted Music critic Marc W. writes: "Ach, who cares? If you provided footnotes to all the LF.net readers regarding who Miss Stone actually is, he wouldn't be quibbling, would he?"
Luke says: Yeah, if this Matt Weitz actually took a gander at her, he wouldn't care about her grammar and spelling. So long as she can communicate, "---- -- ------", who cares? Grammar and spelling and fact-checking are for nerds. They're overrated qualities in a woman. So long as a girl can cook and clean...
Khunrum writes: It is good to hear the occasional line from not-so-young Wiesblott as he rarely answers the E mail I send him (now and then) And that was after I defended him when he was exiled by Luke (Jewish guilt Marc) The good news which I read today is the new World Trade Center Buildings will be taller than the ones which were destroyed by the evil ragheads. The plans I saw of the two finalists looked inspiring indeed. The article noted however that it may be difficult to find people to work in these structures. Will they be paying hazardous duty wages I wonder?
Matt Weitz writes Friday afternoon: I was gladdened by the gracious tone of your reply, as it meant that you correctly gleaned the friendly nature of my advice and abuse. To have elicited a response from the mighty Amalek was just icing on the cake.
In response to your queries: I am a freelance writer who is lucky enough to work for a major daily, where I write about music, movies, and religion (mostly). While I find them interesting, I do not keep a blog, as it strikes me as much work for little return.
As far as Mr. A.'s allegation of self-hating Jewishness on my part: While a machinist's mate in the US Navy (roughly, 1920s - 40s), my grandfather truly "saw the world." Whenever he would see our name (or some variation like Weiss, Weitzel, etc.) on a sign or in a shop window, he would investigate. Almost without exception those names belonged to Jewish folk from Eastern Europe or Western Russia (We trace the family back to the long-ago, since-dismembered country of Austria-Hungary slightly before the 20th Century, then things get pretty iffy).
By the time I drew my first breath, however, the family was Lutheran. The dynamics of this change are unknown.
As far as the spelling issue goes, your site is such a cross-referenced hell-broth of pen names, real people and alternate identities that responsibility for the matter is hard to address. Of course, this is one of the things that makes the internet -- and your site -- such an interesting (and exasperating) thing.
Someone Put Luke on Cribs!
Chaim Amalek writes: This email from you makes no sense at all. You asked not-so-young Marc for his thoughts, then paste in a letter from some self-hating jew named Matt Weiss?
Now, concerning his comments regarding spelling, it needs to be pointed out that LUKE WILL OFTEN CORRUPT THE SPELLING AND SINTAX OF WHAT OTHERS SUBMIT TO HIM JUST TO MAKE THEM LOOK BAD AND MAKE LUKE LOOK SMARTER THAN HE REALLY IS. I know this for a fact, as I never use improper spelling, even when speaking of characters in Lord of the Rings. Congratulations on the big money you are making. When you gonna get yourself on "Cribs"?
A Jew Without Money is as a Viper Without Fangs
Chaim Amalek writes: To test the validity of his argument, I suggest you reprint my comments, but this time use the correct spelling of the character names.
PS Is this guy Weitz Jewish, and does he have any serious money? If the answer is "yes and no," then we need pay him no further heed.
PPS Where you really have let down the ball in recent months is in neglecting to reprint some of the essays appearing on the National Alliance website. The Juden who read your site would do well to read that one as well.
PPPS Okay, this is not for publication, but the truth is that as an editor, Luke Ford really sucks. Now when do I get to see what this mischelung Tiffany Stone looks like?
Dithering replies: This is the traditional preprogrammed theme you clowns recite when posters express unflattering opinions of your associates.
Let's discuss these girls you assert he, and by inference we, "dream" about. How many of these girls you think we "dream" about are honors graduates of Bryn Mawr, Radcliffe, Wellesley, Mount Holyoke, or Barnard, like some of our wives, sisters, and mothers? Huh? (I just named five of the Seven Sister Colleges. You name the other two, Champ.)
How many of these girls you think we "dream" about are the polished, accomplished daughters of affluent, prominent families? Speak up, I can barely hear you. How many of these girls you think we "dream" about are drop-outs, drug abusers, and mind-numbingly self-destructive and shortsighted in thinking through life and career choices? Say what?
How many of these girls you think we "dream" about are functional illiterates, unable to compose and submit simple letters to electronic bulletin boards using proper punctuation, syntax, and spelling?
How many of these girls you think we "dream" about are considered abject and humiliating failures by their own families, and subsequently become estranged from their blood relatives?
How many of these girls you think we "dream" about gladly attend family reunions, with proud, beaming parents?
How many of these girls you think we "dream" about fake their own death to boost sales of fan-club merchandise?
How many of these girls you think we "dream" about pitifully show grade or high school spelling bee trophies to a reporter to "prove" her aptitude? How's that for self-confidence?
How many of these girls you think we "dream" about sport more paint than the Sistine Chapel, enough metal affixed to their bodies to set off airport metal detectors, and cement-filled breasts the size of basketballs, all of which immediately identify them as sex-industry workers. Yes, my "dream" girls.
How many of these girls you think we "dream" about ultimately attract and marry men who are physicians, corporate-finance attorneys, investment bankers, portfolio managers, venture capitalists, genetic researchers, self-employed entrepreneurs, management consultants, academicians, nationally-known politicians, or senior executives of publicly-traded companies; men whose sustainable incomes are six, seven, and eight figures, with the social status that income confers.
Instead of the eleven sample occupations I mentioned, let's explore this issue from a different direction: How many of these "dream" girls instead establish relationships with seemingly criminally-inclined, equally undereducated and semi-literate "pimps," who send menacing emails to anonymous Usenet posters who criticize the slattern they "rent" out to other men? Starting to enjoy this post yet, cuckold?
Now, I'm sure some sweet, sensitive industry actress reads this post and feels insulted by comments she construes as hurtful. So be it. But you hanger-on goons are the root cause of sometimes blistering remarks in this forum by chanting this "Don't you wish you could have these women" or "You are jealous" or "You envy our lifestyles" nonsense. The answer is no.
Sadly, there is a contingent of chaps who seemingly fumble when it comes to real-life women, or who lack social standing, graces, income, or whatever to woo high-echelon females. Ask Darwin how that works.
Your industry is not composed of "dream" girls except to a certain echelon of men. Your industry is not anyone's fantasy, beyond a small group of mooks like the leach who attached himself to Brandy Alexandre and eventually humiliated himself to the Usenet community. Maybe punks like that envy you people. But rest assured that type is the polor opposite of many others.
Your industry is one of manipulation, misrepresentation and duplicity to consumers, exploitation, abuse, bad-faith and treacherous business dealings, degradation, disease, and ruining lives and reputations of confused young women who are quickly tossed into the rubbish heap after being triple-penetrated for the thirty-third time on-camera. And you honestly believe someone like Voyager is jealous of dolts like Randy West? Take another hit off the crack pipe. Sucking that glass clearly enhances your critical thinking skills.
These are generally self-destructive, untrustworthy and confused young women, often from troubled homes, who could have chosen community college and/or secretarial school given their reasonable looks. The subsequent career of office jobs would preclude welfare as an option and provided access to prospective white-collar mates (like high-income bosses). They instead choose the short-term rewards of using their pussy as a per-transaction income source for the short duration their physical looks provide that option. And then what? The value systems and personal qualities of women like this are not women I covet. But to a lovelorn mook, they are "special," aren't they?
You can fawn and idolize pariahs and estranged misfits if you choose. Other people have the exact opposite world view. Upscale, overeducated, overachieving, pretty women, from good homes, are my "dream" girls. Kiss my f ass if my "dream" girls are unavailable to you, and, as such, you believe others must embrace your downmarket fops.
Sadly, your feelings are hurt. Don't worry, there are many mooks, lap-dogs, and slavering fan-boys, like yourself, who are currently offended. There are also many readers who are grateful that someone submitted a cold-eyed, accurate description of on-camera females to this newsgroup to offset the malignant stupidity of the bottom-feeders and the industry pimps looking to exploit them. The danger of pandering to the lowest common denominator is everyone is pulled into the gutter they inhabit, like a vortex. Sorry Slick, that will not happen.
Bianca Trump writes: Ok so I'll start by saying I indeed don't know how to post perfectly but I'm doing my best. Where should I even start? First I'd like to thank the 100's of fans who emailed me to apologize for certain idiots behavior and show they're support. I truly appreciate it. So since obviously more love me than hate me, I'll return.
But from this post on I won't be acknowledging any flames. So if you want to be hostile pick on someone else. I'm going to start with what pissed me off and go from there.hopefully when i'm finished no one will have anything left to talk about.
I do not have a gost writer. Someone commented on my grammar, spelling, etc. at times.I'm not the greatest at any of this. I just don't always push the spell check button. Call me lazy. But, I'll be sure to do it this time.
About one certain idiot [Luke Ford] that posted my real name. (you know who you are) I just really wish he didn't do that. I'm not embarrassed or ashamed of who i really am. I just think it would be nice if people stuck to what I give them. That being Bianca.
It's very hard for us performers to have a personal life.I enjoy mine and don't approve of people spying in my personal life.
My second point about it is that I know you've all heard of some of the sick weirdo stalkers performers have had to deal with at times. Need the have immediate access to pertinent information like that? Obviously they aren't sane enough to dig real deep to get it.
Ok' the arrest. Yes I was arrested. So what. No i didn't do it. I went to court and was found not guilty by a jury of 6. I choose to live in a state where i'm going to be exploited beyond a fair limit for anything I'm accused of. may i remind you of Kathy Willits. Florida is tough but I love the weather. Just because the client was some crazed crack head that was offended that I wouldn't stay and entertain him I took the butt of the blame. I suppose no one ever heard about the hundreds of other girls he saw. And I'm sure it wasn't published the the actual physical robbers worked for the service too. So see , I was not the only link to that man.
I don't condone drugs and I don't do drugs and I don't spend time with druggies no matter how much they want to pay me.So, I never robbed anyone or had anyone robbed. You can choose to believe me or not. I will however provide the court papers of the outcome to anyone who emails me with a fax number. That way no one has to strain there pea brains with public records.
I enjoy giving my input and enjoy most of the responses.Some times I even learn things.So I'm a big girl I will gladly take constructive criticism but not flaming. Once again I thank everyone who supports me and I look forward to great conversations in the future.
Although I am a few days late.... I have a job....unlike others who keep up every day I would like to comment. My messages to you were not emailed...they where in chat that is why I can't use a spell checker. Not that I would bother. I am a lazy speller. I know that. Nor do I ever bother with all the appropriate punctuations. I have a job a life and thousands of emails to answer. I don't have time to fuss and fiddle with the Appropriate speach speal that BA does all day. She unlike me has hours to waste thinking up the perfect big words to try and put me down.
I on the other hand am NOT trying to impress anyone. I don't have the time or the patience to care what these people think of me or my spelling. I don't feel I need the proper letter format to gain what I have in life. And I have proved that. And finally thanks I NEVER begged for money on my site for my boobs. And I had saved for a rainy day. thanks At that point I owned 1 corperation, 1 website, 1 car, 1 house. not done yet I spent my savings on boob complications. But I have since than....( 1 year later) recouped my savings through hard work and sweat and bought 4 more sites, one more car, one more house, and another corperation I NEVER said life was easy but I do work very hard for what I gain rightfully. I am not the one sitting around crying that I have no job and sucking unemployment off of taxpayers. Who is the one having the pity party? At least I am strong enough to pull myself out of the dirt when I am down. Ok Luke done now oh and buy the way I just bought 5 1/4 acres.
Asia Carrera was a New Jersey spelling champion, and "held other embarrassingly academic titles… National Mathematics League, Spanish Honor Society, National Geography Olympiad winner… I was not an especially motivated child. I was an overachiever only through genetics and incredible pressure from my parents. They wanted me to go to Harvard and be a doctor or a lawyer, and I wanted to play piano and hang out with my friends."
Stephen Fried Chews Gum, Chats With Rabbi David Wolpe
I meet author Stephen Fried 1/29/03 at Temple Sinai in Westwood. I've brought along my non-Jewish friend Tiffany Stone for the dialogue between Fried and Rabbi David Wolpe, a subject of Fried's book The New Rabbi.
Fried chews gum and doesn't wear a yarmulke. He chats with people until the program starts. At 7:35PM, as he prepares to go onstage, he says, "Oh, I better put on a yarmulke."
Fried chews gum throughout the evening's discussion. Not a big deal you say. Well, I was brought up that one doesn't do this in a formal setting. It's not respectful. Rabbi Wolpe thinks the same way. I heard him once say from the pulpit that it is not appropriate to chew gum in synagogue.
It's not unusual for men in a Conservative synagogue to not wear a yarmulke (it's unheard of in an Orthodox shul), unless they are in the sanctuary, where it is mandatory.
Fried is bigger and beefier than I imagined. He handles Wolpe's questions well. Sometimes he goes on too long and the rabbi interrupts him. The rabbi is friendly, but is not afraid to raise the criticisms his colleagues made of the book. Tiffany finds the discussion interesting. She too is surprised that Fried chews gum.
Rabbi David Wolpe' first question: "My colleague Brad Artson at UJ wanted to know if you believed in a God and a Final Judgement, would you write the book the same way?"
Fried doesn't mention any belief in God but he says yes, he would've written the book the same way. Fried says rabbis have the toughest job in America. He says that just because personal information is published in a book, it doesn't mean it is any less sensitive to the person discussed, so be careful when bringing it up publicly.
For some reason, on my tape Rabbi Wolpe's voice is distinct and easy to understand but Fried sounds muffled.