Tuesday, November 8, 2005
Email Luke Essays Profiles ArchivesSearch LF.net Luke Ford Profile Dennis Prager YourMoralLeader Blog Oct 24 Tom Sizemore Interview
A Question About Levitra
Dennis writes:
They say if you have a four hour woody you should see a doctor.

What if, as in my case, you're straight and your doctor is male? I mean, what's the point?
British Humor
Football stadiums are the places where you really see the s----- end of the English laugh. I sat in the terraces at Chelsea and heard the crowd make a hissing noise as the two teams ran onto the pitch. They were playing Spurs. "Yid," my neighbour said helpfully. Yes? "Well, they're north London, Jewish and, well, it's the noise of the gas going into the ovens, isn't it."

It was so shocking, so astonishingly surreally nothing to do with football that I laughed and my neighbour smirked. And wagged a finger, "Got you." And that's what the English like about a well-aimed joke; they like to make you laugh despite yourself; to make you complicit in something disgraceful. That's the joy, to have your laughter make some toff pillock, some liberal shirtlifter, a hypocrite.
I Spend My Lithium Money These Days On Levitra
Overall, I'm much happier. Even the nights are better... You can donate now to the Luke Ford Heart-On Fund to help me overcome unwitting dysfunction -- the heart is my one muscle I can't wittingly flex (each pill costs $10, I only use it within the limits of traditional morality, for my health's sake). Paypal lukeford at comcast.net and give till it hurts.
Seeking Women On Craigslist.org
Chaim Amalek writes:
Ads on Craigslist from women looking for men fall into the following three catagories:

1. real ads from women who are hopeless:

sexy BBW 40 year old is pissed off! - 40 (nyc - 40) Reply to: pers-109775912@craigslist.org Date: 2005-11-08, 2:23PM EST Me: Intelligent, Sexy, Bright blue eyes long eyelashes thick dark curly hair sexy lips..classic italian face..36c Breasts.. very hygenic clean shaven pussy and d/d free soft skin..long legs olive complexion..loves sexy clothes and loves to do everything wild and free..loves to please her man in every way..Very knowledgeable in the art of lovemaking..Caucasian female who loves her own kind.. Well guys I guess that is not damn good enough these days.. A) - I am ancient i am 40! a no-no not even for finding guys my age how can I the older they are the younger they want their women - (pedophiles!) B) - I am too fat! if you are a size 14 they will laugh at you! if you are not a perfect body no fat whatsoever they will go for younger and younger till they find it! and I want to date within my race i am white but white men don't dig me..lol C)- so I am too old, too fat, not Asian enough.. Pretty damn sad boys, when i could have rocked your world

Also consider:

Lucky Day - 29 Reply to: pers-109749440@craigslist.org Date: 2005-11-08, 12:58PM EST It's a day to spill out the words and hope it comes back to me with a nod of understanding and a possibility for companionship on this lonely planet. So, here's to you and here's to me and if we both should disagree, well f--- You, NEXT... Well, that's NOT HOW I FEEL, but that's what dating is like here in NYC, am I right?! I don't mean to come off as negative but I must rant a bit… CL in NYC is such a f---ing let down! All I see here is a bunch of shopping lists for unrealistic dream mates, rants about weight issues, ignorant anti-Semitic preaching's and MC's about beautiful anonymous blondes that you had seen on the train but in reality they could give two shits less about your obsessing ways unless you make mad wads of money, of course. Me, I'm not looking for another f---ing spoiled New Yorker to complain to me about his woes. I am looking for a positive personality in my life. A man, a real man, a man-sized man in more ways than one. I like New Yorkers, but I've found that a lot of you bitch and complain about "the way things used to be" and I don't want to hear that, no thanks. I wasn't here then, but I'm here now, dammit! I want to find a nice Jewish man to tell me about the way things could be with the right sweetie by his side. Someone who appreciates me for who I am, imperfections and all. Can't an average-sized Jewish American woman find love in the city that never sleeps? I'm fantastic, cute, smart, bold, an amazing lover, kind, 420-friendly, well-traveled and stacked. You, well, you be you and maybe you're the you that makes me feel like a better me. I await your witty response with a picture. Please be 30 – 45, SJM, and looking for an LTR with right person. Good luck today. It's got to be a lot of peoples' lucky day, so spread it around, like hope, now find me now, I'm waiting. this is in or around UWS

2. Ads from hookers

GENEROUS BENEFACTOR & LOVER NEEDED - 35 Reply to: pers-109751898@craigslist.org Date: 2005-11-08, 1:06PM EST I know you're out there. A man, attached or not, who needs some fabulous sex and romance in his life without the messy, emotional entanglements. A man with some spare change in his pockets he wouldn't miss and wouldn't mind sharing. A mature man, tall, intelligent, well-educated, smart, sexy, sophisticated...and a skillfull, imaginative, unselfish lover. I'm a lady who would like to kill two birds with one stone. I want a lover without strings and I need a generous benefactor to help me keep body and soul together. The two are definitely not mutually exclusive! I am originally from Jamaica. Tall, very pretty, sexy, passionate, well-educated, classy, sophisticated, and sassy. I have the maturity, the free time and the imagination to make you VERY happy and keep you satisfied. Drop me a line!

3. Ads from homos trolling for penis pics
4. Totally fake ads, trolling for email addresses.
Jewish blogger needs someone to pretend to be my wife - m4w
I posted this on Craig's List:
I am a frum [Orthodox] successful blogger at a large firm [Pajamas Media] in Beverly Hills who works really long hours and has no interest in settling down and getting married. Some of my friends say that I am married to my job. However, I need a nice looking Jewish / religious girl to pretend that she is married to me when we attend (kosher) dinners, ball games, and company sponsored events that my firm puts together. (about 2-3 times a month). I am one of the only single people in my department and I feel a little out of place at these dinners when the other guys bring along their wives.

Everything was going well until last week when I sort of got myself in a jam and gave them the false impression that I had gotten engaged (which was not the case). It's a long story…… The bottom line is that I need a nice girl to help me with this. So here goes.. I am 39, good looking, slim, full head of hair. Age is not important to me as long as you are in decent shape. I don't care if you are actually married or not, but if you think you can help me pull this off then let me know. If interested, please at least give me a description of yourself to start with….. Any help would be greatly appreciated.
The Last Word On Going South Of The Border
Because going down on a woman is the physical equivalent of being the first one on the relationship to say "I love you." Not a wise move.
I just came back from voting
I did the straight Republican thing.
Rabbinically Approved
I was talking to a baal teshuvah (one who has returned to Orthodox Judaism) and she said that she ran everything she did and wrote by a group of rabbis to make sure it was kosher. She asked me if I did the same thing. I said no. While I do talk to various writings about various things I write, I do it as equals discussing something where I'm completely free to disregard their views. I don't approach rabbis as G-d's representatives on earth and I don't give them a veto over my behavior unless I have to to get something I really want.
I had some clever and thought-through responses to her challenges but walked away feeling like a goy.
Fred writes: "You don't? I'm shocked. The only reason I read lukeford.net is because I assume that it was Rabbinically approved! Uh oh...."
Why don't Americans end telephone conversations properly?
Damian the Brit writes: "Every time I phone the US I feel like I've been hung up on. You finish the business with the person on the other end and then you just put the phone down - its strange, it feels incomplete. Over here we have this whole procedure when ending a call. Some Australians do it as well. Moan over."
Bri writes: "Why don't British people go to orthodontists?"
Silent writes: "Awhile back I worked as a phone rep for Crapital One - dealing with American card holders...and I'd judge well over half of them never ended the conversation with a polite "good-bye" or similiar. They'd finish talking and hang up. To someone who was raised to use a polite "Hello" and "Good-bye", I always found it rather rude."
Waiting For Dr. Rishawn
While waiting Monday for my new endocrinologist, I saw what I thought was this black doctor behind the counter. I feared he was going to be my new doctor.
Why did I fear that? Because I was afraid that he might have had affirmative action and therefore did not succeed on his own merits (I know very well that plenty of black professionals succeed on their own merits, but also many receive affirmative action and this casts a pall over blacks and other beneficiaries of such largesse, affirmative action is bad for any group for this reason). I want the best qualified doctor possible for my money (just as I want the best plumber, car mechanic, etc).
I've never had a black doctor (though my nurse practicioner is black and she's wonderful). Normally I like my doctors, like my women, Chinese (and I mean that as Orthodox Jewish Chinese, rabbi).
Anyway, I ended up with a white male Jew. He was great.
I'll keep you posted on my hormone levels. Perhaps they are the reason I have so little interest in sex.
What's The Difference Between Libeling A Brit And An American?
Let's say I've equally libeled both and equally upset both. The odds are high that the British (or South African or Australian) one will be less likely to sue and more likely to see the humor in the situation.
"Come off it!" is the British phrase. The Brits don't go in for the earnestness and self-importance of many Americans. The Brits (and those from the British commonwealth) view Americans as suffering from an irony deficiency.
Brits (and Aussies et al) are just as interested in preserving their reputations and advancing their interests as Americans. They just do it with a lighter touch.
Joseph writes: "Perhaps you're right that Brits are less likely to sue for defamation. But British libel law is much more pro-plaintiff than is U.S. law. In Britain, the defendant must actually prove that he/she did not defame the plaintiff, while here the burden is entirely on the plaintiff to provde that the statements were false and were made maliciously."
Because like many of you, I'm bored with reading sex and relationship advice from clueless young white women. It is high time that someone of color, or someone who is a man, assumed the position of dispenser of advice on sexual and relationship matters. We who have penises have something to say too, and women would do well to tune it. (But hey, if you would rather own a bunch of cats, just keep reading what spinsterish women have to say about us men.)
I hope that you will find this blog to be helpful, and to that end I intend to answer your questions on relationships and sexuality from the male point of view in a manner that provides you with useful, actionable information.
Now let's get down to business. You ask me a question via the comment section here or by writing to me, and I will answer.
Khunrum writes:
Dear Luke...I'll start things off on this new advice thing.

I recently: A. Retired from my job. B. Got married.

Although I may do some part-time teaching in the future, at the moment, all I want to do is take it easy. I am dedicated to sloth and relaxation. My wife however is gung ho for me to do backyard landscaping. A couple of days ago I tried moving some bricks and strained my back. I took Xanax and another painkiller to treat my condition which simply made me less motivated than ever. Now I am lying in bed reading and the Ms. is showering me with dirty looks and negative comments. What do you think I should do, other than run away from home (which I am considering)?
Miriam Datskovsky, Sex Columnist, The Columbia Spectator
The worst of it all is that my dad's family, who are orthodox Jews, have no idea I write this column. I feel like I'm getting to the point where they're going to find out or I'm going to have to tell them.
Points To Ponder
Mark writes:
I read your profile in Pajamas Media.

Some points to ponder and then more later.

Van Gogh is a better painter, but Rembrandt is a better model.

Sharing: watch out for the desire to receive for the self alone.

Compare and contrast spirituality vs literalism in relation to the Bible (Old Testament).
What does that mean?
A Guide To The Perplexed
Here's a point to ponder: How is it that a man who has willingly thrown himself out of airplanes, and entered houses full of armed, hostile terrorists, cannot bring himself to call a woman and tell her he doesn't want to go out anymore?
Because men don't like to do that. There's no upside. Let's say a man does that. The likelihood is that the woman is going to feel hurt by what he says.
I knew a woman who moved on from her boyfriend to me. She was furious that he wouldn't return her calls so she could have closure. Well, men often don't give that (and there's no law that they have to). This woman threatened to show up to his work place if he didn't return her call. So he finally did just to get rid of her.
The world doesn't revolve around one person. There's no universal imperative that men must do what women want (any more than women must do what a man wants, and we all know what that is).
I could rephrase Chayyei's question in male terms: "How come a woman who will go through the pain of childbirth cannot bring herself to sleep with me anymore?"
Another basic answer to Chayyei's question is that he has told her he doesn't want to go out anymore -- by not asking her out.
The question is like a school kid asking, "Why can't the popular kids call me and let me know that they don't want me to hang out with them?"
If people want to hang out with you, they'll let you know.
If people don't ask you questions about yourself, they're not interested in you. So that's how you can tell if a man or woman is interested in you.
What's that book called? He's Just Not That Into You...
If I loved a woman, I'd walk 20 miles to see her. If I didn't love her, I couldn't be bothered to pick up the phone to tell her.
A male friend writes me about Amy Klein, Chayyei Sarah and company: "Am I right in saying you've come to find this kind of complaining less and less appealing in your advanced years? I'm not sure what signals these women are getting that such thoughts need to be broadcast. I guess when someone like Lori Gottlieb has 10 pages in The Atlantic monthly to talk about her sperm donation, it's equated with some kind of celebrity. I'm not sure what kind of happy ever after these women expect. They can have their Maureen Dowd book club."
Lori is ten times the writer of these others.
The Final Solution
Through my studies of the Holocaust, I've learned the importance of forming special friends among the Gentiles. I've already established several safe houses around LA where I've stored an extra toothbrush and a change of underwear. I spend alternate nights at different homes so I'll be prepared for the pogroms.
Chaim Amalek writes:
I predict that Holly is the one to bring Luke's carefree bachelor days - and his infatuation with Judaism - to an end. She's just too perfect a fit for him for Luke to blow her off. She's smart, tall, naturally blonde, has exactly the sort of serious family ties Luke needs and she's willing (and financially able) to take care of the guy till his death due to old age parts them. Oh, and she's freakin' GORGEOUS (and more). Luke's Jewish shtick is going to come to an end within 11 months, as the opportunity to become a father will count for more with him than this endless Jewish nonsense.

It's for the best, Luke. Judaism does not demand of you that you be a Jew, and you never were totally accepted as one anyway. Also, she can lead you into the state of grace in which you accept yourself for who you are. Accept the gifts that Holly stands ready to offer you, and return to the land of men. I look forward to your non-rabbinically sanctioned wedding. (I expect to be named Godfather.)

Seriously folks, I've met this woman, and SHE IS PERFECT FOR LUKE. That's not to say that he is perfect for her - far from it. But hell, Luke can have the best of both worlds simply by impregnating her, living with her, and still pretending to be Jewish on the side. It should prove to be no more difficult keeping her hidden from the rabbis than it has proven to be difficult for him to keep.... So long as he does not rub it in anyone's face, it can work. I just hope that Luke realizes that at age 39, he's not going to be getting many more chances in life as good as this one.

I'm an optimist on this. Thanks to the many miracles of modern pharmacology, I am confident that Luke will step up to the plate and aim for the stands.

You Gentiles Needn't Worry, But Chaim Amalek is Another Story

When the s--- hits the fan and the Larry Davids and the Paul Fishbeins of the world are paraded through the streets of America on their way to being horsewhipped and dispatched by the Cossacks (shvartzes led by Muslims?), it won't be you, Luke Ford, who is forced to clean the streets of Burbank with his toothbrush. Your gentile goyishe looks and your gentile name and your gentile genes will serve to keep you safe. Nobody will even think to accuse you of being a Jew because, in fact, you are not one of us. No sir, you will be safe in your fancy Malibu home, writing your 23rd self published book, surrounded by all your tow-headed children and thanking your good fate to have gotten out at the most propitious time. No sir, it will be the Chaim Amaleks of the world who will tremble with fear. Cursed with a face like the map of Israel and a rotund body that is incapable of outrunning any antisemite, it is I and people like me who will pay the price for the social chaos that your libertine friends have helped create. Although I marched in Selma when I was young and fought for equal rights for Muslim and Mexican alike, I may well be destined to share the fate that awaits the white farmers of Rhodesia.
Khunrum writes: "Not to mention vanity surgery...Luke is in dire need of liposuction. He may want to consider a pec lift while he's at it."
Chaim writes: "I don't agree. Whatever he's got going on, it is good enough for Holly. And that's plenty good enough."
Helpful writes: "Luke's ample bossom gives her the feel of being with another woman without violating the Torah's ban on homosexuality."
Khunrum writes: "Ms Holly already agreed to listen to Luke's Air Supply CDs. A rare gem that girl. Will do anything for her man it seems."
Helpful writes:
Finally, a family that Luke can sit down at the dinner table and talk shop without the fear rejection that he usually receives. A family that recognizes the acronyms and jargon of the world. Remember Luke when you'd snicker when a girlfriend said she was going for a "facial" or called a Dr. Pepper a "D.P."? She's the one. Accept it. 'Tis fate.

I have no doubt that Luke could charm the hot pink panties off her lythe frame, however, when Luke disrobes the fact remains he has moobs (man boobs). This might shock a naive 22 year old.

My advice to Luke:

1) dim lighting creates a romantic mood and stealths your titties
2) keep your shirt on at all times (even during post coital showers)
3) tell her you are a trannie

Now go forth and conquer!!

How's this for an ad targeting baby boomers. Using Air Supply's "I'm All Out of Love" as the new jingle for Levitra? Could work.
Arise, Ye Victims of Oppression, Ye Wretched of the Earth
Chaim Amalek writes:
I know I'm not the only one who feels a measure of schadenfreude over the recent doings of riotous Muslim males across the whole of France. More than any other people, the elites of France have bought into the delusion that their natural culture, even as they consciously attenuate it with their silly dreams of multiculturalism, can make good western liberals of a demographically significant mass of different-looking people who follow a faith that has never known any enlightenment or reformation or renaissance. I just hope this continues without letup, so that the French are compelled to face their future starting now. It may be too late to save France (or the UK or Belgium or the Netherlands), but it isn't too late for the Germans, Italians and Poles to learn from the lessons Islam is teaching the French. And so, to the disaffected Muslim males of France, I say: "Arise, ye victims of oppression, ye wretched of the earth."

AMALEK at the Movies

I saw Marc Levin's documentary "Protocols" the other day, and found it to be whiny, self-absorbed, and often clueless. In seeking to determine the origin of the sort of Jew-hatred that has animated such vehicles for antisemitism as The Protocols of the Learned Elders of Zion (of whom, yes, I am one. Levi, we missed you at our last meeting), Levin serves mainly to further stereotypes of Jews as hypocritical leftists whom the goyim do well not to trust.

The political tone of the movie is set when Levin begins with a visit to his father's house. We see, hanging on a wall, a poster extolling Che Guevara, and then hear Pops declare that he's been an atheist since at age ten he got the crap beaten out of him by religious, Catholic neighborhood kids. (A strong thread of Catholic bashing runs through this movie.) We learn that Father and Son are just Jewish in the cultural sense defined by Hollywood types, which is to say that they are genetic Jews who have long since divorced themselves from the Torah non-genetic Jews like Luke Ford hold so dear.

There are lots of taking heads in this movie, Christian and Jew and Muslim. The Christians come across as the most philosemitic of the bunch (certainly more so than Pops), and the Muslims the most honest in stating what the believe.

As for the Jews . . . . all I can say is oy vey. First we see scenes from Nazi propaganda films like "The Eternal Jew", and then are treated to an interview with ADL head Abraham Foxman to explain what we have just seen. In profile, Foxman looks just like one of the caricatures of the hook-nosed, stunted Eternal Jew we've just seen in cartoon form in the Nazi propaganda reel. (Would that the Juden come to their senses, and hired someone with Aryan genes in them to be their spokesman! Luke, you would be ideal for this, if not for you involvement with the skin trades.)

Then Levin cuts to interviews with ordinary Jews at New York's large Downtown Passover Seder. First he interviews a trannie Jew who comments that although he is wealthy, he always cleans his own toilets because he believes "we all need to smell our own shit." Then he finds a young hipsterish looking Jew to declare that the main reason the goyim hate Jews is that Jews don't approve of things like national borders. I'll bet that the average intelligent gentile watching this movie is going to think "But you believe in secure national borders for YOUR homeland, the Jewish State of Israel, don't you? So aren't you Jews just declaring that only YOU have the right to such borders?"

This is a movie that stupidly provides ammunition for antisemitism. The movie does have its funny spots, such as when Levin tries to get some of the Hollywood Gedolim to appear together to discuss the power of Jews in Hollywood, and finds that none of them can find the time. (Larry David urges him to call Rob Reiner, who tells him to call Norman Lear, who suggests he might do better speaking with Larry David.) But then it falls back to Old Faithful, a scene with a Holocaust survivor who is used to make some sort of point that I was not quite able to figure out, other than "we suffered, so you goyim should like us."

Luke, with such clueless, out of touch Jews as Mark Levin and Larry David running things for us, our days in power here are numbered. The time has come for a few tens of thousands of us to make the move to China. I hear that there are very few Muslims in China.
Amy Klein begins her column:
By Sunday evening, single women across America were trying to slit their wrists by inflicting a hundred little paper cuts from the Sunday New York Times Magazine, featuring an article by Maureen Dowd, "What's a Modern Girl to Do?"

Feminism is over, Dowd writes, men only want to date non-challenging, non-career-oriented women, and women are willingly returning to traditional gender roles.
Any woman (or man) who takes Maureen Dowd seriously deserves the wounds she inflicts on herself. Dowd has not added anything to the national discussion since Bill Clinton got blown by Monica Lewinsky.
Dowd has no wisdom to share as either a pundit or a woman. Her personal life is in shambles, and it is not because she's so wonderful. It's because she's a clueless harpie.
Katie Roiphe writes in Slate: "The Times op-ed columnist adds nothing to the debate between the sexes."
The only contribution Dowd makes is sustaining the delusions of women like Klein who believe that the primary reason they are single is because they are so wonderful.
It's not so much that men want to date "non-challenging, non-career-oriented women" as that men want to date feminine women who will put them first in their life -- before job, parents, friends, and hobbies. No normal man is willing to be number two in a woman's life. (It is not reciprocal as women's needs in a man are different).
Also, what a man most seeks in a woman is not her ball-busting man-hating career-mad qualities. Men want someone who's soft and cuddly. A woman's career is of little concern to a man. A woman's looks are.
A woman who usually dresses in jeans with minimal make-up (as Amy Klein does) is not maximizing her chances for meeting a man.
She should buy my DVD on relationships -- "Left Behind" -- and dress like a woman.
Dowd writes: "So was the feminist movement some sort of cruel hoax? Do women get less desirable as they get more successful?"
No, the feminist movement (in its 1960s-70s stage) opened the door for equality of opportunity for women. As for desirability, it is a male perspective to equate career success with success. A woman's career success has no effect on her desirability (except that women will rarely settle for a man less successful than her, so her success cuts down on the number of men she will find desirable).
Amy Klein wails:
• At a recent Sukkot meal I met a single guy, an educated artist-intellectual who was becoming religious. What he found lovely about religion was the "traditional roles that people — women — played in terms of family," he said, before stopping when he saw the look of horror on my face.
Maybe Amy is not nearly as open as she thinks she is. If she can't even listen to an opposing point of view without becoming angry, then she's a fanatic who radiates hostility. He obviously thought so because he shut up when describing something important to him.
The ironic thing is that Amy's most likely beshert -- the one who will stay faithful to her and her kids -- is the traditional Jew not her abortion-supporting secular mirror.
• My friend's father recently came out to visit from New York. The man's a professor at a prestigious university and married to a woman who is also a professor at a better university and who makes more money than him. After I spent the whole night trying to charm him silly, he told his son, "She's going to have trouble meeting a man. She's too smart."
Only Amy Klein would take that comment literally. It's like someone seeing your homely daughter and saying, "Well, I hope she's smart." The man's not going to get out of the conversation by saying what he really thinks, such as, "What a ballbuster."
All of the women I date are well-read and smart. They're often doctors, lawyers, and graduate students. Most of them feel no need to show how smart they are. Anyone who does such a thing (such as Amy, constantly), is over-compensating for some wound.
• I was recently rebuffed by a guy who said, "You're the type of woman I could bring home to my parents, but my problem is I'm only attracted to stupid, simple women — women whom I'd never socialize with or bring home to my parents."
That is just a line guys give to women they are not interested in. Yet Amy once again seizes something ridiculous as the literal truth to preserve her belief in her own superiority and in male doltishness.
Look, I've tried dating down. My last two boyfriends were by no means my intellectual equals; they weren't threatened by my brain, but they weren't particularly interested either. Or interesting, really. I chucked them in hopes of finding my intellectual equal, my soul mate, the man I can ask advice from and discuss everything with — from literature to politics to religion to child rearing, to even this stupid New York Times article.
Cosmopolitan Life (a highly successful non-bitter divorced woman, in her 40s, with kids) responds:
I cringe at this statement. What kind of person writes something like that about the last two people they dated? How, for example, would Amy feel if they wrote that they chucked her because she was not their physical equal, and after awhile they couldn't stand her awkward figure? If you feel that someone is not desirable to you, you don't date them. That's fine. But you don't go writing about how you chucked them because they were not your equal. Am I missing something here? I don't think so. We're all sensitive to being offended. In fact Amy, with her strong Jewish heritage should remember the Talmudic(?) statement that anyone that shames their friend in public, it is considered as though he spilled blood.
Normally, I find Amy an indifferent writer. It's hard to get through one of her articles. You can see that I am not alone in this as they generate little feedback. But when Amy writes about herself, she becomes compelling in her delusions, and they open a door to understanding why the rest of her work is such a mess. The writer is the woman.
A Broken Charity: The Rise and Fall of the Jewish Educational Center
When I arrived to pick up the payroll, I was greeted by the IRS. That day, the IRS closed the charity where I was employed. The days and weeks ahead were like being on a never-ending roller-coaster ride. The [Chabad] Rabbi Bentzion Pil and his wife Mattie had created the charity. It was their baby. They had many struggles while they continually nurtured the Jewish Educational Center through the years. As it grew, the rabbi started one of the first "donate-your-car" programs in the United States. The charity auctioned the cars. During the last years, it brought in more than eight million dollars annually. It became one of the largest used car business in the U.S. It also became the blueprint for other charities to follow. Programs were added, such as English as a Second Language (ESL) classes for the many Russian immigrants, a day school, and a Russian magazine. The money rolled in, yet the accounting system didn't sufficiently show where the money rolled out. The IRS, the state attorney general, and other agencies began looking at the charity. This is the story as to what really happened during the finals months and days of the charity—before the Rabbi Pil received his sentence.
Jeffrey Leach writes on Amazon.com:
Jack E. George's "A Broken Charity: The Rise and Fall of the Jewish Educational Center" provides an insider's account of how a private charity can fall prey to the very factors that mark big government poverty programs. Arrogance, corruption, no oversight, and obfuscation--the same problems that plague federal services can torpedo a private charity. George was an administrator of several of the Jewish Educational Center's (JEC) programs in California back in the 1990s when trouble struck in the form of an IRS inquiry.

The book begins with this troubling investigation, and for the next hundred or so pages George presents background on the organization and the problems that arose after the IRS started their query. Started by Rabbi Bentzion Pil and his wife Mattie, the JEC sought to help recently immigrated Russian Jews find a place in the hectic American society. They ran a school for children, a summer camp type program, a synagogue with regular services, and a host of other minor initiatives aimed at integrating the foreigners. The Rabbi funded these programs by running a profitable business in which donated cars were resold to needy families. This money ostensibly funded the various programs. Or so Rabbi Pil and his wife claimed.

Everything fell to pieces after a warehouse fire destroyed one of the car lots associated with the charity. California authorities jumped into the fray, filing charges claiming the JEC misappropriated funds from the car sales. They charged that Rabbi Pil and his wife spent thousands of dollars earmarked for the charity on their own son's bar mitzvah. Moreover, the house owned by the Rabbi came into his possession in a most suspicious manner. These problems exacerbated the difficulties faced by George, the other employees of the JEC, and the various programs. Key personnel suddenly quit or resigned, replaced by colorful people with questionable backgrounds. An old civil rights warhorse by the name of Carol Ruth Silver was brought in to manage the JEC's public reputation. An accountant, Mamie Tang, arrived on the scene to handle the money, money that George discovered was increasingly scarce or would suddenly pop up out of nowhere.

The author began to ask serious questions about the true motives of the people running the JEC. Oddly, he stayed with the organization long after Pil and his minions declared bankruptcy and founded a different charity that would soon engage in the same problematic behaviors that sank the original JEC.

"A Broken Charity" is a disturbing account of financial skullduggery taken to the nth degree. What you see is what you get with "A Broken Charity." George walks the reader through every upsetting aspect of a charity run by criminals without ever coming out and labeling them as con artists, unfortunately. That's one of the problems I had with the book. On nearly every page of the narrative, Jack George expresses in no uncertain terms his concerns with the unfolding shenanigans committed by the Pils, Carol Ruth Silver, and Mamie Tang (who faced charges for an unrelated pyramid scheme involving millions of dollars). Yet the author stayed with the JEC long after most people of average intelligence would have ran for the door. Even his own bout with financial hardship, caused in no small part by the failure of the Pils to give this guy his paycheck, didn't send him into the streets looking for a job. Why?

I started thinking of words like "dunderhead" and "dupe" to describe George before realizing something important. Most honest people, especially someone involved in a charity, would probably rationalize these sorts of problems instead of running out on the organization. He still should have left shortly after the IRS began investigating, in my opinion, but I think I understand why he stayed on. He just didn't want to believe anything was wrong.

Another point I'd like to make about this book deals with the shady way the Pils tried to cover up their wrongdoing. Instead of closing the doors immediately and limiting the damage, these schmucks hired Carol Silver to employ the most scurrilous attempts at damage control I've seen outside of Washington, D.C. She routinely used the kids in the programs to try and shame the judicial system into dropping the charges, and claimed that "religious persecution" was behind the government's actions to close down the JEC. Neither of these assertions possessed any validity, but that didn't stop the Pils from shamelessly using them to escape prosecution. I've always been suspicious of anyone who tries to get what they want by wailing about "the children." Now I know why. Highly instructive, this book called "A Broken Charity," and highly upsetting. Donate at your own risk.
Rabbi, Teacher Lose Jobs After Taping
'Dateline NBC' Used Hidden Camera in Internet Sex Story

A rabbi for a national youth group based in Rockville and a Prince George's County special education teacher have lost their jobs after they were allegedly videotaped by a hidden camera as part of a forthcoming "Dateline NBC" story about men who try to solicit sex from minors online, officials said yesterday. Rabbi David A. Kaye, 55, vice president of programs for PANIM: the Institute for Jewish Leaders and Values, resigned this week after disclosing that he might be featured on a national television news program, according to a statement released by the organization's president, Rabbi Sidney Schwarz. Schwarz said Kaye, who lives in Potomac, "informed me of certain personal conduct that took place outside our organization that may soon be aired as part of a larger news story on national television. . . . We currently are undertaking an internal inquiry to be certain there has been no similar misconduct at PANIM in any way." The organization conducts nationwide programs for high school students. Steven Bennof, 54, of the District, a special education teacher at Woodridge Elementary School in Prince George's, was fired Aug. 23, said John White, a spokesman for the school system. White said the firing occurred after Fairfax County police notified school officials about "information relating to children."
Joey Buttafucco's New Job
He makes smoothies on TV and movie sets for $250 an hour.
Sheesh, I'd do that for 1/8th of that money.
He was last seen on the set of Desperate Housewives.
The Luke Ford Series of Relationship Videos
Chaim Amalek writes:
To flesh out that discussion I had with Tara the other day (who'd make for you a fine Chinese wife), what you could do is this. The opening scene is of you walking down the streets of my modest community, the serial killer van parked along the side of the road and just barely visible. (We shall give it a bit of signage: "Luke Ford Enterprises.") After greeting some neighbors and petting a few dogs, you turn to the camera and note that you are dating some of the hottest women in LA, and are a much sought after dinner companion among the women of valor who populate your ethical community. Then you say something like "You might think that the way to a woman's heart is through a man's wallet, but what you are about to learn is that there is more than one way to skin a cat" just as you walk past that sign in your neighborhood warning against the weirdo who has been skinning cats with a machete.

Next scene: a long tracking shot of the hovel. "As you can see from how I live, none of the women in my life are in it for the money. So what are they doing with me? That's what I'm about to teach you. What I learned the hard way, over many years, I will teach you in just a few hours the easy way, via this DVD." That's the hook.

The remainder of the DVD consists substantially of video of you on dates with desirable women, explaining to the camera (or through voice over) just what you are doing that makes you desirable to these sorts of women. I would wager that hundreds of thousands of lonely, misguided or just plain unguided men out there would eagerly seek out this practical advice and pay twenty bucks for such a video, and it need not contain any imagery that would get you in hot water with the rabbis of your community. The Luke Ford series of Relationship Videos might be just the ticket to boost me out of my poverty and into the ranks of the marriageable.

Alas, I've known you long enough to know that left to your own devices, none of this will happen. You are just too passive. What you need is a Chinese wife. She needn't actually be Chinese; any woman with the personal drive to make a success of you will do. Maybe she is Vietnamese or Persian or Bosnian or Tutsi. And maybe, I hope, she is reading this right now and thinking of the brighter tomorrow she might have if only she beat you into shape. Dear Readers, is there not one among you who will take up this project? And more importantly, is there anything in what is proposed here that would be in any way unethical? If you have a problem with any of this, now is the time for you to speak up. A man's future happiness may depend on your words of encouragement.
It's my favorite football show (largely because it has no commercials).
On this week's show, Chris Collinsworth (great Cincinnati Bengal receiver for eight years) was asked about the remarks of Air Force's football coach that blacks fun faster.
"I can't answer that question," said Chris. "I'm a white male. In America today, we are not allowed to talk about race. If I say anything politically incorrected, I could get fired."
Collinsworth's counterpart, former wide receiver Chris Carter, asked him if he had ever been covered by a white cornerback in pro football.
"Only once. And the guy fell down. They replaced him the next play."
French Riots
Chaim Amalek writes:
As things now stand, the future does not belong to the West, because the men and women of the West neglected to police their borders and have children in numbers sufficient to maintain the nations defined by those borders. Part of the inevitable result of these failings has been on display in France for about a week now, with "immigrants" (the press hates using the word "Muslim") burning everything they can get their torches on.

Not that I blame young Muslim men for being angry. They didn't choose to live on the soil of the crusaders; it was their parents, grandparents, and especially successive governments of France that permitted the alien culture of Islam to take root on French soil. As things now stand, France is doomed. Extrapolate current demographic trends, and what you end up with in fifty years is a France that is mostly Muslim and yes, religion and culture matter. (As might race/tribe, but that's a different discussion.)

The world today would be a much better place if the Anglo-Saxon ruled nations of the world had not interfered in the politics of continental Europe in 1914, but had left France to deal with the Germans on their own. Just think about what might have been: either no World War 1 at all, or a quick German victory over France. No communism, no Nazism, no World War 2, no Holocaust, no Israel in the Mideast (but maybe one in Uganda or Madagascar, which might have turned out much better for the Jews). And the churning Muslim peoples of southwest Asia would have continued to be ruled by the Muslim Ottomans, whose style of rule better suited those people than anything that has come since. The generation of 1914 do-gooders ruined the world.

So what is to be done?

1. Let the nations of the West adopt Zionist-style immigration policies that aim at preserving the current majority in power. No more muslim/African/Asian immigration in excess of European emigration from our lands to theirs. Let there be a one-to-one limit on such immigration.

2. Encourage recent arrivals to get out. Bribe them, if need be. Deport those who won't go if they have violated any law.

3. Illegal immigration? Ummm, no.

4. Rebuild borders and national identities. Some won't like this, some won't feel comfortable with it. Too bad - they can return to Pakistan or Algeria.

5. Urge Europeans to get back to their Christian roots. You can't maintain a national identity with nothing more substantial than drugs, onanistic cinema, consumerism, and pop-culture. Rebuild the high culture of Europe that our great great grandfathers knew, Christian roots and all, and much of the rest will take care of itself.
Dear Reader:
Why do you always have to read sex into everything I write? Sheesh.
"Because my mind is dirty. As I look to you for moral guidance, I am compelled to purge my system of all that is impure."
As I gave a new acquaintance my philosophy on reconciling my highest moral values with society's need for my penetrating analysis of its most grievous social problems, he says I'm "Rocket Man" squared:
And I think it's gonna be a long long time
Till touch down brings me round again to find
I'm not the man they think I am at home
Oh no no no I'm a rocket man
Rocket man burning out his fuse up here alone

Mars ain't the kind of place to raise your kids
In fact it's cold as hell
And there's no one there to raise them if you did
And all this science I don't understand
It's just my job five days a week
A rocket man, a rocket man
Only the lonely can play.
Left Behind
The title for my new DVD series on dating.
How To Date Counter-Culture Chicks With No Money Down
I'm considering the production and distribution of a DVD series on dating. It can be your's for just two easy payments of $59:95. If you order now, you only need to make one payment (and I only need to make the damn thing).
'Hey, It's Me. Call Me Back.'
I hate it when women leave messages like that.
Ron Jeremy, Richard Dreyfuss Discuss The Art Of Acting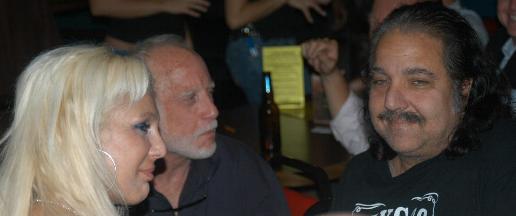 Kayla Kupcakes, Richard Dreyfuss, and Ron Jeremy chat at Sardo's Bar in Burbank.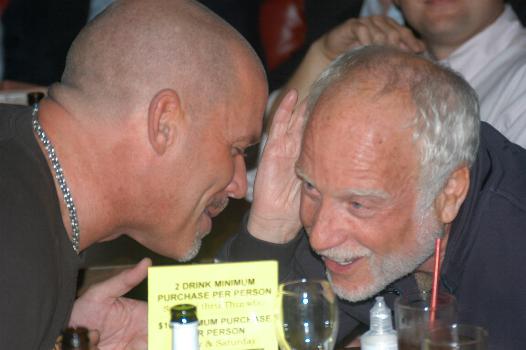 Thesbians Marc Davis and Richard Dreyfuss compare notes Tuesday night, November 1.
Actress Michelle Ferre Interview
Q: So which are your favorite books? Or books that have most influenced you?

A: Naming all the books I like will be too much, so let me pick up a few that have influenced me. The books are: Thornton Wilder's "Our Town" and "The Bridge Over San Luis Rey", and J.R.R. Tolkien's "The Lord of the Ring". All three books have changed my outlook on life in a similar way. Whether it was the author's intention or not, I adopted a feeling that I should live each day to its fullest, and that I should be true to myself as well as to others.

Q: What makes you happiest?

A: This is a hard one! I'm happy when I'm eating good food, taking warm bath, snuggling in newly spread bed sheet, listening to the sound of waves, watching clear blue sky, snowboarding in fluffy powder snow...there's just so many little "happy" aspects in my life that nailing one down is simply too difficult. But, if I were to choose one, it would be when I'm hugged or hugging someone. It puts a big smile on my face. It's funny how these questions give me chance to think about things I take for granted!
Machete-Wielding Cat Killer Loose In Pico-Robertson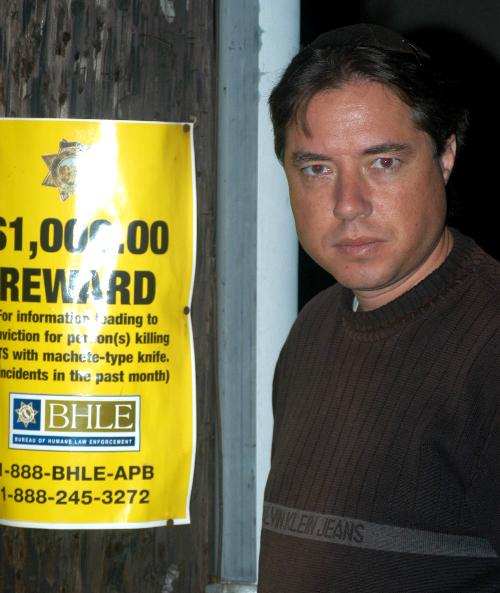 $1000 reward for information leading to the conviction for person(s) killing CATS with machete-type knife. (Four incidents in the past month)
My mom approves of my haircut. "I like it, I like it. Was it done with the machete-type knife mentioned on the poster?"
Remember The Sabbath Day To Keep It Holly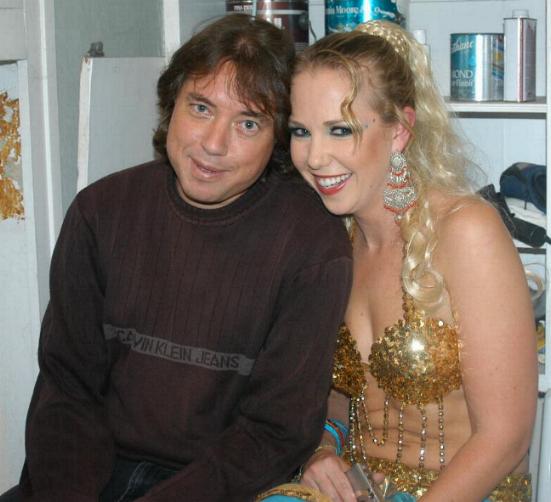 Underage Girls In Bars
Pipe writes:
No bar, club, pub, no matter what will turn away an underage girl if she's pretty. I have seen the most popular clubs in miami beg pretty 17 year old girls to come in, offering them free bottles and all that shit, and they know these girls are young.. 90% of the time they wont id girls, the other 10% they are just doing it for show but not even looking at it, you could hand them a Costco card and still get in. Without Girls, guys dont go to clubs, and lets face it, most guys want a girl that is 18 to 21, because they arent as corrupted yet.
Radio Shock Jock Pushes Limits of Sexist Gab
Media critics say the latest shock jock, Tom Leykis, is boosting his ratings by reducing women and men to cartoonish, sex-obsessed versions of themselves, as radio's quest for ratings trumps all else.

SAN FRANCISCO (WOMENSENEWS)--Listen to The Tom Leykis Show on any given day and you will hear advice for men on: How to get "more tail for less money" (buy drinks, not dinner); the benefits of dating women who were sexually abused as children (they are more promiscuous); and why men should never date single moms (time with children reduces time in the bedroom).

If you've never heard of Tom Leykis, perhaps you are not a young, white male who lives in one of the 50-plus markets where his call-in show is syndicated, including San Francisco, Seattle, Detroit, Vancouver and Dallas. Leykis has the largest afternoon male audience in Los Angeles, where his show is based, and ranks third in his target audience of 18 to 44, according to Arbitron ratings.

"There's a difference . . . between the kind of woman you would bang and the kind of woman you would marry," Leykis says on a Web site promo for Westwood One, the company that produces his show. "So the result of all of this is that you have a nice girl who marries you but then you need to have the hookers on the side."

In the tradition of shock jock Howard Stern, Leykis is making millions by reducing women and men to cartoonish, sex-obsessed versions of themselves. In Leykis' world, men pursue women for sex while women seek to control men and spend their money.
Every Thursday, from 5pm to 7pm PST, (in Los Angeles, anyways) Tom has his weekly class. Leykis 101 is Tom's ongoing, on-air, adult education course that teaches men how to get more tail for less money... and, more importantly, teaches women how men think!

NEVER, EVER date a single mother. You already know her stance on abortion, she wont have one. Don't risk paying vaginamoney! PLUS, her kids will always come before you! Why would you want to be second place to some spoiled little brat!?!

Never do what you don't want to do. You make the money, you decide where you are going and what you are doing. Don't ask a women what she wants to do. Never tell a women how much money you make.

Don't EVER date co-workers! Unless you don't give a rats ass about your job, stay away from people you work with! It's always asking for trouble. Never answer the phone, or go out on the weekend. Even if you really don't, you have to make it appear as though you have better things to do than be with her on the weekends.

Never spend more than 40 bucks on a date. This includes buying gifts, flowers, candy, jewelry, etc. It does NOT help in getting laid. It's a waste of money. If anything, buy alcohol and get her drunk.

NEVER approach a woman in a club who has her girlfriends with her. There is NO point, you will NOT get laid when women are in groups. If you are not getting laid by the 3rd date, dump her and move on. No spooning, no cuddling, no staying over. Get in, get out!

Never be in a committed relationship UNTIL you are really ready to settle down.

NEVER answer the phone on the weekends. It makes you look like you have nothing better to do. Weekends should be reserved for hanging out with your buddies or for guaranteed sex. Even if you really have nothing to do, let the answering machine take the call. You're busy.

Don't speak to women you work with unless it's related directly to work. Don't date them. Don't tell them they look nice. Don't comment on anything except whatever work needs you have, because you're a walking lawsuit waiting to happen.
Cyberlove and chat room couplings are as much a part of online lore as hacker fiends and wild viruses. So, connecting and tracking these millions of plugged-in lonely hearts is a prime business opportunity. Enter Electric Classifieds Inc., one of the first companies to turn Internet matchmaking into a profitable, full-time enterprise. Founded in San Francisco a little over a year ago by 31-year-old CEO Gary Kremen, the idea for Classifieds Inc. "came to me in the shower," Kremen says, smiling. "I thought it would be really interesting to use the Internet for relationships, and to do it right."
Skinheads Frighten Jewish Journal Editor
We saw a dozen skinheads gathering at the edge of the biergarten, looking for a table. One of them wore a T-shirt that read: "My boss is an Austrian painter." I doubted it was a reference to Gustav Klimt.
Book Sales For September
The Producers: 5
XXX-Communicated: 1
Cathy Seipp Goes Public About Her Lung Cancer
Her friends have known about it for more than three years. She finally blogs about it explicitly:
...[B]reast cancer is no fun; I've had friends who've died of it. But it also has a survival rate of around 85%. That's the unsurvival rate of lung cancer, which is what I have. I'm actually lucky still to be alive, given that I was diagnosed almost three and a half years ago, after a cough that wouldn't go away, and most lung cancer patients don't make it past two years. Except that, since I never smoked even one cigarette, never lived or worked with smokers, and in fact have zero family history and no other risk factors at all (unusual even in people who don't get cancer), the bald truth is I'm pretty unlucky to have this in the first place.
Wed Oct 26 Premiere Of Movie The Scorned
Logline: Hell Hath No Fury Like A Dead Woman Scorned.
Lauren Bergfeld, Richard Rubin and co from the TV show Beauty and the Geek.
The horror movie was acted by reality stars. The PG-version of the movie plays on E! Monday night at 9pm. The R-rated version will be released on DVD in a couple of weeks.
Leads Jenna Lewis and Steven Hill don't show up to the premiere.
There are three camera crews, including with reality star Mark Long out front interviewing the guests on the red carpet.
Howie Gordon from Big Brother keeps yelling out: "Where's the E! Channel?"
He's mad that their crew didn't ask to speak to him.
Producer Eric Mittleman walks around with a set three questions:
* What should Hollywood be most scared of?
Rob Cesternino says: "Bird flu."
* What was the biggest surprise in the movie?
* Is this the next evolution of reality TV?
Michelle Deighton from America's Next Top Model TV show says: "Stop giving us [reality stars] crap because a lot of us do have talent."
Another reality star, possibly Howie Gordon, says: "Hollywood should be most afraid of reality stars who are damn good actors. It takes a little bit of charisma and a little bit of know-how.
"This is the next phase of reality TV -- making movies with reality stars."
Ron Jeremy thrusts into my hands an article from the Reading Eagle in Pennyslvania.
About every other time I run into Ron, he has an article about himself to share. I try to peruse it while dictating photo IDs into my tape recorder.
Ron: "Look at the press I got. Check it out."
Luke: "Wow."
Ron: "The later is the best part."
Luke: "ReadingEagle.com."
Ron: "Check what happened. The police had to be called to break up the crowd."
7pm. Terence Jay's girlfriend says to her friends, "Let's go in and watch this piece of s---."
Ethan Zohn stole the show (his role was going to be taken by reality Rupert Boneham, America's favorite on All-Stars) with his portrayal of a crazy man. For a few weeks, Ethan walked around New York and studied the crazy people.
Jonny Fairplay (Jon Dalton) was also dazzling. The rest of the cast was competent.
When the credits came up, Jon found he had tears in his eyes. He walked out quickly, not wanting to display that part of his personality. He hid in a corner and smoked a cigarette.
Some people hung out at Sushi Dan's until 2am.
Male traditionalists wring their hands at the "grim" lives of young women
Meghan O'Rourke writes on Slate.com:
Last week, Harvard government professor Harvey Mansfield told students that the sexual revolution may not have served the best interests of young women. Instead, it had merely "lower[ed]" us to the crass level of men, who pursue sex thoughtlessly and without hopes of marriage. In a talk titled "Feminism and the Autonomy of Women," he suggested that men who grow used to "free samples" in the bedroom are going to leave women high-and-dry when it comes to committed relationships. And then he revealed his insights into the erotic: "[Today's] women play the men's game, which they are bound to lose. Without modesty, there is no romance—it isn't so attractive or so erotic," said the professor. The solution to the problem, clearly, was for women to start saying no a little more often.
Laura Kipnis, Meghan O'Rourke, and Wendy Shalit debate the impact of Internet porn on relationships.
Amnon Gershon Finkelstein Update
A former Decker College Employee writes me:
I appreciate the information displayed on your website regarding one Amnon Finkelstein. I would like to give you an update on his behavior and whereabouts. Amnon Finkelstein has been going by his middle name, "Gershon [Finkelstein]", probably as a result of your webpage. But that didn't stop a group of former co-workers from finding your website. Please add the name "Gershon" somewhere on the profile, so that others can be warned. He will not give his first name to anyone. He was most recently the VP of Admissions and Marketing at a school called Decker College in Louisville which offered online programs in the field of construction. Many of the girls who worked at the school complained to HR about his untoward behavior and lewd comments. I had observed this behavior myself. The school has recently been shut down for fraud and misuse of federal funds. This has sparked numerous lawsuits from both employees and students. You can find some more information about the scandal here:

The Courier Journal (of Louisville, Kentucky), Oct 25, 2005:

After insisting earlier this month that it was open and educating about 3,700 students, Louisville's Decker College has shut its doors and removed its online construction courses. In a message posted Friday, the Decker Web site says the private, for-profit trade school is "temporarily closed, effective immediately." School officials declined to comment yesterday or didn't return calls. The head of the state licensing board for trade schools dismissed the idea that the closing is temporary. "To us, they're closed," said Stephen Coppock, acting chairman of the Kentucky Board for Proprietary Education. "There is no such thing, as far as I'm concerned, as being temporarily closed." Max Kobelski, a carpenter's helper who was enrolled in Decker's carpentry program, said he could not access his online courses Friday . "I need to find another way to get the training I want," said Kobelski, of Tallahassee, Fla. Doug Clapper, an instructor in Decker's barbering program at its South Third Street location in Louisville, said yesterday that his boss came by his house Saturday and picked up his keys to the Decker offices. Then Clapper was called to the office yesterday to pick up a $250 severance check and was told the school had closed late Friday afternoon, he said. Karen Greenwell - administrator of the Kentucky Board of Barbering, which licenses barbering schools and teachers - said it hasn't received official notice from Decker. But she said instructors called her office yesterday to report that the barbering program has closed. "The license is now null and void," Greenwell said of Decker's barbering program.
Sarah Silverman: Jesus Is Magic
Chaim Amalek writes:
Fierce battles are being waged in Brooklyn over the heirs of the Satmar dynasty. What are you doing to ensure peace in the Ford Family, when you pass on?

>I saw a screening today of Sarah Silverman's new movie: Jesus is Magic. I sat a few rows down from David Poland.

She is freakin' hot Was it good? s I really love looking at her and hearing her speak. Does that make me a pervert? I love her like blacks don't tip. Pretty face, hair, svelte body, tall enough, smart, funny, and a great rack. That's the sort of woman you ought to date. So stop hanging out with all these strumpets. They are putting their scent on you and chasing the Jewesses away.

Ahmadinejad is an honest man. He says what he means, he means what he says. What more can anyone ask?

Iran's new president, who called for the destruction of Israel at the annual "World Without Zionism" conference The more I think about Iran, the less rational our policy in Iraq seems We should have used the UN to destabilize and further isolate Saddam but not actually invade. Iran is the font of terrorism Bush mistakenly thought Iraq was.

>If so, why are terrorists pouring into Iraq to fight?

"Pouring in" means that they were NOT there to begin with, they were in their home contries, usually being kept under watch Moreover, our intervention inspired them to travel to Iraq to kill themselves. Iraq is better off without Saddam, but that does not make the change worth the blood of our fine young Christian soliders. In general, the cause of Arab freedom is not worth much American blood. And I'm not sure that it is a good fit for them.
Gentlemen, How many times have I told you that my kingdom is not of this world
I did not respond to Jeff Wald's defamation suit against me. His attorney has filed for default judgment.
I went into court this morning. The plaintiff's attorney showed up on the court telephone.
I had to wait for 90-minutes for my two minutes with the judge, Lisa Hart Cole. Remembering all the nasty things I'd published about her, I checked her out closely. She seemed really nice, the opposite of the ogre I had pictured in my head.
I may be projecting my own needs here, but Lisa seemed positively maternal, a replacement for my dead mommy.
What happens if I fall in love with my judge? I want to see her again soon.
Khunrum writes: "You could get arrested for something. Maybe you'll be seeing plenty of her as the Jeff Wald thing plays out."
Is there a song about this love of mine that dare not speak its name?
(When I get lonely, I'll just rub the text of Jeff Wald's complaint against me and imagine the soteriological implications of my human nature.)
We have to come back to court in a few weeks. She suggested I talk to the plaintiff's attorney and try to work out a settlement.
As I was heading out, I started chatting with an attorney who said Judge Cole was very nice, and if she had any flaw, that was it.
You might've thought I was chagrined to plead my case in front of a judge I'd repeatedly bashed on my website. Not at all. I'm the king of the boards.
Khunrum writes: "Luke, I urge you to apologize to this man and try to settle with the least possible financial damage. He could tie up your finances (even what little you have) for years. Not responding to the lawsuit was a mistake. Make amends with him. In the end it means nothing. Being involved in lawsuits unless you are on the winning side is a negative."
Jack writes:
Luke, you should have responded to the complaint. If Wald gets a judgment against you, it stays on the books for 10 years, and can be renewed after that. That means that he can hound you, seizing your possessions years from now until the judgment is paid off. I can tell you that litigating is a rotten experience. It's expensive and obnoxious in the extreme.
Guys, I go to prepare a place for you, so that where I am, you may be also. In my father's house, there are many mansions.
Jack writes:
Every time I lose sight of this fact, a quick visit to your web site serves as a reminder.

If, after considering your failure to answer the complaint, the judge says something like "I wash my hands of him," I'd say you're in trouble.
I thought I heard Jeff Wald mumble, "May his blood be upon me and upon my children."
I say all of us on the Luke Ford Family of Blogs should go into the desert with me for three weeks. No women. Just my teachings for sustenance. Nothing gay, just Torah.
Khunrum writes: "Right now I'm happy to dwell in my house. It's got my computer, three TVs and my new wife."
Fred writes: "I assume "Just my teachings for sustenance" doesn't mean no Big Macs or pizzas, does it? Other than that, I'm game. The desert is a step up from the hovel."
Luke exits the Beverly Hills courthouse Monday after meeting Lisa Hart Cole.
Chaim Amalek writes:
I had never heard of this guy before Luke accused him of shenanigans, and otherwise don't think he has any presence in popular culture. So why bother? Seriously Luke, it is this sort of nonsense that makes you unattractive to the women you claim to want. I mean, you're no Judith Miller.

I see you have a new picture up on your web site of your head on a body that would best be hidden from public view. Unless you are a Russian mobster, why let anyone see you in such a state? Between that picture and this idiotic lawsuit, how are you advancing your cause? The boy-man shtick is over. Also, it can't help you get a real job with a real paper to be known for this.
Maxim declares, "The pews are packed with heavenly bodies. God bless you."
The Strippers Are Coming...
to Church, that is. I met with Heather and Lori from JCsGirls.com Monday afternoon and concluded that you can take the stripper out of the strip club, but you can't take that ditzy funny blonde attitude out of the ex-stripper. She and her friend got badly lost and were too embarrassed to call me for help. I ended up calling them and guiding the lost sheep home. They are the subject of a documentary by Bill Day and are exploring reality TV possibilities.
The Cambridge Companion to American Judaism
I was disappointed in this volume. There was so little in here that I did not know (as opposed to what I found in the two volumes of essays Rabbi Dana Evan Kaplan edited about Reform Judaism).
I found Dr. Murray Baumgarten's "American midrash: Urban Jewish writing and the reclaiming of Judaism" a waste of time.
He describes the pointless Jonathan Safran Foer book Everything Is Illuminated as "brilliant." He writes about it, Rebecca Goldstein's tedious intellectual exercise Mazel, and Myla Goldberg's above-average The Bee Season: "One of the defining characteristics of each of these works of fiction is the way in which explorations of everyday life of sharply etched individuals turn out to be accounts of how classical texts inform modern tales, in effect making them versions of ancient stories."
His sentence would have been improved if he had left out "in which" in addition to the praise of Foer.
At the 11th annual Jewish American & Holocaust Literature Symposium, October 19–22, feminist professor Evelyn Torton Beck got all teary when asked how being a lesbian is different from being a vegetarian. She ended the session, muttering "I thought you guys would understand."
Chairman of the Boards
A friend took me to lunch on Friday. "You are the hero to the cardboard set," he said. "The people who hold up cardboard signs by the road looking for money. You are the biggest schnorrer ["One who habitually takes advantage of the generosity of others; a parasite"] of them all. You get people to pay for your lunch, your trip to Europe, your HBO. Just as businessmen idolize Jack Welch, schnorrers idolize you."