What Air Supply Means To Me - An Essay By Luke Ford
Australian pop group Air Supply released seven straight Top Five singles in the early 1980s.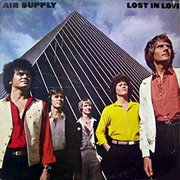 (Russell Hitchcock, left, and Graham Russell, right)
Clive Davis heard Air Supply's Australian hit "Lost in Love" in 1979 and signed them late in the year to Arista Records, which quickly released their first American hit album "Lost in Love" early that year. In January 1980, "Lost in Love" was the fastest selling single in the world, peaking at number 3 on 5/3/80. Other hits from the album included "Every Woman in the World" (#5, 12/31/80) and "All out of Love" (#2, 9/13/81).
In 1981, Air Supply released the album "The One That You Love." The single of that name became their only number one hit (8/8/81). Also on the album were the Top Ten hits -- "Here I Am (Just When I Thought I Was Over You)" (#5, 11/21/81) and "Sweet Dreams" (#5, 3/20/82).
Air Supply's 1982 album "Now and Forever" went to number 25 on the album charts. It had the singles -- "Even the Nights Are Better" (#5, 8/2/82), "Young Love" (#38, 10/23/82) and and "Two Less Lonely People In The World" (#38, 1/8/83).
A collection of Greatest Hits appeared in 1983, with the new single, "Making Love Out of Nothing at All," (#2, 10/8/83). The album went to number seven and sold over four million copies.
In 1985 came the album "Air Supply" (the first American Air Supply album not to go Platinum). "Just As I Am" went to number 19 (7/29/85) and was named by VH1 the #1 video of the year.
The album, "Power Of Love" could only manage #60 (8/24/85).
In 1986, "Hearts in Motion" reached #84 and the single "Lonely Is The Night" went to #76 (9/6/86). The album "One More Chance" hit #80 (11/1/86).
In 1987, Air Supply released "The Christmas Album," which included the singles "Love Is All" and "Eyes Of A Child" which got radio airplay.
Russell Hitchcock and Graham Russell broke up. Hitchcock released a solo album called "Russell Hithcock" which had little success.
Graham and Russell reunited in 1991, making the album "Earth Is..." Their single "Without You" hit #48.
Air Supply's albums "Vanish Race" (1993) (the single "Goodbye" hit #48 on 7/10/93), and "News From Nowhere" (1995) (the single "Someone" hit #50) were no more successful.
...............
Air Supply essentially consists of two men -- Englishman Graham Cyrill Russell (born June 11, 1950 in Nottingham, he now lives in Utah, is married to former model/actress Jodi, stands 6'5", has a baby boy) and Australian Russell Charles Hitchcock (born June 15, 1949 in Melbourne, he's married to Laurie, lives in Los Angeles, stands 5'7", has two kids).
Graham and Russell met in Sydney on May 12th, 1975 during the first day of rehearsals for Jesus Christ Superstar. "Through our affinity with the Beatles, we became instant friends amongst a group of theatre people that we didn't know," writes Graham, who was primarily a song-writer while Russell was primarily a singer.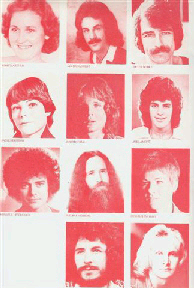 Australian Production Of Jesus Christ Superstar 1972-1974
While still working on Superstar, they made demos of Love and Other Bruises and If You Knew Me. Graham remembers: "As a last resort we saw Peter Dawkins from CBS who had already had a lot of hits with other artists. He loved the sound he heard and we make a single in four hours at Alberts Studio on Kings street in Sydney. We didn't even have a name yet, but that night I dreamt of a billboard with flashing neon lights and on it said "Air Supply". That became the name for we had no other. Russell and I are both air signs..."
Russell remembers: "Graham and I had so much in common - we came from working class families, neither of us had brothers, we liked the same music, food and had a similar sense of humor. It was as if we had both found our long lost brother.
"It was during the rehearsal period for J.C. that we began working on Graham's songs. We had breaks during the day and he would inevitably pick up his guitar (as he does after every sound check to this day). I asked him what he was playing and he said it was one of his compositions. I had never met anyone who wrote original songs before and after a few minutes listening to the melody, found a vocal part that complimented his vocal part. Unbeknownst to us, at that 'precise' moment, Air Supply was born."
After their play ended in 1976, CBS released Air Supply's first album "Air Supply."

Their second album was called "Love and Other Bruises." The title track was their first hit, going to number 2 in Australia. The single "Empty Pages" went to number 18.

Air Supply toured Australia, Canada and the U.S. with Rod Stewart.

In 1977, Air Supply released the album "The Whole Thing Started." The single "Do What You Do" reached number 16 in Australia.

Their fourth released album Life Support appeared in 1979. The single Lost in Love went to number 1 in Australia. It was re-recorded for release in America.

Related Links:
Air Supply's Official Site Fan Site Fan Site