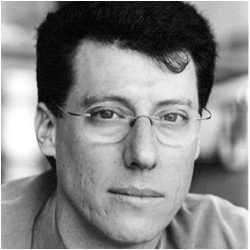 Rabbi Daniel Gordis is the director of the Mandel Foundation's Jerusalem Fellows Program. He was previously a vice president at the University of Judaism in Los Angeles and dean of its Ziegler School of Rabbinic Studies. He is the author of If a Place Can Make You Cry (Crown 2002), Becoming a Jewish Parent (Harmony, 1999), Does the World Need the Jews? (Scribner, 1997) and God Was Not in the Fire (Scribner, 1995).

In the summer of 1998, Daniel Gordis and his family moved to Israel from Los Angeles. They planned to be there for a year, but a few months into their stay, Gordis and his wife decided to live in Jerusalem permanently, confident that their children would be among the first generation of Israelis to grow up in peace.
If you ask around about rabbi Gordis (born around 1960), you will hear people say that he is smart, mercurial and vindictive. That he's an emotionally-abusive narcissist. That like most charismatic rabbis, he gets a free pass.
While people in the know would be shocked to hear (and would find them impossible to believe) allegations of impropriety about such University of Judaism leaders as Brad Artson and Elliot Dorff, they are not shocked to hear such allegations about UJ's former rabbinics head rabbi Danny Gordis.
Danny is known for blasting off unhinged angry letters and emails causing havoc, and then later apologizing when he's called on his bad behavior.
Around 2002, rabbi Jill Jacobs published a devar Torah (sermon) in the JTS newsletter critical of Israel. There was a firestorm and a demand to censor the divrei Torah. JTS said they couldn't do that but they also didn't want to publish such articles that could make people angry at the seminary. So they won't have divrei Torah at all in their newsletter.
Danny is blasting out his emails (Letter from Jerusalem) from Israel on a regular basis. He writes a harsh attack on Jill called "Take Off That Mask." He says that while she claims to love Israel, she really doesn't.
When Gordis was reprimanded, he published a retraction (saying while he stood behind his points, he shouldn't have made it a personal attack), but not in his Letter from Jerusalem. Rather, on RavNet (a service for JTS graduates) only.
During the high holidays of 2004, a guy in Danny's program the Jerusalem Fellows, said he tried to go to the Conservative shul on Agron street and claims that because he didn't have a ticket, he wasn't let in. Nobody knows what really happened. It's possible he went to the youth hostel where they don't let anybody in.
Without knowing the facts, Danny sends a blistering emails to RavNet that once again the Conservative movement blows it. This guy from Latin America shows up at a shul and gets turned away. Haaretz picked up the story and there was a big stink.
A couple of weeks later, Danny said that maybe he got his facts wrong and he shouldn't have leapt to judgment. "He just shoots stuff off without getting his facts right," says a rabbi who knows him. "If he gets called on it, he'll apologize, but the damage has already been done."
In 1993, Conservative legal scholar and Jewish Theological Seminary professor Joel Roth was disciplined for having an inappropriate relationship with a male student (reported in the Jewish Telegraphic Agency by Debra Nussbaum-Cohen). I believe that student was Danny Gordis. Gordis and Roth were close during the 1980s and they published responsa (answers to questions about Jewish law) together.
Danny is known for having intense intimate relationships (I am not saying they were necessarily sexual) with his favorite students, be they male or female. "He has a lot of groupies," says a source. "Mostly women. He always seemed to have the more attractive women students really close to him."
"Danny is brilliant," says a rabbi who knows him. "He got his university degree in 1981 and his rabbinic degree (at JTS) in 1983. He did what is normally a five-year program in two years. He's got a towering intellect. I agree with you about his books. They are not creative, but they are a good synthesis. He's a good speaker."
Danny Gordis and Brad Artson have been close for years. Brad, then a congregational rabbi, was on the admissions commitee when Danny was the Dean of Rabbinics. They were at JTS at the same time.
Luke: "Do you think Artson would stand up for the right thing if it cost him his position at the UJ?"
Source from UJ: "No. I don't know that I would. I don't know that you would. Especially when you are a parent. I think he would want to do the right thing."
Luke: "There seem to be a list of female professors at UJ who left and feel they weren't given a fair shake?"
Source: "Miriam Glaser is still there. She was just ordained. You were picked as the fair-haired-boy or not immediately. They decided that Aryah Cohen was hot and a superstar and they made him a department chair in his first year as an assistant professor. Granted, it was a sparse faculty. It is still a sparse faculty. When people ask me, should I go to the UJ or to JTS, I say, well, just look at the faculty. There's only one worldclass scholar at UJ -- Elliot Dorff.
"There's a woman there, Sue Kapitanoff, who taught psychology. She ran the place but had no status. Every job that nobody wanted to do, they loaded on her."
Luke: "Do you think that UJ has had appropriate boundaries between professors and students?"
Source: "No. The question is what's appropriate. If you start with the assumption that it is wrong for a professor to be dating a student, then the appropriate boundaries were not kept. It's problematic. Often at the UJ rabbinical school, the students and the faculty are the same age. Danny was dean at age 33. Many of his students were older than he was.
"There's a school of feminist thought that says that if you are faculty or an administrator, and you have power, there can be no real consent.
"It was certainly a place where the boundaries one might expect were not always observed."
Luke: "Did the administration seem concerned about that?"
Source: "No. It was a bizarre place. You had people going from being a Senior in college to being a top administrator overnight. Gady Levy. He became Dean of Continuing Education right after he graduated.
"When David Lieber retired [in 1993], the three top guys -- Danny Gordis, Hanan Alexander, and Robert Wexler -- got into a closed room, had a shouting match for a couple of hours and decided what was going to be. Who was going to be the president of UJ and who was going to have what job. Wexler obviously won. Danny and Hanan are gone.
"At the UJ, there was a lot of dissatisfaction that Gordis and Wexler were members of Orthodox shuls [as is the president of the board Peter Lowy] and davened in Orthodox shuls. Is it appropriate for people who are training the next generation of Conservative rabbis? It's not like there aren't decent Conservative shuls in the neighborhood."
Luke: "What about the notion of celibacy before marriage? Was that stressed by the leadership at UJ?"
Source: "No. Nah. There were definitely rabbinical students living together before marriage."
Luke: "And nobody in charge gave a damn?"
Source: "No. It wasn't an issue. When William Lebeau [JTS Dean] put out that memo against premarital sex, people at UJ thought it was quaint.
"I'm not sure the behavior is different at JTS than UJ. You live in the Orthodox community. You know that there are things, if you do them, that you are expected to be discreet about. The expectations of discretion were different contemporaneously at UJ than JTS.
"If you ask around the Conservative movement about Danny, you will hear that he's brilliant and a great speaker, rather than that he's a great guy. You won't find people who'll say, 'I can't believe this.'"
A Declaration About Conservative Judaism Leader Rabbi Danny Gordis
This was signed and made by a female Conservative rabbi. It was used in a lawsuit against the University of Judaism:
4. In [date removed], I entered the rabbinical program at the Jewish Theological Seminary in New York, NY. My first year of the program, [date removed], was spent in residence in Los Angeles, California, at the University of Judaism, at that time a branch of the Jewish Theological Seminary.

5. By [date removed], I was seriously considering leaving the program due to my dissatisfaction with the classes and the overall environment. During [date removed], I met with Rabbi Danny Gordis (hereinafter "Gordis"), then Dean of the University of Judaism in Los Angeles. I expressed to Gordis my dissatisfaction, and inquired about a return of my tuition. At that time, Rabbi Gordis encouraged me not to leave, and urged me to attend with him a Scholar-in-Residence program being held in Camp Ramah in Ojai, California, that weekend. At his urging, I also changed Talmud classes to become a student in his class. I was one of two women in his section of the Mechina (first year preparatory) Talmud class.

6. Within a short period of time, Gordis began regularly complimenting me on my clothing, my looks, with comments such as "You look good today." At first I was not concerned. However, as the term progressed, Gordis's comments made me increasingly uncomfortable, and finally scared and embarrassed. These feelings began with a discussion in which I expressed my difficulty in accepting the interpretation of a particular story regarding the Prophet Elijah.

Gordis responded to my comments:

"[Name removed], didn't your parents ever read you bedtime stories? I'm going to have to come to your bedroom, tuck you in, and read you bedtime stories. We'll make a date."

Gordis repeated the comment, "We'll make a date," several times.

A few days later, at the next class, Gordis said to me, in front of my classmates:

"[Name deleted], I have been thinking about this. I will come to your room, you will be all undressed, and I will sit on your bed and read you a bedtime story."

These comments brought forth feelings of embarrassment, anxiety, and concern. I was also feeling as if I was about to be coerced.

After class, one male classmate stated to me: "You know you can tell him to stop."

7. I felt scared to confront Gordis in large part because I had heard stories regarding his history of getting rid of people he did like either by failing them, or forcing them from the program. I finally decided his behavior towards me was unacceptable, and decided to leave him a note in which I told him that I knew he was probably just joking, but that his proposed date "was not going to happen."

8. Gordis, after reading my note, called and insisted he was just joking and that I was overreacting to his comments. He later "joked" that I wanted to sue him for sexual harassment. He did not continue to push for a date, but he did continue to regularly compliment me on my clothing and looks.
Another woman had a similar experience received an F in rabbi Gordis's Talmud class even though her performance in the class warranted otherwise.
I publish the above declaration because there are similar stories from other former female students of Rabbi Gordis.
Though rabbi Gordis is no longer in a position of religious leadership in the Conservative movement, he lectures at synagogues around the world and is the Vice President of the Mandel Foundation Israel and the Director of Mandel Leadership Institute:
Dr. Gordis guides the North American educational activities of the Mandel Foundation. Dr. Gordis was Founding Dean of the Ziegler School of Rabbinic Studies at the University of Judaism in Los Angeles. He also held the positions of Vice-President for Public Affairs and Community Outreach, and Assistant Professor of Philosophy. Dr. Gordis writes extensively about American Judaism and Israeli society, and is the author of, among other books, God Was Not in the Fire, Does the World Need the Jews, and his most recent book on the demise of the mid-east peace process, If a Place Can Make You Cry.
I read three of the rabbi's books (his grandfather, rabbi Robert Gordis, was a terrific writer and thinker). Two (God Was Not in the Fire, Does the World Need the Jews) were worthless (they simply repeated previously published material by others) and one was moving -- If a Place Can Make You Cry.
In my 2004 book Yesterday's News Tomorrow: Inside American Jewish Journalism, I wrote (based on information akin to the above declaration) about eleven problems with Jewish journalism:
#10. Placing sensitivity, tact, and restraint above other values.

Though restraint is always the safest option, it is not always the best. Problems hushed up are not necessarily problems solved. By not naming the sexual sins that cost rabbi Sheldon Zimmerman his job at Hebrew Union College, the Forward and other Jewish papers left people wondering about his fitness for his current position with United Jewish Communities. By not naming Amnon Finkelstein, dean of admissions at UJ, for his drug-and-sex debauchery that led to the permanent brain damage of a UJ student, the Jewish Journal let him and his university off the hook. Instead of inquiring why UJ has been rife with inappropriate relations between faculty, staff and students, the Journal took the lame angle of a cover story on "When Bad Things Happen to Good Institutions." My headline on all this would read, "When Good Stories Happen to Bad Newspapers."