Rabbi Eliezer Eisgrau is the principal of the Torah Institute of Baltimore. His third child, a daughter, accuses him of molesting her. Other accusations in this vein have been levelled against Rabbi Eisgrau but no criminal charges have been brought.
"His daughter has no real memories of the stuff she claims about her father," says a source. "She's had psychological problems for a long time. One therapist she went to did hypnosis with her and said, you're father and grandfather abused you, that's why you have all these problems.
"Vicki Polin believes in Repressed Memory Syndrome and [my source believes that] any victim who tells her that she has repressed memories, Vicki will believe her and [this could lead to the destruction] of someone's reputation based upon recovered memories. The next time Vicki allows you to interview her, you should ask her about this.
"Rabbi Eisgrau may not be a good guy. The question is -- did he rape his daughter? I'm not convinced he did."
Two families left the community over this controversy. They believed Rabbi Eisgrau was a threat to children but they tired of fighting the Orthodox community over it.
Baltimore's Orthodox establishment says they have investigated the charges and found them baseless.
Baltimore Jewish Times editor Phil Jacobs interviewed rabbi Eisgrau's daughter. He's told people he could not authenticate her story and that's why he didn't publish it. He's told people that her story has changed. Along with Baltimore's Orthodox establishment, he's said that she is not credible.
A Baltimore police detective (Richard Hardick) investigated the abuse complaints about rabbi Eisgrau. He did not find enough evidence to persuade the district attorney to bring charges. The detective has told people that he believes Eisgrau committed abuse. The detective has said that he never encountered such opposition to a child abuse investigation from a community as he encountered in Baltimore's Orthodox community.
One Baltimore rabbi, Yaakon Menken, has publicly condemned the charges against Eisgrau (without naming the charges or Eisgrau).
There's been no groundswell of opposition to Rabbi Eisgrau from the parents who send their children to his Torah Institute. They believe the rabbi is innocent.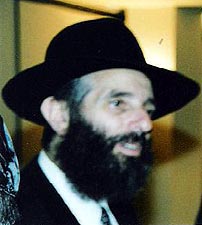 Stories are told from first-hand observation of rabbi Eisgrau getting drunk on Purim and pulling kids on to his lap, smothering them with physical affection, and telling them he loves them. Some of the kids get a horrified look on their face, freak out, struggle out of his arms, and run off.

"Torah Institute of Baltimore 35 Rosewood Lane Owings Mills, MD 21117 410-654-3500 www.torahinstitute.org Principal: Rabbi Eliezer Eisgrau Orthodox boys school for nursery/preschool through grade 8. Intensive Judaic and secular studies. Summer camp program available. Located on 12-acre Owings Milll campus." (Jewishtimes.com)

On three occasions, rabbi Eisgrau has been accused of sexually molesting children. Two allegations were made by former students and one by his daughter. At least one of his accusers now live in Silver Spring, Maryland (the frum community south of Baltimore right outside DC).

Rabbi Eisgrau is protected by the two leading Orthodox rabbis in Baltimore (Yaakov Hopfer and Moshe Heineman who believe Eisgrau is innocent).

Rabbi Eisgrau's eldest daughter has been excommunicated from her family and the Baltimore community and those who allege they were molested by Eisgrau have been labeled as crazy.

Police were stonewalled by the Orthodox community. Few would talk to the detective from within the community. They wouldn't acknowledge that they knew who the children were who accused the rabbi of molesting them.

I remember Gary Rosenblatt in 2001 decrying the pettiness he found in the religious leaders he got to know. I encountered the same thing when I examined Rosenblatt's record (he refuses to answer any tough questions, had Yossi Abramowitz reamed for his 1995 JNF scoop and then blackballed Yossi from The Jewish Week).

People are terrified about speaking up on the case of rabbi Eisgrau. They have been so threatened by the Orthodox powers that be in Baltimore, they won't even speak to the police, let alone journalists. Police have never seen a community so unwilling to speak up about such matters because of threats.

Just working to expose the story can be cause for having your life threatened by members of the Orthodox community. On the other hand, you can have people crying at your feet about Eisgrau -- that you've never met a holier man. He's so pure.

Eisgrau's daughter went to a world-renown American rabbi (circa 2002, Dovid Cohen (independently wealthy), halachic advisor to Ohel Children's Home and Family Services, friendly with Lewis Brenner's family), famous for fighting sexual abuse, with her story. He was nice. He said he would get back to her. He called the rabbis who rule the community in Baltimore. Several sources say he was threatened that if he got involved, all backing for his institutions would dry up. A source in the Orthodox rabbinate say that serious Baltimore Orthodox rabbis investigated the charges against Eisgrau and found them baseless. They relayed this to rabbi Dovid Cohen who then dropped out of the case.

When Eisgrau's daughter called him back, rabbi Dovid Cohen said, I'm sorry. I can't have anything to do with you.

Rabbi Cohen spoke at a Nefesh convention circa 2000. He encouraged the therapists there to raise public awareness of sexual abuse.
Rabbi Yaakov Menken (of Torah.org) writes me 12/30/04:
Tell me something... how did I become a "staunch supporter" of Rabbi Eisgrau? Because I laughed when you claimed that Phil Jacobs is "under the thumb" of R' Menachem Goldberger? Or was it when I started rolling on the floor at the idea that R' Yaakov Hopfer and R' Moshe Heinemann could threaten the funding of R' Dovid Cohen in NY? Yes, my son goes to TI, and no, I have no concern for his safety. But I'm no staunch supporter -- just not totally clueless.

Much of what I read on your blog sounds reasonable, but what you wrote about Baltimore mixed familiar names with obvious untruths. You're reporting from a distance; having viewed the situation up close, I know what you got from someone must have come from an alternate universe, because it's nowhere to be found in Baltimore, MD.

Vicki Polin invited me to join the Awareness Center, because she knew that I'm attuned to these issues. But I hesitated precisely because I couldn't authenticate what she was publishing.

Now, I haven't spoken to the detective. I wouldn't object, of course. But I have spoken to Phil (Jacobs), who went to speak with Eisgrau's daughter, thought it all over, and "spiked" the story because her story couldn't be authenticated. In fact, it changed repeatedly and Phil didn't "smell" a story. He's published a whole set of things Rav Goldberger would surely have preferred he not, as any reader of the BJT can discern. And even Phil, as all who know Baltimore can tell you, cannot single-handedly spike a story the newsroom wants to print, especially not under Rav Goldberger's "thumb". Even Vicki knows that's bogus; she admitted as much to me on the phone.

The other "accuser" says that Eisgrau fondled him in front of other boys. Fine -- where are the boys? He claims witnesses, and cannot find witnesses. Now I ask you, is that testimony or evidence of falsehood?

It certainly doesn't add up to a situation where the appropriate course of action is to put Rabbi Eisgrau up on the web. And do you really think the Rabbis of Baltimore would tell parents to send their kids to a known pedophile?

At some point, the inherent illogic of this must seep through to any unbiased mind.
The following was written by Rabbi Eisgrau's daughter and has been circulated, and mailed to several different Jewish newspapers. As of today, no one but me has published it.

To the editors:

I would like to address a very important and very troubling issue affecting our entire community and its future.

The taboo surrounding the issue of child sexual abuse in general, and even more so within our own community is very real and difficult to surmount for many reasons. Our silence is what child sexual offenders count on to enable them to continue abusing. We must break this silence and as a community begin to address this issue openly.

This sensitive issue becomes even harder to deal with when allegations are made against a rabbi or trusted leader within our community. Most of our rabbis and leaders are not child molesters, but most also have no training or expertise in this area. Most rabbonim confronted with allegations of abuse against a trusted and respected colleague are simply not equipped to deal with the situation. Obviously, they do not want to believe the allegations. It is a lot easier to stigmatize an obviously troubled or angry victim then to believe that a well respected, influential, colleague could be a sexual predator.

Instances of childhood sexual abuse are very hard to prove (or disprove), as there are rarely any witnesses, or visible scars. Training in recognizing the short and long-term effects affects of abuse is essential, and the responsibility of every Rabbi to obtain.

We have recently read stories of perpetrators within our community who have used the silence of the community and its leaders to allow them to continue abusing children, sometimes for decades. Some say that it is a chillul Hashem for papers to have published such information. The sad truth is that going to the papers is the only thing that finally stopped the abuser and prevented future victims. The real chillul Hashem is that many Rabbonim knew of allegations for years and did nothing. The real chillul Hashem is that when a sexual abuse or assault victim dares to speak out publicly, instead of helping the victim, and confronting the issue, Rabbonim and community leaders rally around the accused perpetrator trying to protect the image of the community at the expense of his victims.

Many of our "at risk teens" who have gone "off the derech" are victims of childhood sexual abuse and have gotten the message loud and clear that they will not be helped or believed, and so have left the community.

When allegations are brought against a person who is in a position of authority over innocent children this person should very quickly be directed to another line of work. To date there is no known cure for pedophiles. The only way to manage these tendencies is for perpetrators to never be alone with a child.

Parents have a right to know about allegations made against those caring for their children and to make an informed decision about the risks that they are willing to expose their children to. The Baltimore community must be made aware of and take responsibility for any accused perpetrators in our mist, especially when they hold positions that enable them to continue to offend.

Rabbi Eliezer Eisgrau, the principal of the Torah Institute, is one such individual. Rabbi Eisgrau has, on at least two known occasions, been accused of child sexual molestation and on at least one occasion of physical abuse. (He allegedly hit a child in the face and broke his glasses.) One of the accusations of sexual abuse was made by a former student, and the other by one of rabbi Eisgrau's own daughters. (Both of his alleged victims are now adults.)

The charges brought against Rabbi Eisgrau by his student were formally investigated and later dropped because of insufficient evidence. In the words of the investigator, Detective Richard Hardick, he was "stonewalled" by the community. Concerned and aware members of our community (including myself) who have tried to speak out about the potential danger to our children have been threatened with loss of their job, membership to shul, and even personal safety. Rabbi Eisgrau's rav has advised rabbi Eisgrau's other children to excommunicate their sister unless she agrees never to speak out about her experience. This, in my opinion, is a horrible chillul Hashem and abuse of rabbinic authority.

Let us, as a community, take responsibility for protecting our children and educating ourselves about sexual abuse. A good resource, which deals specifically with sexual abuse in the Jewish community, is The Awareness Center at, www. theawarenescenter.org.

Rabbi Yosef Blau (mashgiach Ruchani of the Rabbi Isacc Elchanan Theological Seminary) in his article, Confronting Abuse in The Orthodox Community, (Nefesh News, 7:9, July 2003) writes:

"Our community has not been educated to recognize abuse nor to appreciate the ongoing trauma of victims...Often the response is to express anger at the paper (publishing letters such as this one) and then ignore the abuse. Until the mentality of the community changes little progress will be made."

I hope everyone reading this will take his message to heart.

Sincerely,
A concerned member of the Baltimore community.
Larry Yudelson writes on Protocols 11/9/04:
If I was editor of the Jewish Times and received this letter, it would be a no-brainer not to pursue it. (I might publish it, after removing the paragraphs that named names.) The letter claims that no sources will talk. What evidence can a reporter get that would convince my libel lawyers that the story was worth running? How much circulation would I lose if I did run the story? How many Pikesville establishments would stop advertising? And -- equally important -- how long would it take to research the story? How many hundreds of hours of reporting is necessary? That equals how many months of work for one of my handful of reporters?

Now, if I was the author of this letter, if I was personally convinced of the claims in this letter, then rather than berating the Jewish Times for not researching the story, I would figure out how to research it myself. Who else might have been abused? Who else was in the rabbi's classes? Which students have left the derech? Are their demographics different than others from other yeshivas that left the derech? Research and package up all the information, wrap it up as a gift for the editor of the Baltimore Sun. They still have to worry about libel, but don't really care about losing advertisers or subscribers from the frum community.

Better yet: Present it to a lawyer. I haven't been following the Catholic cases closely at all, but I have the impression that much of the reporting reflected lawsuits and criminal investigations. As the myth of Woodward and Bernstein proved, the press is at its "best" when it's just leaking someone else's detective work. Whether or not me or Luke will be able to advance the story to a publishable point... well, that's the interesting question, isn't it?
I've spoken to the author of the letter. I've spoken to others who have researched this story. There was a police investigation (by detective Richard Hardick). The Baltimore Jewish Times editor Phil Jacobs interviewed at least one person who says he/she was molested by rabbi Eisgrau. Jacobs did further investigation. Jacobs got threatened by powerful members of the frum community. Jacobs decided he did not have a story. One of Baltimore's leading rabbis told the Eisgrau family and the Baltimore frum community to put the daughter who alleged the sexual molestation into cherem. These are indisputable facts.
Phil Jacobs is a member of rabbi Menachem Goldberger's shul Tiferes Yisroel, which claims it is open to all Jews. All Jews except those who investigate this case. One such person has been banned from the shul and refused membership, even though the person is a Jew, born a Jew, and identifies Orthodox, solely because the person was looking into the Eisgrau story. Phil Jacobs and rabbi Goldberger know exactly what I am talking about.
Me, an anonymous poster on Protocols who I have gotten to know well over the past six months through private emails etc, and somebody with enormous credibility in these issues, writes on Protocols:
I have specific information regarding a relative of a victim of sexual molestation who approached Rav Dovid Cohen for help regarding a Rabbi who had a long documented history of sexual child abuse (not Eisgrau). Rav Dovid Cohen pretty much called this person a liar and refused to listen or help. Rav Dovid Cohen is just another protector of the abusers within the rabbinate.

One of the problems with the Shalom Task Force is that it is closely connected with its affiliate organization, Beit Shalom (Bukharian Jewish Women's Organization). Ora Nisanov wife of Rabbi Shlomo Nisanov, runs Beit Shalom.

Ora Nisanov and her husband Rabbi Shlomo Nisanov also ran a Yeshiva called Berachel David. Both were directors of the Yeshiva according to public records. The principal at their school? Rabbi Ephraim Bryks, who had a long documented history of sexually molesting children. The Nisanov's were aware of Bryks' history at the time and still support him. The school has since closed.

These people are the problem not the solution.
I believe the Rivka in the following story is supposed to refer to rabbi Eliezer Eisgrau's daughter.
Spirituality, Sexuality, and How Survivors of Childhood Sexual Abuse Experience God

© (2004) By Vicki Polin, MA, LCPC, Michael J. Salamon, Ph.D., and Na'ama Yehuda, MSC, SLP, TSHH

Spirituality and Sexuality are very often confusing issues for adult survivors of childhood sexual abuse, and for several valid reasons. In families where the concept of God is present, a child's first representation of God is either of their parents or through their parents. If you have loving, kind parents you may develop a view of God that is loving and kind. If, however, you grew up in a family of violence your perception of a higher power would be of a being that is controlling, explosive and violent. For children who have been sexually violated by their parents, their role model for God is that of a sex offender. Survivors' internalize a view of a punishing, abusive God, who only allows bad things to happen to them because "God loves them." They live in a place where nothing is safe, not even their thoughts, because God can read those and therefore punished for even feeling angry, upset or disrespectful. Given the way children develop a perception of the world, a survivor of the heinous crime of incest would naturally question the veracity of a kind, loving God.

The Talmud (Moad Katan, 17a) relates that a respected Rabbinical educator was rumored to have been involved in behavior that was "hateful." The commentators suggest that he was either an adulterer or seduced young women. The Rabbis ostracized this individual. Unfortunately, despite this tradition to ostracize such offenders, Jewish communities have not taken such a strong, responsible position toward molesters. Too often when allegations of child molestation are brought to the attention of community leaders, parents or relatives of victim's are reminded that discussing issues of molestation within the community or bringing these types of allegations to the public would result in any number of negative outcomes for the survivor. These consequences include difficulty finding a marital partner of substance for not only the survivor, but also other family members, or could result in the survivor or family members of survivors not getting into good yeshivas (schools). There are tales of families of abuse victims of having to relocate to another town as a result of the political pressures following disclosures. Not only does the survivor have to struggle with their trust and belief in God so does the survivor's family.

We have begun to discuss the possibility of a correlation between assimilation and childhood sexual abuse. According to the most recently available data one in every three to five women, and one out of every five to seven men, have been sexually abused by their 18th birthday. As part of the healing journey, the majority of survivors of abuse reach the point where they try to integrate what happened to them on a spiritual level. Many are in twelve-step programs, surrounded by individuals of other faiths, yet the Jewish survivors often feel different. Jews have very different customs then that of their Christian friends. When a survivor is from an unaffiliated background, they may feel at a loss -- unsure of what to do, or how to do it while survivors from backgrounds that were more traditional and included a Jewish education may feel betrayed by that background. The confusion of the healing process adds to the inability to find a healthy spiritual place within their own religion. So what is a Jewish survivor of childhood abuse to do?

Up until now there have been very few individuals who are "survivor friendly" in the Jewish community. We need to start opening our minds and our hearts to begin listening to survivors of childhood sexual abuse bearing witness. Just like holocaust survivors, who were initially shunned, survivors of childhood abuse need to be allowed to speak in order to heal, to be able to learn to connect with God, to see God as something other then neglectful, abusive and cruel. Those listening to these disclosures have a responsibility to themselves, their families and to the survivors. It is vitally important to make sure they have access to a support group conducted by a trained facilitator who is experienced with compassion fatigue (secondary post-traumatic stress disorder), so they are allowed to debrief and maintain balance, after hearing the voices of survivors.

Karen is a thirty-year-old survivor of childhood sexual abuse. She indicated that she spent her life trying to connect to something that was spiritual, yet felt she was failing. Over the years she approached many rabbis asking them questions. Unfortunately, the Rabbis, due to a lack of training, were unable to help her understand either her questions or the concepts with which she need the most help. Most had difficulty listening to her disclose her abuse history. When Karen was a child, while her father was molesting her, he would say "this is how you know God loves you . . . you know anything that feels this good has to have come from God . . . this is how you know God is inside you." Knowing this information would be critical in understanding Karen's difficulties with the concept of God. Yet most Rabbis doing outreach were unable to help her reframe her experience and make it possible for Karen to learn to connect.

Rivka was in her teens when she first disclosed to a friend that her father, a rabbi was molesting her. Her father was also a principal of a school for young boys. Her friend told her mother, who in turn, went to a local community leader to ask for advice. Because of the stature of her father, the community leader suggested they keep quiet about the abuse. As time went on, Rivka was unable to cope. As a teen she ran into some difficulties and ended up moving into the home of one of her classmates. Due to political pressure within the community, the family that Rivka resided with was asked not to daven (pray) in the synagogue they had been members of for years. The family was dedicated to helping Rivka heal, and were not about to put her out on the streets. Rivka eventually went to college, was able to support herself financially, got married and is the mother of three. Rivka came from a Torah observant upbringing, but from her experiences with the denial of the community, she no longer practices. She feels betrayed by her family, the Jewish community, and most importantly by God. When speaking to community leaders of the town she was from, and when her name is mentioned, they make comments such as she's happy, she is married and has children. But they are not completely correct. Rivka's is in mourning. She misses her biological family, she misses her connection to her community and she feels that has no one to talk to about her feelings about God.

Mitch grew up in family filled with physical and sexual violence. The family belonged to a synagogue and his parents made sure to enroll all their children in programs so that they could learn about Judaism. There was a problem -- Mitch was deaf. None of the Jewish educational programs had interpreters. Mitch was not proficient at lip reading and disclosed that he was bored and felt left out. Growing up Mitch never felt that he was a part of his family since the majority of his family members were not proficient in sign language. He was alone isolated in his deaf world. School was Mitch's only respite. He was enrolled in a school for the deaf, and could communicate freely with people who could understand and relate to him. Growing up in the South and being deaf meant that he didn't have any Jewish friends. As he reached high school, he wanted to be like his friends. Most of them went to church. Mitch had no concept of God, and was like a sponge to learn, to connect to something spiritual. Mitch's concept of God was that of a father who was filled with anger and rage. No one in the Jewish community ever took the time to meet Mitch's needs. He never was given the opportunity to express his thoughts and feelings about his concepts of God to anyone Jewish. But then the missionaries reached him. Like so many survivors, the desire to feel loved was strong. His new friends knew this and showed him unconditional love. He would do anything to feel loved and cared for, and if it meant learning about another religion, then he did it. When his family realized what was happening they tried to rectify the situation, but again it was done in a way that appeared to be an attempt to control and abuse him. Their attempt was unsuccessful. To this day Mitch's views Judaism as something that is abusive and wrong.

The more our communities, and our leaders are educated on the issues relating to childhood sexual abuse the easier it will be to help heal the oozing wounds of childhood sexual abuse. Band-Aids can only cover up an infection. Our communities need to do major wound care, some individuals may require "spiritual surgery," while others my just need a topical ointment. But together as a community, as a people we can come together and heal the world.
1/16/05
From The Beach of Yellow, a poem about the daughter of rabbi Eliezer Eisgrau who was exiled from her Baltimore community by rabbi Yaakov Hopfer:
I heard a voice coming from the fields
beyond the synagogues and the black-hatted masses
beyond the halls of study and the ritual baths
beyond the chambers of rabbi's courts.

I followed the voice and found a spirit wandering in the wind.
I asked her why she wanders so. She replied:
I have been banished from the family of my youth
Cast away from the people to whom I belong.

Why is that so? I asked,
For I knew of her family and their people,
I knew of the deeds of kindness they had done
I knew of the outstretched arms they offer to lost cousins.

Her voice came to me,
Plaintive as the wind whispering in the reeds
She said: I opened my mouth and told the truth.
That is my sin. This is my punishment.

What is your truth? I asked.
She said: I was but a child at the time,
I was violated in unspeakable ways by my very own father.
My mother did nothing to protect me. My siblings stood by silently.

I, too, kept quiet for many years, hoping to bury the pain.
But the day came when the truth burst out from my heart
In a river of tears, in a sea of pain
In an ocean of grief and self hatred.

I went to those whom I trusted, but they did not believe me.
They told me I was mistaken, that it did not happen.
But I cannot deny the truth that lies in my heart
I refuse to betray the child within me by denying her pain.

I told the truth.
It is ugly and hideous, but it is the truth nonetheless
and I will not be silent to protect the honor
of he who does not deserve to be protected.

I have been ex-communicated because I have spoken the truth.
So, I shall wander here, in these fields of barley
Until the day when the piercing blast of a ram's horn rips away the layers of denial and lies
and the truth is known to all.
5/16/05
Rabbi Eisgrau's Daughter's Letter About Child Abuse
A few weeks ago, she sent the following letter to many rabbis in Baltimore.
I sought comment on this from Dr. Aviva Weisbord and rabbi Eisgrau (the principal of the Torah Institute of Baltimore). They did not respond.
This letter was forwarded to me over a month ago by somebody who thought its contents were so outlandish that they discredited the woman who made them.
The woman who wrote this is now married with kids and is leading a responsible life. She is still Orthodox. I've spoken to her. I've corresponded with her. I found her credible (which doesn't mean that I can support with facts everything she alleges).
When most people in the orthodox community look at my family they see a normal family. Everyone is religious, married with kids, seems happy, and appears not only to be functioning well but also contributing to their community.

I am the third of twelve children. Most of my early childhood was spent in Vineland, New Jersey. My father met and married my mother in Vineland while he was a student at her father's yeshiva. My grandfather's yeshiva was in a remote area Jewishly and otherwise, and we were very isolated. We did not go to school and had no contact with children outside of the family.

My father [various charges] me repeatedly while we were living in Vineland. The abuse happened when I was between the ages of three and seven years old. I was...molested by some of the students in my grandfather's yeshiva. I don't remember their names...

My grandfather was also inappropriate with me. He exposed himself to me once when I was three. When I was seven he would have serious discussions with me. He would tell me how lonely he was and ask me if I thought he should get remarried. At that age he told my sister and I that he loved one of us more than the other. I was sure it was she who he loved more than me.

I know that my grandfather physically abused my mother, (although she will insist that her experience was not abuse). She would get hit, for example, if she couldn't keep the baby from crying. My mother is the oldest of ten children. Her mother died of an illness when she was fifteen. She said that my grandfather always hit his children too much, but after her mother died it got worse. She told me that her brothers would try to protect her. My mother's brothers are the only safe men who I remember having close contact with in my childhood.

My father was physically abused by his mother. She would hold his nose to force him to swallow foods that he hated. She would beat him with a broomstick. He was a troubled teen and was kicked out of more than one yeshiva. He told me that my grandfather rescued him, "pulled him from the garbage can." He shared with me his first encounter with my grandfather. He said that when my grandfather was speaking to him he raised his hand to make a point, and my father instinctively ducked under the table. He thought he was going to be hit.

My grandfather also rescued [accused child molester who was found guilty of assault and received probation] Aron Goldberger. He had been expelled from a yeshiva for "homosexual behavior." Knowing his background, and despite many warnings, my grandfather allowed Goldberger to marry his daughter.

I was a troubled child and an angry teen for obvious reasons. I was also extremely depressed. My mother would tell me repeatedly that I had nothing to be sad or angry about and that I should put a smile on my face.

When I was in the fourth grade I discovered by accident that I needed glasses. A classmate had a pair and I tried them on just for fun. When the room jumped into focus I realized that I needed glasses. I told my mother who said, "No you don't need glasses, you see well enough." Her response was typical.

When my fifth grade teacher sent a note home asking my parents to get my eyes checked they finally took me to an eye doctor. The doctor assured my mother that he could see by the shape of my pupil that I was nearsighted but she was still unconvinced. She told me that I was getting glasses not because I needed them but to get the teacher off her back. My sister taunted me "you don't really need glasses, you just want attention."

As a child I often wondered what I could possibly do to become real in my parent's eyes. I remember watching other children in school and wondering what it was about them that I was missing that allowed them to exist, and have real needs and feelings. I thought there was something inherently wrong with me.

When I was sixteen I left home to go to school in Israel. When the Gulf War broke out my parents forced me to come back home and refused to let me return to Israel. When I was eighteen I ran away from home and went back to Israel. My father came after me. He told me that the only reason he could think of that I could possibly have run away was that I had lesbian relationship with a friend whom I had met and become close to while in school there.

My father said that he wanted to help me and would take me to see a psychologist if I came home with him. He took me to his friend, Dr. Aviva Weisbord, who agreed to see me as a favor to him. (Apparently he had helped her with one of her children who had been having issues.)

Dr. Weisbord should never have taken me on as a client due to her obvious conflict of interest. She allowed me to come to her house during the course of therapy and sleep over. She violated confidentiality by meeting with my parents against my wishes. She violated confidentiality by telling people that I had been a client of hers and that in her "professional" opinion my father had not abused me.

During the course of my treatment with Dr. Weisbord she and I both realized that I had been sexually abused. She kept asking me about my uncle, Goldberger, whom I had contact with as a young child. I did not remember any specific instances of him abusing me. I did not tell her about my father. She was very willing to believe that my uncle, a convicted sex offender, abused me. But I knew she would not believe me about my father. She made it clear that she trusted and respected him. At some point she realized that I was hiding something. She told me that there were serious boundary issues in my family. That there were things that I wasn't sharing with her, and that she did not want to hear. She told me that she was ending our relationship and sending me to someone else.

My next therapist would not speak with my parents at all, and when my father found out that I was talking about the abuse he told me that I had to stop seeing her. He threatened to take her to a bais din for "convincing me of things that never happened." He told me that I was heading down a dangerous path. That reading books on the subject of abuse was putting ideas into my head. He told me that he was the only one who really loved that and me if I wasn't paying my therapist she would throw me out onto the street. That was the day I left my parents home.

I had nowhere to go. In desperation, I called a woman whom I had met only once, Hinda Goliger, and she invited me to come live with her. She and her husband became my biggest, and at times my only, allies and supporters. Many people including my parents, tried to pressure the Goligers to throw me out so I would be forced to go back home. The Goligers refused to bow to pressure. They promised me that their home would always be a safe place for me and it was. They were truly there for me when no one else was. They believed in me, and I will always be grateful.

The abuse by my father and others left me with many issues. But even worse than the actual rape and abuse was the revictimization that I encountered from my family, and community, when I tried to reach out for help.

No one would believe me that my father or my grandfather had done these things. My siblings were very angry with me and treated me like I had some horrible disease. My mother told me that she knew that nothing happened to me and that basically I was saying these things to get attention. One of my uncles told me that saying that my grandfather abused me meant that I hated the Torah. Another Rabbi who I spoke with, after asking me for my grandfathers name, told me that it was my imagination that I had been sexually abused and that I should just forget about it and get married and everything would be fine. Once again I was being given the message that I was not real. My memories were not real. My feelings and experiences were not real.

During this time one of my brothers, then in his teens, forced a six-year-old girl in the neighborhood to expose herself to him. He threatened to hurt her if she didn't comply. The child's mother told me about the incident. She told my mother about it too. My mother's response was that she needed to talk to my brother about staying away from girls, and that my father needed to learn with him more often.

I told my therapist about the incident. She informed me that what my brother had done was considered sexual abuse and that she was mandated to report it. I begged her not to. I knew that my family, who were already very upset with me for saying that my father abused me, would think that I had reported it. She finally agreed to ask her Rabbi, R' Menachem Goldberger, what to do. R' G. told her to make the report which she did.

Another rabbi who I turned to for help was Rabbi Heinemann. I did not know how to approach him. I decided to ask him a halachic question that had been bothering me for a while. It was a question that one of my aunts had asked me when I told her what my father had done to me. I asked him if I was allowed to marry a kohen if my father raped me. I was hoping that he would hear the inherent pain in my question and offer to help me. He asked if it happened before or after age three. I said after. He then told me that if I decided to say that it never happened then I could marry a kohen but if I said that it did happen then I couldn't. End of conversation. That was the only time that I spoke with R' Heinemann about this, or anything else.

I went to other rabbis for help and I was told, "we know sexual abusers exists in our community but we know that your father is not one of them."

I already felt inherently damaged, and traumatized, as a result of the sexual abuse but the way my family and the rabbis were treating me made the pain unbearable. Like all survivors of trauma I needed to talk about what happened to me in order to process it and heal. I needed (and still need) my truth to be heard. My family did not understand this and accused me of trying to hurt them by telling people about it.

I thought that because no one believed me I must be crazy. I wanted to believe that my family was right and I was sick or evil but deep down I knew that I wasn't and that I was remembering these things because they had happened to me.

I was in a tremendous amount of psychological pain. I often begged God to remove me from this world. I wanted to die to find out the truth. And I wanted to escape the pain. I attempted suicide and was hospitalized. During my hospitalization I was diagnosed with a dissociative disorder (that I have since recovered from) whose only known cause is severe and repeated trauma in early childhood. I was also diagnosed with PTSD (post traumatic stress disorder.)

While all this was going on I was teaching pre-school at the Torah Institute. The pre-school director was shocked when I told her that I was quitting because I was suicidal and needed to be hospitalized. She simply couldn't believe it. She said that I was doing a great job teaching and that she thought I was the most 'together' of all my sisters. I told her that my family specialized in seeming 'normal' and 'together' and that I was good at it, but I was tired of pretending to be ok. I needed help.

At first the director said that she believed me that my father had sexually abused me. She told me that she knew more than one rebbe at the Torah Institute with sexual issues. She wanted to be supportive but at the same time she begged me to consider the damage that speaking about my experience would cause my siblings. She told me I could ruin my sister's chances of getting a shidduch if I didn't keep quiet.

She offered to let me stay with her for a couple of weeks while I waited for a bed to open up on the dissociative disorders unit. During this stay she changed her mind and told me that although it was obvious to her that my parents had caused me severe emotional damage, she just couldn't believe that my father had physically molested me.

During one of my many hospitalizations R' Hopfer came to visit me. I told him about the memories that I had of my father molesting me. I told him that I hoped my family and everyone else was right about me and that somehow my mind was playing cruel tricks on me. It was easier for me to believe that I was crazy then to believe that my father did these things to me. I wanted my family back.

Eventually, I rented my own apartment and applied for another job in a new pre-school that was opening up in the community. I was hired as a teacher for the three-year-old class. A few weeks before the start of the school year the director informed me that some people in the community threatened not to send their children to her school if I was going to be teaching there. They told her that there must be something wrong with me because I had moved out of my parents home. This woman, not knowing that there was a connection between us, asked Dr. Aviva Weisbord for advice. Dr. Weisbord told her not to let me teach but to give me a job in a back office where I would be invisible.

I became completely disillusioned with yidishkeit because of the way I was being treated by the community and my family. I saw the dirty fighting that went on between various rabbis over the situation with my aunt and uncle. (Goldberger.) The threats, the name calling, the power plays. Now people who should have been helping me were calling me crazy and evil. It was all sickening to me and I wanted nothing to do with any of it anymore. I stopped keeping shabbos and kosher. I had to find a new way to relate to God. I also had to find a new God. One who had not allowed me to be abused in a yeshiva and by people who were supposed to be frum and uphold the Torah. A God who was all knowing and all loving and believed in me and wanted me to heal. I had to leave yidishkeit to find this.

I explored other religions. I spoke to priests, ministers. I came back to Judaism, mostly because I missed shabbos. I had to come to the realization that my parents and the Rabbi's who hurt me did not own God or Judaism and that their behavior had nothing to do with Torah. Although I am now shomer mitzvoth, to this day I can never completely trust a rabbi. And I doubt I will never feel completely safe or comfortable in the frum world.

About eight years after my conversation with Rabbi Hopfer my father became the principal of the Torah Institute. I had received excellent help in the trauma disorders day hospital at Sheppard Pratt and had with much effort pulled my shattered life back together. The chronic depression and psychological pain that I had carried around with me for as long as I could remember slowly dissipated as I worked through the traumatic memories. I was in school. I was working. I met and married a wonderful man. I gave birth to a baby. I was very happy. Every day felt like a miracle.

I was very concerned when I heard that a former student had accused my father of child sex abuse. I had thought/hoped that his abuse had stopped with me. It suddenly occurred to me that maybe the reason the abuse stopped when we moved to Baltimore was because my father had access to other children.

I told a parent of a child in the school that I was concerned that my father was not safe around children. It got back to my siblings and they went to Rabbi Hopfer for advice. Rabbi Hopfer told my siblings to give me an ultimatum. I was to promise never to talk about what my father did to me, or they would cut me out of the family. I told them there was no way I could ethically promise that.

I wrote Rabbi Hopfer a letter asking him why he had not contacted me before he gave my family this advice. He did not respond. Some months later I called him up several times, and finally he called back. I asked him why he had not contacted me before telling my family to cut me off. He became very defensive and angrily asked me why I believed that my fathers other accuser was credible? Why had I not bothered to check it out?

I told Rabbi Hopfer that I had checked it out and that although I was not in the room and could never know what really happened to this student, that based on my own experiences with my father I believed that it was possible that he had abused again.

I told R' Hopfer that I wished that he and my family would also admit that they were not in the room when my father was abusing me and could never be completely sure what my father had done to me.

I asked him again why he had not contacted me. He said he had already spoken to me eight years earlier when he had visited me in the hospital.

Me: I am a different person now, in a totally different place then I was eight years ago. I was going through a serious crisis then. A lot has changed. I think you should have realized that and called me. Do you remember our conversation in the hospital?

Hopfer: No.

Me: So you made the decision to break up a family based on a conversation you had eight years ago that you don't remember?

Hopfer: I made my decision then that you were not credible and I stuck with it.

Me: I think you should have contacted me. Why don't you believe me about my father? Do you think I am crazy or evil?

Hopfer: No, but your siblings say that your story is inconsistent. First you said your uncle abused you, then your grandfather, then your father.

Me: When I first started dealing with this, I did not want to believe that my father abused me. Like you, I would rather have believed just about anything else. My therapist at the time wanted me to think it was my uncle.

Hopfer: Your own therapist doesn't believe you.

Me: The only therapist I worked with who is unethical enough to break confidentiality and speak to you about what she believes and doesn't believe about me, is Dr. Weisbord and she is also a friend of my father. I'm trying to understand why you would advise my family to do such a terrible thing? What good could this possibly accomplish?

Hopfer: They have too choose between you and your father. They can't be loyal to both of you. They can't stand seeing the pain you are causing him.

Me: I wonder why you and my family are so focused on my fathers pain, which I didn't cause, yet no one seems to worry about my pain. I have lost my entire family because of this. And you have ruined any chances of my family taking any responsibility in dealing with this. Any chance of healing our relationship. If they want to cut me out let them at least own their own decision. Don't you realize that they take your advise as a psak, as da'as torah?

Hopfer: Yes. I realized that.

Me: would you consider changing your ruling.

Hopfer: No, I still think they have to choose.

Me: Is it because you don't believe me, that my father sexually abused me?

Hopfer: Yes, I don't believe that he did that.

Me: How can you be objective about this considering that you trust my father so much? He has taken over your shiurim for you when you are out of town. He has taught your children. Don't you think it would have been more responsible to send my family to someone else for advice about this? Someone who is not so close to the situation?

Hopfer: I believe that I made the correct decision.

In the end my father is still the principal of an elementary school. If the rabbis in Baltimore care at all about the safety of the children in their community they would insist that my father be evaluated by a professional who is trained to evaluate potential offenders. If they continue to try to "protect" him and demonize, discredit, and isolate me, they are continuing to perpetuate a tremendous evil for themselves and their community. They share some of the responsibility for the horrors I went through and they will be responsible for any new victims of abuse by my father.

I am still treated like I do not exist by my family. I don't know which of my siblings are married, and I have not been told of any births or deaths that have occurred.

I am still looking for a rabbi who is willing to stand up for me and challenge rabbi Hopfer to take a second look at what he is doing to me and to my family. Whatever the outcome, it would help me heal my relationship with Judaism to know that there is someone representing Torah who is willing to stand up for what is right.
12/12/05
According to a well circulated story, a tough guy upset at stories he'd heard about Rabbi Eisgrau abusing kids, met the rabbi in the mikveh when no one else was around and knocked him out.