Honoring Mothers Who Make Change Happen
Malcolm Hoenlein's old friend Lisa Belzberg.
Vanity Fair, 6/1/04: [Bill Cinton's] also chatted up the openly bisexual British beauty Saffron Burrows at the bar of the Hudson Hotel in Manhattan (she said he was amused to learn that she once fancied Hillary); lunched with model Naomi Campbell at a mountaintop restaurant in Austria (she reportedly fancied his aide Doug Band, which came as news to Band); had a late-night encounter with former New Zealand talk-show host Charlotte Dawson in Auckland (she really fancied a member of his Secret Service detail, a "tipster" told the press); taken in the Preakness with blonde billionaire Canadian businesswoman Belinda Stronach (they discussed his presidential library, Clinton's spokesman said); and, according to the Globe, been a reputed cause for the split of Seagram heir Matthew Bronfman from Canadian heiress Lisa Belzberg.
11/1/02, Page Six: THE marital split between Matthew Bronfman and Lisa Belzberg is on the mend. The couple, who have six children, separated last winter even as rumors abounded that Belzberg had become pals with Bill Clinton. Soon after, the blond and buxom Belzberg dated "West Wing" creator Aaron Sorkin. Bronfman, a Seagram heir, found companionship with a woman in the fashion business. "She's out of the picture," said one insider. "She's banned from his office." Both parties are unattached now - except to each other. Husband and wife were seen recently dining at Nosidam, and at the bar of the Four Seasons hotel. Since they were never legally separated, they can quietly resume being married.
Page Six 9/24/02: SEAGRAM heir Matthew Bronfman has just sold his East 67th Street mansion for $24 million, reports The Post's Braden Keil. Bronfman has been home alone in the five-story townhouse since separating from brainy blonde wife Lisa Belzberg, who lives in Westchester with their kids. Bronfman bought the pad in 1994 for $3 million, then added almost $20 million in renovations.
9/18/02: Four months ago Mr Clinton was linked with another blonde socialite, Lisa Belzberg, 38, who is also a Canadian.
According to 6/12/02 Page Six of the New York Post: WHATEVER there was between Lisa Belzberg and Bill Clinton, it appears to be over. Belzberg, the brainy blonde behind the PENCIL nonprofit group that helps the public school system, was rumored to be more than friends with the former president, who lives just 10 minutes away from the mother of two in Westchester. "She's heartbroken," said one source. But there is little chance of reconciliation with her husband, Matthew Bronfman. The Seagram heir, who split with Lisa in February, is said to be very happily dating a fashion industry executive, Stacy Kaye.
Inside Politics 6/13/02: "The New York Post reported yesterday that the relationship between former President Bill Clinton and Lisa Belzberg 'appears to be over.' If we do the math, that means that Mr. Clinton and the pretty blonde socialite lasted seven weeks. "Tabloid rumors of a romance between the two appeared around April 23, claiming the pair met at a Christmas party last year. Mr. Clinton behaved like 'a big old hound dog' and later, trysts reportedly took place in mid-afternoons on the 24th floor of New York's chichi Hudson Hotel."
5/15/02: Page Six: SEN. Hillary Clinton was destined to come face to face with the woman whose close friendship with her husband has raised eyebrows - Liza Belzberg. The Clintons are invited to the June 21 wedding of Howard Wolfson and Terri McCullough because Hillary was the groom's boss. Wolfson was her very capable press secretary during her Senate campaign. Belzberg - who separated in February from her Seagram heir husband, Matthew Bronfman - was invited because she was McCullough's boss. Until a month ago, McCullough was employed at PENCIL (Public Education Needs Civic Involvement in Learning, which organizes the Principal for a Day program). Belzberg is chairman of PENCIL. Guests were anticipating a showdown between Sen. Clinton and the younger, curvier Belzberg. They'll be disappointed. Belzberg will be in California that weekend with her family. Wolfson now runs the Democratic Congressional Campaign Committee, which aims to wrest control of the House from the GOP. The wedding should be very Democratic.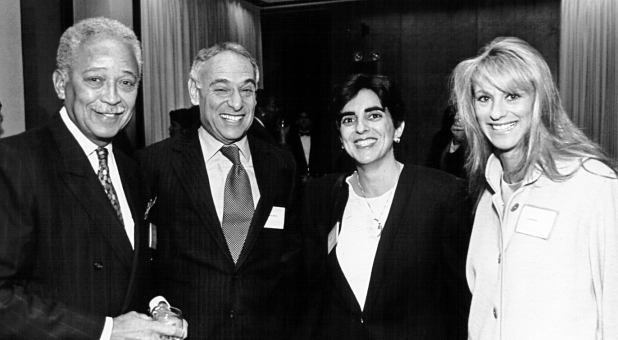 Mayor Dinkins, unidentified man, Ester R. Fuchs, Lisa Belzberg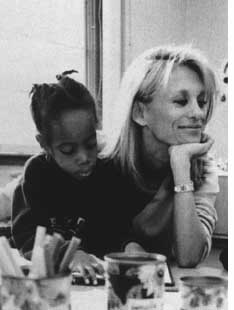 Lisa Belzberg
From City Journal summer of 99: Casual and elegant, Lisa Belzberg opened the meeting by asking everyone to pull together to "combat negative perceptions of the system." Without explaining what was so positive about the system, she went on to say that "long after vouchers and charters and Rudy versus Rudy, Chase Manhattan will still be there, and so will our schools, and we will still have the responsibility of educating our children for the workforce." She then turned the microphone over to Charlie Rose and sat down at the front of the stage, her legs draped over the edge.
Malcolm Hoenlein (Vice-Chairman of the Conference of Presidents of Major Jewish Organizations, who always wears a yarmulke and claims to be Orthodox) carried on a public and highly disruptive relationship during the late '80s and early '90s with his wealthy socialite employee Lisa Belzberg who went on to marry Mathew Bronfman, son of Edgar, and, while married, dated Bill Clinton and "West Wing" creator Aaron Sorkin. Malcolm is a grandfather and married about 40 years.