Flirty TV Reporter Inez Sainz Complains Jets Flirted With Her
Women Reporters In Locker Rooms
Young chatty female journalist Patti Shea writes 8/21/02 for the Santa Clarita Signal about her journey to the Los Angeles Dodgers lockerroom:
As I'm trying to mentally "put it together," I'm leaning against this blue table in the center of the room waiting for Shawn Green, No. 15, to appear from the showers that are just a few mad dashes away.
Then I discover that I'm in the way because Eric Karros, who is 15 times better looking in person, asked me to move so he could get by. Gulp!
Just then, Shawn Green emerges from the showers, rubbing a towel on his head and wearing only a towel. Three millimeters thick of terry cloth is separating Green's goodies from my life's most embarrassing moment. I really didn't have that much time to think about it before Green whipped off the towel and began to get dressed. Holy &#$@!!!
I'm going to need to see a chiropractor for the whiplash I gave myself. I turned away to not see most of the goods, but due to circumstances beyond my control, I saw Greenie's buns, le toosh, el booty. Catch my drift? I don't know what took me off guard more: The way it happened or the fact that it was Shawn Green, who I think is just the cutest thing...
LUKE SAYS: Patti's column elicited a torrent of criticism on Jim Romenesko's media news site, much of it self righteous and pompous. Patti touched a nerve that secular journalists don't like to admit exists - there is something fundamentally morally wrong with sending female journalists into a room of naked men, just as there is something fundamentally morally wrong with sending male journalists into a room of naked women.
Women as sports writers has aberrant appeal, like poets as sports writers. But women are biologically limited from understanding and appreciating sports as men do because of the female's lack of testosterone. Sports are driven by testosterone. They are primarily a male affair. Women writing on sports is like women writing on porn.
Pornography is overwhelmingly purchased by males. It's appeal is understood in a visceral way by most males. Most women aren't going to get porn anymore than most women are going to get sports. That's why none of the top 20 sportswriters are women.
SUSAN VINELLA, President, Association for Women in Sports Media, writes to Jim Romenesko's site: "I don't know what is more disturbing: That Patti Shea decided to write a column about her unprofessional and childish visit to the Dodgers locker room or that her newspaper, The Signal in California, published it. Either way, it's appalling. They are both an embarrassment to the journalism profession. Female sports journalists enter locker rooms every day with the same goal as their male colleagues: To get the story. Period. Unfortunately, there are rare exceptions like Ms. Shea, who clearly have no place among professional journalists. I'd like to give the benefit of the doubt to Ms. Shea, who is young and obviously immature, ignorant and naive. But what is The Signal's excuse?
"I'm pleased to hear the Dodgers have complained to The Signal about the column and are considering banning the paper's reporters from their press box. There is no place for such childish and pathetic observations such as Ms. Shea's. She does not represent the hardworking professional female sports journalists in this country. Do not judge us by this one foolish individual. Ms. Shea, we're waiting for an apology."
KATHY KUDRAVI to Romenesko:
Patti Shea's pathetic column on her trip (it can't be called work) to Dodger Stadium was terribly sad. It's unfortunate that she has no clue what it's like to be a woman sports journalist. She certainly has no idea what to do when she's on an assignment, as evidenced by her inability to conduct an interview surrounded by athletes/interview subjects. If Ms. Shea covers the City Council the way she covered her "assignment" at Dodger Stadium, I'd hate to see the quality of coverage readers of The Signal receive.
I'm also guessing that Ms. Shea has never experienced being denied access to locker rooms or assignments because of her gender. That's too bad because the women who came before her -- the women who were abused in the locker room, blocked from access to interviews, grabbed, laughed at and constantly questioned about their ability to do a job because of their gender - certainly paved the way for Ms. Shea's thrill trip in the Dodger locker room.
Thank you Ms. Shea, from every woman in this business -- print, radio and television -- who will face more questions because of your juvenile response to being in our work environment. Please, keep covering city council meetings and let the professionals enter the locker room. Locker room access is for the working journalist, not the fan who wants to gawk.
But what is probably as troubling as Ms. Shea's silly column is the fact that not one editor at The Signal stopped Ms. Shea from embarrassing herself and her publication. She should be asking herself what else they don't do to protect her from herself.
JOANNA CHADWICK to Romenesko: "Was including Patti Shea's column on her first visit covering the Dodgers meant to embarrass her or every female sportswriter? It did both. As a female sportswriter, as a journalist, I was horrifed to read her account of her time in the clubhouse. To talk about how good-looking an athlete is, talk about looking at their goodies, about booty and toosh... how does any self-respecting newspaper allow such drivel? That's what is disappointing to me. Women in the business long before me had to prove they deserved to be allowed in the clubhouse, prove they were there not to ogle athletes, but to do their jobs. These women made it easier for me to walk into a pro or college locker room and not have someone try to bar my way, for me to cover high school sports and not have a coach automatically question my knowledge just because I'm female.
"Every time a woman writes such a story as Shea's, the credibility of women in sports is questioned. That's why I can't help wondering why her column was included in MediaNews. I'm frustrated that it was because she fits the stereotype many have of those who women who enter locker rooms, the same stereotype women have tried to destroy for years."
Patti Shea then sent this apology:
Hi Susan - I've spent most of the past two days dealing with the response from my column, which was published on Aug. 18, regarding an experience I had as a news reporter at Dodger Stadium. I had intended for my column to be a tongue-in-cheek, self-deprecating illustration of why I am a news reporter, not a sports reporter.
(I didn't specifically say so in my column, but the reason I was at Dodger Stadium that night was to cover pregame ceremonies that involved the surviving family members of slain law enforcement officers. That story appeared on page A1 about a week before my column appeared on the opinion page.)
I didn't think of the repurcussions of the column. Honestly, I didn't and I can't explain why. I only hope the damage can be repaired. My column wasn't intended to degrade the hundreds of women who are truly the pros. All I meant to say, rather poorly I gather now, was that I couldn't do the job they do. I sent a letter to the Dodger organization on Monday expressing my remorse.
Please accept my apology. I honestly didn't mean to make a mockery of the decades-long battles many great women have endured to get us where we are today. After sitting in the press box (which was my first, and now, probably last experience there) I truly appreciate the challenges sports writers -- men and women alike -- face on a daily basis. I know I couldn't do it.
Jon Defla writes to Romenesko: "As a gay journalist, admittedly, I have some trouble keeping my eyes in my notebook when I'm interviewing athletes in their jocks and small white towels. I've never put it in print how so-and-so looks soaking wet out of the shower, but believe me I do take notice. Ms. Shea's a human being in addition to being a journalist. So, for her to get a little flush was not a surprise--especially next to hunky Shawn Green, who I myself have a photo of in my bedroom. So, call off the dogs. There are plenty of sports journalists who ogle the naked athletes. It's one of my favorite perks of the job."
LUKE SAYS: Following the posting of all these letters on Medianews.org, Patti received 48 e-mails supporting her and one lashing out against her. Her managing editor got eight letters that will run in Thursday's paper raking Patti over the coals. Unfortunately, none of the positive e-mails will be printed.
JRob writes: Can you imagine the uproar if some male reporter were to be so vile as to actually demand access to a WNBA locker room? That would be the most terrible thing on earth. People would compare it to the holocaust! Yet, if female reporters were to be barred from male locker rooms, the accusations of sexism would run rampant.
Luke says: It's not like many of those WNBA players are hot looking anyway.
JRob responds: OK. How about the locker rooms used by female beach volleyball players? Would that be a more effective debating point?
Luke says: I'm writing a book about young hot looking female journalists and I feel that I need to see them coming out of the shower to get a good handle on my subject.
DAVID de la FUENTE, Copy editor, San Francisco Chronicle, writes to Romenesko: "Reporters of both sexes are allowed in WNBA locker rooms, but no players shower and dress until reporters have left (or they do so in a separate, off-limits area). Previously, players were brought out to an interview room and no reporters were allowed in the locker room. WUSA soccer I'm not sure about, but I'm sure it's of either the later-showers or interview-room variety."
Andy Rooney Curmudgeon
10/10/02 From TheJournalNews.com: There's a lengthy list of groups that CBS' Andy Rooney has offended over the years with his comments. Now, it's women who are taking issue with him after the "60 Minutes" commentator said female sideline reporters have no business making comments about football games.
"The only thing that really bugs me about television's coverage is those damn women they have down on the sidelines who don't know what the hell they're talking about," Rooney said Friday on MSG Network's "The Boomer Esiason Show." "I mean, I'm not a sexist person, but a woman has no business being down there trying to make some comment about a football game."
Rooney, 83, has drawn protests in the past for his comments on homosexuals, evangelists, American Indians, Greek-Americans and blacks. CBS suspended him in 1990 for a comment attributed to him in The Advocate, a gay magazine, in which he was quoted as saying, "Blacks have watered down their genes because the less intelligent ones are the ones who have the most children. They drop out of school, do drugs and get pregnant."
Sept. 14, 2010:
Jemele Hill on ESPN's First Take says today she's seen Mexican TV reporter Inez Sainz acting in a flirty manner with football players. Her whole approach as a TV sports reporter is to flirt with her subjects. She does stories on such things as who has the biggest biceps in the NFL. To do the field research, she puts her hands on a lot of NFL biceps.
Inez Sainz says she was made to feel uncomfortable in the locker room. Well, duh! Here's a flirty girl who's all over NFL players and now she's in a room with naked dudes she's been flirting with.
Inez Sainz and other female reporters may not belong in a locker room filled with naked dudes. Male reporters don't get to go into locker rooms filled with naked ladies. Why is that? Why don't male reporters get to interview hot female tennis players when they're naked? Why does this only go one way? Why is that OK?
Rabbi Rabbs emails: "Women have no business in a men's locker room, period, and I don't care how unpopular my opinion is, and you can quote me on that."
I did a Google search on "Inez Sainz" and found her listed on a site for top 25 celebrity booties.
Only a homo or a holy man wouldn't want to tap that!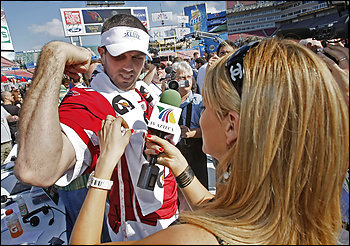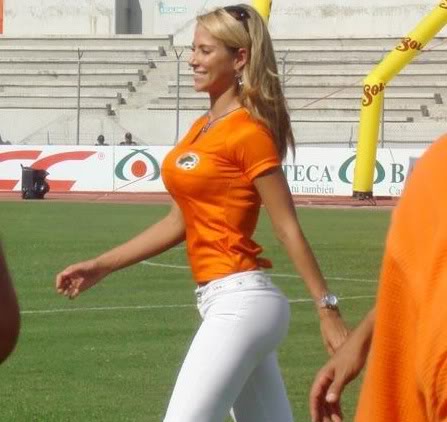 Inez Sainz tweeted this photo to show that she was not dressed provocatively Saturday: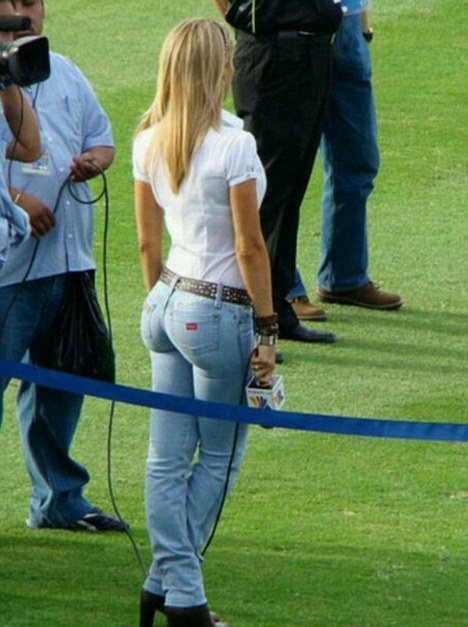 I'd say that her body is a provocation. I'd throw footballs at her too.
Inez Sainz regularly dresses in a sexy way while interviewing NFL players (and other sportsmen). Check out what she wore last night for the Jets-Ravens game: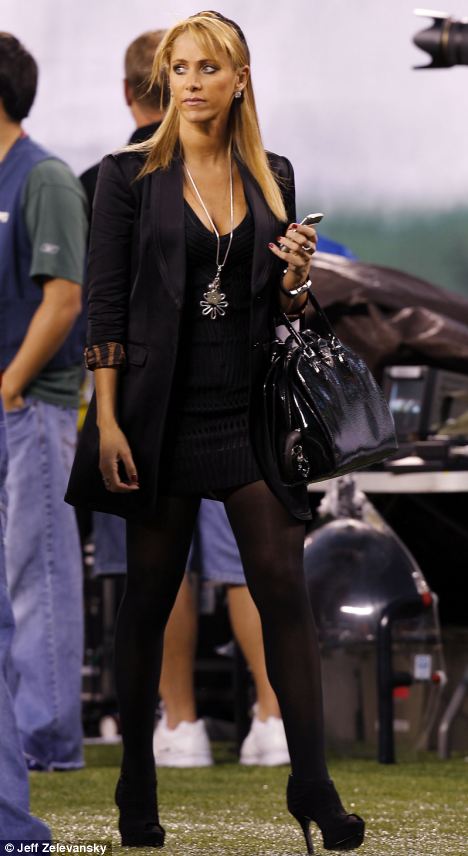 Most female journalists are rough looking. It's not a profession for those who don't like to sweat. TV reporters, of course, are not really reporters. They're entertainers. They rarely break news. Particularly not the sexy ones.
Attractive: Sainz, who works for TV Azteca, has appeared in magazines wearing just a bikini but claims she was appropriately dressed for the Jets match

Beach babe: Sainz, who described herself as 'the sexiest sports reporter in Mexico' poses for the camera

Sainz, who has previously appeared in several magazines wearing just a bikini, defended her appearance at the Jets practice session, insisting she dressed modestly, and posting a photo on Twitter to back up her claims.

'Jeans and a white button-up blouse [are] in no way inappropriate,' she tweeted.

She complained she was bombarded with so many catcalls at the training facility that she wanted to 'cover my ears.'

But she later appeared to make something of a u-turn, claiming she 'never felt attacked' by what happened in the locker room and suggesting that it was other reporters who brought up the issue.

'In my opinion, I never felt attacked, nor that they reacted grossly toward me,'she said.

'I arrived in the locker room and there were comments and games. One of the other reporters came up to me and apologised for what was happening, but I thought [the players] were joking around.'

She then wrote on her Twitter page: 'Thanks everyone for your support. I already spoke to the NFL, which will decide if there will or will not be consequences.

'I can say that at the time I didn't want to pay attention to what was happening but the rest of the media heard clearly and in solidarity have denounced what happened, hoping that there is always a respectful climate.'
If Inez Sainz wants to be taken seriously as a reporter, why does she pose in bathing suits?
Check out this story. Clinton Portis tells the truth about human sexual relations and the NFL gets on his case! The NFL has a problem with reality!
The NFL is condemning remarks made by Washington Redskins running back Clinton Portis concerning female reporters in the locker room.

On Tuesday, Portis told 106.7 The Fan that both players and female reporters have wandering eyes when the sexes are mixed in a locker room setting.

Portis said he was confident that female reporters working in team locker rooms would have some level of attraction to the players.

"I think you put women reporters in the locker room in position to see guys walking around naked, and you sit in the locker room with 53 guys, and all of the sudden you see a nice woman in the locker room, I think men are going to tend to turn and look and want to say something to that woman," Portis said on WJKF-FM.

As for a female reporter's reactions, Portis said, "You know, somebody got to spark her interest, or she's gonna want somebody. I don't know what kind of woman won't, if you get to go and look at 53 men's (bodies). … I know you're doing a job, but at the same time, the same way I'm going to cut my eye if I see somebody worth talking to, I'm sure they do the same thing."

League spokesman Greg Aiello says Portis' comments are "clearly inappropriate, offensive, and have no place in the NFL." He says the NFL has contacted the Redskins, who will discuss the matter directly with Portis.
How many male reporters would give their right nut to interview a naked Maria Sharapova? I'm a very holy man, but I might be a tad stirred in such a situation.
I'm sure many male journalists would enjoy interviewing the following WNBA players in the locker room:
Dawn Staley, coach: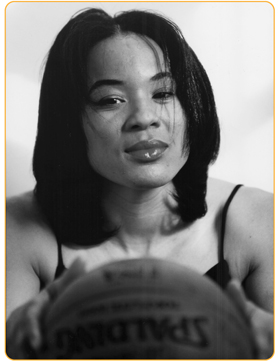 Armintie Price, Guard, Chicago Sky: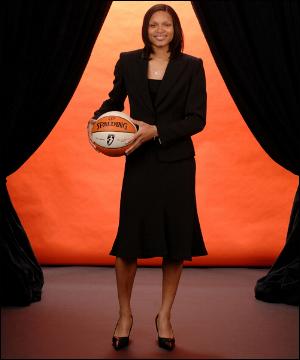 Swin Cash, Forward, Seattle Storm: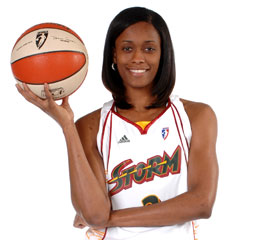 Sue Bird: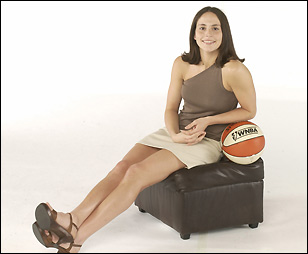 Please remember that nobody has done more than me to fight the male objectification of women. I'm only using these photos for illustrative purposes. I want you to better understand the thorny moral issues we're grappling with.