Vancouver's Jewish Independent (10/21/05) Seeks To Silence Gossip About Conservative Cantor Steven Joel Levin
Steven Joel Levin, 43, Levin lost his job at Vancouver's Beth Israel synagogue due to an adulterous affair. The aftermath split the congregation and many families left the shul.
Here's a 3/6/06 letter to me from Steve Levin's attorney.
Levin, his girl and her husband (they have not yet divorced) all live in the Vancouver area.
Levin's ex-wife got complete custody of their child.
Levin is currently employed by Burquest Jewish Community and the Jewish Community Center (JCC) of White Rock, British Columbia. He is a cantor in good standing in the Cantor's Assembly of North America. They have been aware of the allegations for over a year.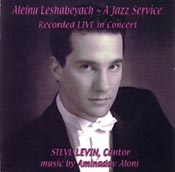 The Jewish Survivors blog weighs in here and here.
Here's an excerpt of the letter that stirred the Jewish Independent into such paroxysms of righteous indignation about gossip.
The Cantor's Assembly responded to the Awareness Center.
3/26/06
Steven Levin's attorney David Wotherspoon writes me (before I further edited down this profile):
Mr. Ford, We appreciate your prompt response to our letter dated March 6, 2006, regarding the defamatory material posted on your website. You invited us to send you further corrections of any inaccurate information remaining on the website. We have set out the further concerns below. We do have the overriding concern about why you are doing this to Mr. Levin based on the new information provided to you.

First, we recognize that you have revised the excerpt of the defamatory email to omit the references to child sexual abuse and professional sexual misconduct. You have also eliminated the statement about the risk Mr. Levin may pose to the congregants' children at his current places of employment. However, the excerpt still concludes by suggesting that Mr. Levin may "manipulate" another child or adult into having sexual relations with him. We have already informed you that the child sexual abuse allegations made against Mr. Levin were false. With regard to the manipulation of an adult, this seems to refer to the "adulterous" affair in which Mr. Levin is involved. In fact, this relationship is between two consenting adults who are committed to one another and trying to achieve some happiness in their lives. At the time the relationship began, Mr. Levin's girlfriend was separated from her husband and he had moved out of their home. Mr. Levin's girlfriend is currently in the midst of divorce proceedings that have been ongoing for almost two years.

Second, this excerpt contains allegations that Mr. Levin does not have professional training as a cantor. In fact, Mr. Levin trained for several years with a cantor in Los Angeles, California. He also attended the Bachelor of Music program at the California State University, although he did not complete a degree. In 1998, upon completion of an oral and written exam, Mr. Levin was approved for membership in the Cantors Assembly. On February 12, 2002, he received his commission as hazzan minister. Mr. Levin is qualified and certified for his profession of cantor. The excerpt also alleges that Mr. Levin was fired from Beth Israel synagogue for misrepresenting himself as a college graduate. Although Mr. Levin's position was terminated, which caused great turmoil in the congregation, his educational credentials were not the basis for his termination. The posting of such false and misleading information defames Mr. Levin.

Third, you have maintained the links to the Jewish Survivors blog, stating that they "took on Mr. Levin (not by name)". These websites contain references to sexual abuse and misconduct, and therefore imply that Mr. Levin has participated in such activities. This is wholly false and defamatory. We ask you to take down your profile of Mr. Levin altogether...

In addition, the use of your name in combination with Mr. Levin's name in the Google search engine brings up not only your profile of him, but also links to the Jewish Survivor blog which contain additional false and defamatory information. As we mentioned in our letter, Mr. Levin has been subject to anonymous defamatory attacks on-line in the past. It would be very helpful if you could provide us with the sources of your information so that we may prevent any further incidents of malicious gossip and defamation about Mr. Levin.

Finally, we ask you to consider the devastation Mr. Levin has experienced due to the termination of his employment with Beth Israel, followed by the vicious defamatory attacks regarding his personal and professional integrity. Our client has suffered enough and he will never be able to fully restore his reputation in the Jewish community. We cannot understand why you would target him on your website and would appreciate any explanation you could provide as to your motivation for profiling Mr. Levin.
Dear sir, Here is the essence of my interest in the story. Is your client a predator or not? Now "predator" could be applied to me and a good deal of men who aggressively chase women and have consensual relations with such adult women. Has your client hit on women in his congregation before? Does he have a history of this?
He's a cantor, a religious leader, has he been hitting on women in his congregations?
I can not and will not reveal my sources.
I have some sympathy for your client, but he got himself into this mess with his relationship. Hey, we've all been a fool for love. I have been. Now I must try to sleep...