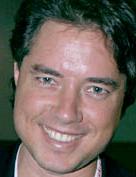 Luke Ford is the author of four books, including Rebel Without a Shul, The Producers: Profiles in Frustration, and Yesterday's News Tomorrow: Inside American Jewish Journalism.
Read Luke's autobiography here. Pictures of Luke here. Fiction. Contact info. MySpace.
David Poland writes 8/15/02 on TheHotButton.com: "I recently ran into a guy named Luke Ford, who I had lost over time. When I caught up with his website at lukeford.net, he was shredding some shreddable industryite or another. But after more digging, I found that Luke has done some pretty unusual journalistic work… He is building a database of in-depth interviews with Hollywood producers, the least interviewed group of high-profile industry players. The list he's developed is pretty jaw-dropping."

Author Mickey Kaus writes on Slate.com 10/28/03: "I didn't realize just how irresponsible we normally are in everyday private conversations until I encountered L.A. blogger Luke Ford. Ford goes around to parties with a tape recorder and immediately posts snatches of dialogue on the web. His reporting is impeccable. He has faithfully quoted me libeling dozens of people on two separate occasions."
"Luke Ford is the Andy Kaufman of bloggers," says Allan Mayer, former editor of Buzz magazine.
"...[H]uman Echelon Project," writes Mickey Kaus 4/27/05.
On 11/14/03, The New York Times apologized for its plagiarism of a paragraph of Lukeford.net by Hollywood correspondent Bernard Weinraub. "That paragraph was reproduced nearly verbatim from a Weblog compiled by a Los Angeles journalist, Luke Ford..."
Luke appeared in the USA Today (8/2/00), New York Post (10/7/97), New Times Los Angeles cover story (1/28/99), Los Angeles Times (7/8/99, 6/10/04), Sydney Morning Herald (11/14/98), Rolling Stone (8/19/99), Village Voice (3/4/99), The Independent on Sunday (1/18/98), GQ (12/99, British edition), Salon.com (7/13/99), Online Journalism Review (7/9/98), Composite (9/98), the Forward (1/7/00, 7/30/04), New York Times (5/20/01, 11/14/03), Details magazine 6/01, The Jerusalem Report (7/31/01, 8/19/04), Los Angeles magazine (04/04), LA Weekly cover (4/20/06) and numerous other publications.
His TV appearances include Entertainment Tonight 2/8/99, Fox Files 3/25/99, the E! True Hollywood Story, (11/5/00), Disinfo Nation (May, 2001), the National Enquirer's TV show Uncovered (6/13/01), VH1 (10/12/03), and 60 Minutes (11/23/03). He's in the National Film Board of Canada documentary "Give Me Your Soul" which premiered 10/20/00 on the CBC program Newsworld.
Luke's been interviewed by over 50 radio stations around the world, including Los Angeles's talk radio powers KFI and KLSX.
The son of a Christian evangelist, Luke grew up in Australia until moving to California in 1977. During the 1980s he wrote for various newspapers including the Auburn Journal and worked as a reporter in the news department of KAHI/KHYL radio in the Sacramento area. He studied economics at UCLA but dropped out short of his undergraduate degree.
"...he breaks legitimate stories that have a huge impact." Emmanuelle Richard, Online Journalism Review
"...aggressive, eloquent, he's a kind of shaggy-haired, acid-washed Brad Pitt..." The Weekly Standard
"Smart, insightful and with a charming Australian accent, Ford is one of the most fascinating characters..." Michelle Goldberg, Speak magazine