Rabbi Michael Ozair Interview
I talk by phone with Rabbi Ozair May 12, 2004. He operates the website www.kaballahcoach.com.
In 2002, Rabbi Ozair pled no contest to one count of oral copulation in 1997 with a minor (a 14 year old girl who was not his student).
Contrary to some reports, at the time of the crime, Michael Ozair was not a rabbi.
Luke: "When did you receive semicha (ordination as a rabbi)?"
R. Ozair: "Fall of 1998."
Luke: "Tell me more."
R. Ozair: "I was involved with a small congregation in LA [Happy Minyan] and speaking every Shabbos and holidays and teaching. Rabbi Abner Weiss [head rabbi of Beth Jacob at the time] was my mentor rabbi. He suggested I get ordination. At first, it was going to be done in Israel, but it was going to be too expensive to live there. The next option was Monsey, New York. I went for an interview to [Kol Yaacov Torah Center] and was accepted. I was told it would be a year to a year-and-a-half for the basic semicha, taking into account my past years of Torah learning."
R. Ozair says he has a BA in religious studies from California State University of Northridge and a Masters in Education from the University of Judaism.
R. Ozair: "We flew the family [R. Ozair has two kids]. I learned in the yeshiva for a year. Then I got a job offer back in LA. I needed to cut short the semicha program to get the teaching job. I agreed to come back to LA if I could still be ordained privately. The yeshiva wouldn't ordain someone who left the program early. I made an arrangement to have a private ordination with Rabbi Yehoshua Reich from Efrat, Israel. I have the semicha at home. You're welcome to see it."
Luke: "I will come by and take a picture of it.
Luke: "According to Wendy J. Madnick's [8/23/02] article in the Jewish Journal, there were never any complaints about you at the schools you taught at."
R. Ozair: "Correct."
Luke: "The Wendy Madnick article says this criminal charge came to light through the girl's therapy. As I understand, the charge came to light through your therapy. You went to a brand new therapist and he took what you said in therapy and went to the authorities."
R. Ozair: "Correct."
Luke: "What should a religious community do to persons who've sinned like you did?"
R. Ozair: "First I would like to see an opportunity for rabbis on www.theawarenesscenter.org to make amends to the public if they choose, because as it is, reporters can say anything they want to, make assumptions and then it goes straight to print. Everybody makes mistakes – even reporters, and yes, even rabbis. Mine came out when I disclosed the information to a therapist who I did not know. He had a legal obligation to report me. There was not a moment that I was in denial that what I did was wrong. I managed to successfully destroy much of my life in a moment of absolute misjudgment that I deeply regret.
"What should the religious community do? In our tradition we have a teaching that states that before G-d even created the world, He created the idea of teshuvah. The Creator Himself knew that He was creating an imperfect world that would be subject to flaws, but that there should also be a way a person can return. If this is so, then there has to be a program for Jews to correct their ways. A way that they could tangibly demonstrate that they are committed to living a life of decency and are striving to become the person who G-d intended them to be. Beit T'shuvah seems to be the only program in the entire United States that gives Jews that opportunity. I feel blessed that I was able to do my teshuvah properly….What should the religious community do? That's a hard one. They got the first part down – separating a person from the camp, as they did in the Torah. The question then becomes what are they doing to reintegrate a person back, as they did in the Torah."
Luke: "What sentence did you serve?"
R. Ozair: "I served two months in LA County Jail and a year at Beit Teshuva [similar to house arrest]."
Luke: "Regarding the Forward article, why did you use the name Rabbi Michael Ezra and why did you use the nickname Kabbalah Coach?"
R. Ozair: "I did not want to use my last name on the Internet for obvious reasons. I used "Rabbi Michael Ezra" because "Ezra" was added to my first name as part of my teshuva process. If you read the Jewish Laws of Repentence as outlined by Maimonidies, that one does a shinui [difference] with one's name. Add a name. Add a letter. I added "Ezra," which means help or assistance to my first name. I did this in front of about 35 people on Yom Kippur. About half a dozen other people also changed their name that day.
"I have a private practice as a life coach. For marketing reasons, it is good to create a niche. Most of my clients are looking for higher purpose in their lives. My coaching involves no kabbalah. Yet, the name was a nickname given to me by my clients. It stuck."
Luke: "Why did you take down your site www.kabbalahcoach.com?"
R. Ozair: "It was attracting negative attention."
Luke: "How many people in your religious community, when the bad news about you broke, approached you to hear your side of things?"
R. Ozair: "Nobody in the religious community."
In the summer of 2004, Rabbi Ozair became engaged to be married.
Rabbi Michael Ozair was a former teacher of mine who was particularly skilled at reaching out to non-Orthodox Jews. I went to a dozen of his classes.
Rabbi Ozair was twice voted teacher of the year at Shalhevet High School before he was fired in the summer of 2000 (before the sex scandal broke) for allowing some senior students on a field trip to Mexico to buy a couple of beers on July 4th.
Debate Over Rabbinic Ordination
A letter dated September 9, 2004 purporting to come from Efrat Orthodox rabbi Yeshoshua Reich says he never gave private semicha (rabbinic ordination) to Michael Ozair.
Here's a copy of rabbi Reich's letter:
Because I have heard that my name is being used dishonestly and in a way that is causing a desecration of the name of G-d in public.

I hereby notify interested parties:

I did not certify Michael Ozer [sic] to function as a rabbi.

The use of my name to describe him as a person who received certification as a community rabbi by me is false and a lie and must cease immediately.
Here's a copy of the private ordination Michael Ozair says he received from rabbi Reich in Los Angeles in the fall of 1998 (after an arrangement through Ozair's boss of the time Jerry Friedman of Shalhevet, with the awareness of rabbis Abner Weiss -- now at a shul in Westwood -- and Chanina Rabinowitz -- now a principal of a Torah academy in Melbourne?, Australia).
Rabbi Yehoshua Reich was a rabbinic advisor to Shalhevet prior to the arrival of rabbi Chanina Rabinowitz.
Michael Ozair studied for a year at Kol Yaakov in Monsey and then on his own for a few months before he was examined (written and oral) in Los Angeles by rabbi Reich.
Here's a comparison of the signatures of rabbi Reich on what Ozair says is his private ordination from rabbi Reich with the signature of rabbi Reich on his September 9, 2004 letter.
The private ordination that Michael Ozair says he received is the type of informal ordination folks such as rabbi Shlomo Carlebach gave to about a dozen people, including at least one woman. This type of ordination is traditional in such circles as the Chabad movement.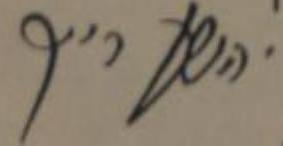 The photo on the left is from 1998. The photo on the right is from rabbi Reich's September 9, 2004 letter denying he gave Michael Ozair ordination.
My Discussion With Jewish Whistleblower Over Michael Ozair
JWB writes: "Luke said months ago on Protocols that he had seen this "smicha" in Ozair's home. So basically, I am taking Luke at his word that the first document is the "smicha" document Ozair is claiming to have received."
No. I have never seen the original smicha document. All I have seen is this copy of the alleged smicha from rabbi Yehoshua Reich.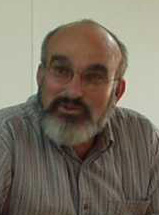 Rabbi Yeshoshua Reich
That this document is on hotel stationary argues to me for its authenticity. Someone who wanted to fake a smicha would put together something more official looking.
Rabbi Reich's alleged letter of September 9, 2004 claiming he never gave smicha to Michael Ozair came shortly after Ozair had written to him seeking forgiveness for having tarnished his name through his sin.
JWB writes: ""Michael Ozair studied for a year at Kol Yaakov in Monsey" Is an outright lie."
Last May, I spoke to an Orthodox rabbi who was at Kol Yaakov at the same time as Ozair and confirms that Ozair studied there for several months. This rabbi, to the best of my knowledge, is not a friend of Michael's and has no reason to lie.
Here are the names of people who I am told can vouch for Ozair's attendance at Kol Yaakov: Rabbi Pinchos Dovid Orenstein, rabbi Sam Intrator (formerly of the Carlebach Shul, he recieved his semicha from the same Yeshivah/rabbi right before Michael did, since R. Leib Tropper is a cousin of Shlomo Carlebach), Nachman Futterman (resident of Monsey, big supporter of the Yeshiva) Dovid Moshe of Pompano Beach, FL.
While Ozair lived in Monsey, he was the co-administrator of the Reb Shlomo Carlebach List (Shamash).
Michael Ozair wrote Dec 5, 1997 on the List:
So glad to have finally joined the chevre on the Net. Let's spend less time as baalei machloket and more time in connecting to what we have in common, that is, celebrating the legacy of who our great rebbe was, is and ever shall be.

As a fairly new resident in Monsey, NY (and one of the founders of the Happy Minyan in Los Angeles), I want to share two interesting incidents that happened this morning. First, my Rosh Yeshivah, Reb Leib Tropper called all the yeshivah students in for some pretty heavy duty mussar after having heard that somebody had made a derogatory remark about Reb Shlomo Carlebach. The Rosh Yeshivah was FURIOUS and gave a very firm warning to the entire yeshivah, threatening expulsion. He stated clearly that there was a cherem against those who make any kind of derogatory remarks about one who has passed away. Although, not all the rabbis of this yeshivah think very highly of Shlomo, the Rosh Yeshivahs eyes instantly fill with tears at the mention of Shlomo's name. I should also note that every Friday night, the entire davening is Shlomo's nusach and is one of the most simchadik minyanim for Monsey standards. Also, I went to Tuvia's bookstore, the largest Jewish bookstore up here, to purchase a few seforim, when lo' and behold, right up there, hanging on the wall, along side all the big rebbes and Torah giants, was not one, but three pictures of our Rebbe Shlomo Carlebach, zt"l. I should also note, Shlomo was the only one smiling.

Anyways, here is Part I of an article Neilah [Shlomo's widow] had written on Reb Shlomo's life and legacy for The Happy Minyan's newsletter, Kol Sasson. More articles, torahs and goodies will be on the way!
David Saloff writes on the List Dec 21, 1997:
Subject: Michael Ozair

Michael Ozair has agreed to share responsibility with me for the ongoing administration of the Reb-Shlomo list. Our list administrator liases with Shamash, screens new subscription requests, and, when called on, tries to nudge our list conversation into a somewhat orderly and topical direction. One of the founding members of the Happy Minyan of L.A., Michael served as its spiritual director for two years. Currently a rabbinic student at Yeshivat Kol Yaakov and teacher in Rockland County, New York, Michael is also Yankele Shames' (from the Moshav) son-in-law. Those who know Michael will recognize the unusual talents and experiences that he will bring to this job.
List Administrator Dovid Staloff wrote on Sat Jul 25 21:56:06 1998:
Dear chevreh 1) I have received many emails and phone calls over the past several months, begging me to do whatever i can to stop any discussion of the "lilith" topic our list, even shutting down the list completely. until today, i simply answered that i hoped we could provide space for all the broken neshamas to share what is on their hearts... surely by now anything needed to be said on the topic has been said already.

Rabbeinu taught us to be open with our passion. At the same time, once the immediacy of the passion has cooled, not to hold on to the stuff, not even for a second... this topic has completely run its course. even its participants have said they want to create a separate group to carry on the discussion... so be it! if you are pro-lilith, con-lilith pro-shlomo anti-shlomo, whatever, the time has finally come to take it elsewhere. please don't come back here with it next month, or next year either. thank you.

2) michael ozair is now completing his smicha requirements and moving to the west coast to assume a new position. michael told me he no longer has the time to participate in the list. we approached several people we considered suitable replacements, but nobody is available. i myself do not have the time, or the interest, to monitor the quality of the discussion all by myself. neither do i feel it is fair for myself or any other individual to take on such responsibility. it's simply not fair to the individual, not fair to the list... what is fair is for everyone who choses to subscribe to our list to equally assume this responsibility.
JBW: "...[A] well sought after scholar in the area of Kabbalah..."
He has certainly been a popular teacher of Kabbalah and many people have sought him out for his expertise in this. Michael Ozair was a leader for years at the Happy Minyan and he's taught dozens of well-attended classes in Judaism and Jewish mysticism. I know this from my first-hand experience at these events.
I believe that Michael Ozair ran with Shlomo Carlebach and company for years.
Here's the website of rabbi Yehoshua Reich's yeshiva in Israel. It confirms he was at Shalhevet as Ozair claimed.
Did rabbi Yehoshua Reich testify in front of others about Ozair's semicha? Only one person claimed this on Protocols and no names of who was present were given.
Rabbi Reich's letter of denial does not say that he never gave Ozair semicha. For one, he misspells Ozair's name as "Ozer." Rabbi Reich says in his letter that he never gave Ozair semicha to work as a community/congregational rabbi. He was specific in what he was denying. JWB may have a point that this sort of semicha was just one to teach or do kiruv (outreach). Rabbi Reich may indeed have protected himself in detailing WHAT he was denying.
Rabbinic ordination was not something Michael Ozair sought. Rather, it was something that was pushed on him by Jerry Friedman, and rabbis Chanina Rabinowitz and Abner Weiss.