Monday, January 22, 2006
Email Luke Essays Profiles ArchivesSearch LF.net Luke Ford Profile Dennis Prager Advertise On LF.net Jan 4
Thoughts On Aron Tendler's Resignation From Synagogue Shaaray Zedek
Jewish Whistleblower writes on Canonist.com:
1) We see again that when victims came forward in Hollywood, they had their reputations smeared.

2) We see again how the rabbonim in Hollywood (and the baala baytim too) for kavod of a rasha moved Aron Tendler an alleged child molester QUIETLY out of his position in chinuch (he was allowed to "retire") while letting him keep his pulpit and his reputation in the community. Of course all his victims were labelled as "crazy" because their reputations mean nothing to these people.

3) This is part of why Mordechai Tendler will not leave KNH voluntarily under any circumstance. The Tendler family is fighting for the kavod of it's two rasha sons and this is a fight to the bitter end. What do they really have to lose at this point? If they leave their shuls and communities, it is likely that more of those who currently live in fear of coming forward, due to the Tendler smear campaigns, will come forward.

4) According to the victim of Aron Tendler that Luke interviewed, Aron has admitted that he was sexually molested as a child.

6) We know that in the past few years several former students of Ner Israel Baltimore who attended in the same time frame have made the news as sexual predators: Rabbi Israel Kestenbaum and Rabbi Ephraim Bryks.

7) These dynamics further indicate what I've said from the beginning, it is Aron Tendler and Mordechai Tendler who are the truly troubled people and if you expect them to go quietly IT WILL NOT HAPPEN.

The fact that people here are still characterizing/potraying the victims of [Mordecai] Tendler as crazy and at times even referring to them by name, when they know now that [Mordecai] Tendler abused them instead of counselled them, just shows what lowlifes KNH had among its congregants. I guess it's protect the shul, NOT the victims of [Mordecai] Tendler that defines KNH.

I also want to ask if this case [Mordecai Tendler] is going to end up like the one with Matis Weinberg, and also Marc Gafni. We all say this is horrible, but our rabbunim are NOT really doing anything to make changes. How many men, women and children need to be sexually violated before things will change?

So what did the victims of [Mordecai] Tendler do? They went to gedolim in America and told their stories and gave them the information. Gedolim about whom KNH chose to believe Tendler's lies And KNH members criticize them for doing that? If KNH members were willing to believe the most outrageous lies about their own gedolim, what chance did these victims have? What exactly are KNH members doing now? Are they acting? Calling public meeting? They are consulting with gedolim in Israel to get permission to fire their sexual predator Rabbi. At least these women went to and listened to the gedolim in their own country.
Jack writes me: "Stepping down after Rosh Hashanah? What a cop out! Enough sweeping stuff under the rug. The shul and Tendler shouldn't be allowed to get away with this too convenient arrangement. I hope you won't leave the story alone."
Rabbi Aron Tendler Resigns From Shaaray Zedek After Sexual Abuse Allegations
From the New Hempstead blog: "Aaron Tendler of LA, brother of embattled Mordechai Tendler, has abruptly resigned from his Rabbinical post after been told he would be thrown out, because of accusations of sexual misconduct!"
Aron's resignation letter (it had only one typo and was probably composed by two Shaaray Zedek leaders who are high-powered lawyers at Disney -- the president of the shul and the chairman of the board of directors) was sent out Wednesday, Jan 18, and arrived Friday in the mailboxes of Shaaray Zedek members. It said he had done much soul-searching and that he needed to resign so, among other things, he could get more than four hours of sleep a night. It did not mention the allegations of sexual abuse that have been levelled against Aron for more than 15-years and saw him dismissed (circa 1988) as principal of YULA girls highschool.
Shaaray Zedek was packed Saturday morning for Aron's speech but he didn't say a word publicly.
For as long as he's been a rabbi, Aron has used his position as a religious leader to get laid. For about as long, many of Aron's peers have known about his predatory behavior. Until I published about Aron on this blog, his rabbinic peers did next to nothing to end his position as a religious leader.
A few days before Aron's resignation letter went out, I published that his days as a pulpit rabbi were numbered. Many people told me I was dead wrong. That Aron would serve as long as he wanted. That he was innocent of the charges. That the Shaaray Zedek community was united behind him.
The Shaaray Zedek community is highly invested in Aron Tendler and most of its members will not believe the accusations levelled against him.
Aron made the Shaaray Zedek community and he's looked on by it as family, if not a superstar.
Aron was among LA's highest paid Orthodox pulpit rabbis, making about $125,000 a year. (His predecessor Rabbi Sugarman only made about $65,000). Rabbi Elazar Muskin of YICC is probably LA's highest-paid Orthodox pulpit rabbi at over $150,000. Rabbi Marvin Hier at the Simon Wiesenthal Center makes about $300,000 a year and his family brings in about $700,000 a year from the Center.
Aron's brother Rabbi Mordecai Tendler also faces allegations of sexual abuse.
Mordecai and Aron's father Dr. Moshe Tendler of YU has been told many times to get his sons help and not to attack their accusers.
The spotlight now turns on Dr. Moshe Tendler. What kind of example did he set for his sons? If they weren't his sons, how would he respond?
From the September 28, 1996 St. Petersburg Times:
"Castration does not inhibit his activity at all,'' said Rabbi Moses D. Tendler, professor of Jewish medical ethics at Yeshiva University in New York.

"Someone who is a pedophile will not be stopped by the fact he has no testicles,'' said Tendler, adding that the rate of recidivism for sex offenders is so high they should be jailed for life.
Aron has told women he molestested when they were underage that he was sexually molested as a child.
Aron's shul Shaaray Zedek is one of LA's biggest Orthodox shuls (over 350 member families, adding about 75 families in the past couple of years).
Aron Tendler will stay as the shul's rabbi through Rosh Hashanah and he plans to help with the search for a new rabbi.
There was an emergency meeting of the Shaarey Zedek board this week and Rabbi Tendler was given an ultimatum -- resign or be fired.
Just last Saturday, Rabbi Steven Weil (head rabbi of Beth Jacob in Beverly Hills) honored Aron Tendler by seating him on the bima (elevated pulpit-like area in front of the shul) and saying a few laudatory words about him.
Over the past five years, Rabbi Weil has kicked out over 50 people from his shul (including me) to create, he says, a safe haven for his members. Yet he could find the place to honor a well-known sexual predator.
Most, if not all, of LA's influential Orthodox rabbis have known for at least 10-15 years that Rabbi Aron Tendler is a sexual predator, yet nobody made effective moves to remove him from positions of religious leadership. Instead he was allowed to prey from a big pulpit on the vulnerable.
That a powerful man uses his position to get sex is not a big story. That Los Angeles's Orthodox rabbinate enabled such a man to continue to prey on girls and women for over a decade should be a story, but I've been the only one who has published about it.
The Jewish Journal has not written a word about this. Instead they've published such laudatory and respectful stories as this one entitled "Sleeping With the Enemy":
"When I counsel couples, I tell the woman, in front of her intended husband, that if he ever raises a hand to her, she should pick herself up and leave until the problem is resolved," Tendler said. "And if a woman is unsafe, it is incumbent upon every rabbi to pull out all the stops, including saying from the bimah that a man is not welcome in the community, because he abuses his wife."
The Forward looked into Aron Tendler about a year ago but published nothing.
If you wonder why Jewish journalism has been so lame about sexual predators such as Aron Tendler and other matters, read this.
Such Shaaray Zedek leaders as Robert Schacht and his wife Joni Hofstedder Schacht have been aware of the specific and credible allegations against Rabbi Aron Tendler for at least two years. A letter detailing Aron's philandering was sent to his wife Esther two years ago. Rav Aron called Joni Hofstedder and asked her to tell his wife Esther that the accusers were crazy. Joni agreed and did that (even though at least one of the accusers was a longtime friend, and Joni's actions ended that friendship).
Joni, no fan of Aron, later explained she wanted to protect the shiduchim (marriage) possibilies of Aron's children.
I first published about the allegations of Aron Tendler molesting underage girls in late 2004. If I hadn't done that, I believe he would've continued in his position of religious leadership with the acquiescence of Los Angeles's Orthodox leadership (who, while they had no direct power over Shaaray Zedek and Aron Tendler, could've made an effort to remove him and shun him but chose to do next to nothing).
The most powerful group of Los Angeles Orthodox rabbis is the Rabbinical Council of California.
On this page, Rabbi Aron Tendler is listed as the chairman of the Kashrut Committee of the RCC.
The RCC's administrator is Rabbi Avraham Union.
Rob Eshman writes in the Jewish Journal February 14, 1997:
During Passover 1992, Union, the Rabbinic administrator of the Orthodox Rabbinical Council of California, telefaxed some colleagues a letter circulated by Toronto rabbis criticizing the KLC. In his fax, Union suggested the RCC send the letter out to all Southern California rabbis. When Union arrived at the RCC offices at 1230 S. Bedford the following day, he found a severed sheep's head at his doorstep. Several young men appeared at his home that evening and asked, in Hebrew, "Did you get our message?"

Union said that he was certain the men were from the center. He filed a police report, and detectives visited the KLC. They found no evidence of wrongdoing. Union interpreted the incident as a threat to his life. "Of course, [Rabbi Philip] Berg didn't put it there," he said. "There's no proof anybody from the Kabbalah Center put it there. But we never sent out the letter."
LA's Orthodox rabbinate tends to have little moral backbone, be it fighting cults or getting sexual predators out of the pulpit.
It's time to develop the definitive list of those people who enabled Rabbi Aron Tendler to keep access to vulnerable women for more than two decades. And let's also draw up a list of those who tried to do something about it. The first name on that last list is Dr. Bruce Powell, who got Rabbi Tendler fired about 15-years ago from his position as principal of the YULA (Yeshiva University Los Angeles) girls highschool.
Dennis Prager puts it well, the problem with evil is not that it is dark, but that it is so blindingly light that people don't want to look at it.
Nearly every synagogue in Shaaray Zedek's position would tend to rally around its leader and label his accusers as crazy. The women who've been accusing Rabbi Aron Tendler of sexual molestation for more than a decade have frequently been labeled by Orthodox leaders and laity as crazy. From what I know about the accusers, they are sane and reliable. It's LA's Orthodox leadership that is morally warped.
It's time for every rabbi who enabled Aron Tendler to molest to step forward and do public teshuva (repentance). It's time for every rabbi who honored Aron Tendler with laudatory words and positions of religious leadership (while having knowledge that Aron was likely a predator) to do public teshuva.
Chaim Amalek writes: "The social forces that gave rise to a Tendler in your community and shielded him from justice are sadly common in every kehilla in the land. The only hope that the innocent have for justice is the presence of a crusading journalist like Luke Ford willing to take the heat on behalf of the oppressed."
Young Israel Of Century City - The Least Friendly Shul In Los Angeles
Most every synagogue in Los Angeles (and the world) has a security guard out front on Saturday mornings and other occasions when a lot of people are expected.
Because I like cops and often have trouble concentrating on my prayers, I spend a lot of time talking to these guards. I've spoken to about 20 in the past five years. Most agree that the least friendly synagogue they have ever worked is Young Israel of Century City (a place of tremendous blessing to me over the years but the shul is difficult to penetrate and cliquish).
These security guards seem to be ignored by most of the Jews they protect (not just at YICC). My co-religionists walk by them as though they don't exist, as though they are not human.
Visiting the YICC website, it says "Click here to join the excitement." I guess that doesn't apply to security guards who only receive the cold shoulder from 99% of YICC's membership.
Respect For Religious Observance
I have a lot of pagan friends. Enough said, except that these pagan friends accord my religious observance great respect. I explained to one Saturday night why I was not available (via phone or computer or technology) from sundown Friday to sundown Saturday because of the Sabbath (Fourth of the Ten Commandments). She replied: "All good. I can respect that. It's cool that you are devoted and commited like that. That's a very rare quality around here."
I should treat my religion with as much respect as my pagan friends accord it.
Love Sick: One Woman's Journey Through Sexual Addiction By Sue William Silverman
"Was it doubted that those who corrupt their own bodies conceal themselves?" Walt Whitman
Sue writes:
[The therapist] explains that I confuse sex with love, compulsively repeating this destructive pattern with one man after another. I do this because as a girl I learned that sex is love from my father, the first dangerous man who sexually misloved me.
Some Of My Favorite Songs
# Song Name Artist Name Album Name Time
1. (They Long To Be) Close To You The Carpenters Close To You 4:36
2. Abide With Me Amy Grant Rock Of Ages...Hymns & Faith 4:49
3. Abide With Me London Philharmonic Choir Hymns Triumphant Volumes I & II 2:23
4. All I Need Is A Miracle Mike & The Mechanics Mike & The Mechanics 4:11
5. Always On My Mind Willie Nelson Willie Nelson - 16 Biggest Hits 3:30
6. Amazing Grace Anne Murray What a Wonderful World: 26 Inspirational Classics 3:46
7. Annie's Song John Denver Back Home Again 3:02
8. Ave Maria The Carpenters Christmas Portrait (Special Edition) 2:33
9. Babe Styx Greatest Hits 4:24
10. The Best Of Times Styx Paradise Theatre 4:18
11. Big City Nights Scorpions Moment Of Glory 4:36
12. Breakup Song Greg Kihn True Kihnfessions 3:12
13. Broken Wings Mr. Mister Welcome To The Real World 5:43
15. Can't Fight This Feeling REO Speedwagon The Hits 4:54
17. Cracklin' Rosie Neil Diamond The Neil Diamond Collection 3:01
18. Daydream Believer Anne Murray The Best...So Far 2:29
21. Don't Let Him Go REO Speedwagon Hi Infidelity 3:46
22. Don't Stop Believin' Journey Journey's Greatest Hits 4:09
23. Dreams Fleetwood Mac Rumours 4:14
25. Faithfully Journey Journey's Greatest Hits 4:26
26. Fire And Rain James Taylor (Popular) Greatest Hits 3:26
27. Five Circles Vangelis Chariots Of Fire 5:24
29. For All We Know The Carpenters Chronicles (3 CD Econopak) 2:39
30. Go Your Own Way Fleetwood Mac Greatest Hits 3:38
31. Goodbye To Love The Carpenters Chronicles (3 CD Econopak) 3:58
32. Harden My Heart Quarterflash Quarterflash 3:52
33. He's Got The Whole World Cedarmont Kids Sunday School Songs 1:53
34. Hold Me Now Thompson Twins Into The Gap 4:46
35. I Can See Clearly Now Willie Nelson Stardust 4:16
36. I Just Fall In Love Again The Carpenters Carpenters Gold - 35th Anniversary Edition 4:05
37. I Just Fall In Love Again Anne Murray The Best...So Far 2:50
38. I Ran (So Far Away) A Flock of Seagulls A Flock Of Seagulls 5:09
39. I Wish You Were There REO Speedwagon Hi Infidelity 4:27
40. I've Never Been To Me (Remixed Single w/Dialogue) Charlene
41. In The Garden Patti Page Sings America's Favorite Hymns 3:09
42. It's Going To Take Some Time The Carpenters Chronicles (3 CD Econopak) 2:56
43. Just A Closer Walk With Thee Jim Nabors 16 Most Requested Songs 2:57
44. Just A Closer Walk With Thee/Take My Hand Lord Jesus Featuring Tommy West Anne Murray What a Wonderful World: 26 Inspirational Classics 4:19
45. Keep On Loving You REO Speedwagon Hi Infidelity 3:22
46. Lay Your Hands On Me Thompson Twins Arista Heritage Series: Thompson Twins 4:22
47. Leader Of The Band Dan Fogelberg Portrait: The Music Of Dan Fogelberg From 1972-1997 4:54
48. Leaving, On A Jet Plane John Denver Greatest Hits 4:04
49. The Living Years Mike & The Mechanics The Living Years 5:32
50. Lost In Your Eyes Debbie Gibson Electric Youth 3:32
51. Nadia's Theme James Galway Greatest Hits Vol. 2 2:39
52. Nadia's Theme (Theme from The Young & Restless) Ted Brabham In The Key of Love 3:44
53. Nearer My God To Thee Anne Murray What a Wonderful World: 26 Inspirational Classics 3:37
54. Nearer, My God, to Thee The Mormon Tabernacle Choir, The Philadelphia Brass Ensemble & Percussion, Alexander Schreiner, Fra Rock of Ages - 30 Favorite Hymns 3:06
55. The Old Rugged Cross Patti Page Sings America's Favorite Hymns 4:08
56. Only In My Dreams Debbie Gibson Out Of The Blue 3:56
57. Open Arms Journey Escape 3:18
59. Rainy Days And Mondays The Carpenters Carpenters 3:39
60. Reeling In The Years Steely Dan A Decade Of Steely Dan (Utimate Master Disc) 4:38
61. Rise Again Bill & Gloria Gaither and Their Homecoming Friends What a Time! 6:02
62. Rise Again Dallas Holm Signature Songs 4:24
63. Rock Of Ages Mormon Tabernacle Choir Rock of Ages - 30 Favorite Hymns 3:35
64. Rock Of Ages Patti Page Sings America's Favorite Hymns 2:20
65. Rock You Like A Hurricane Scorpions Best Of Rockers 'N' Ballads 4:12
66. Rocky Mountain High John Denver Greatest Hits 4:44
67. Sing The Carpenters Now & Then 3:19
68. Sister Christian Night Ranger Midnight Madness 5:03
69. Snowbird Anne Murray The Best...So Far 2:10
70. Song Sung Blue Neil Diamond The Neil Diamond Collection 3:15
71. Sunshine On My Shoulders John Denver Greatest Hits 5:14
72. Superstar The Carpenters Carpenters 3:51
73. Sweet Caroline Neil Diamond 20th Century Masters: The Millennium Collection: Best of Neil Diamond 3:19
74. Take Me Home Country Roads John Denver The Rocky Mountain Collection 3:11
75. Thank God I'm A Country Boy John Denver Greatest Country Hits 3:30
76. These Dreams Heart Heart 4:15
77. Time For Me To Fly REO Speedwagon The Essential REO Speedwagon 3:42
78. To All The Girls I've Loved Before Julio Iglesias The Essential Willie Nelson 3:32
79. Top Of The World The Carpenters Chronicles (3 CD Econopak) 2:59
80. Touch Me When We're Dancing The Carpenters Carpenters Gold - 35th Anniversary Edition 3:21
81. Tough Guys REO Speedwagon Hi Infidelity 3:50
82. Video Killed The Radio Star The Buggles The Age Of Plastic 4:14
83. We've Only Just Begun The Carpenters Chronicles (3 CD Econopak) 3:06
86. Wind Of Change Scorpions Crazy World 5:13
87. Words Get In The Way Gloria Estefan Greatest Hits 3:25
88. You Needed Me Anne Murray The Best...So Far 3:42
89. You've Got A Friend Anne Murray What a Wonderful World: 26 Inspirational Classics 4:36
90. Young Turks Rod Stewart The Very Best of Rod Stewart 5:04
91. Your Love The Outfield Play Deep 3:36
Love Sick: Love as a Mental Illness By Dr. Frank Tallis
Here are excerpts of the book that particularly struck me:
From Andrew Capelanus's The Art of Courtly Love (btw. 1174-1186):

Rule 2. He who is not jealous cannot love.
Rule 13: When made public love rarely endures.
Rule 19: If love diminishes, it quickly fails and rarely revives.
Rule 20: A man in love is always apprehensive.
Rule 21: Real jealousy always increases the feeling of love.
Rule 22: Jealousy increases when one suspects his beloved.

Ovid, in his mercilessly honest Ars Amatoria, noted that: 'Night turns any woman into a goddess.' ...Soft lighting has become an obligatory requirement for those embarking on a new relationship. All faces -- both male and female -- are flattered by the night, because idiosyncrasies vanish in shadow.

Facial symmetry is the best and most reliable indicator of fitness.

Emotional convergence was also a good predictor of relationship longevity.

Social psychologists have demonstrated that when groups of people are isolated, they become more extreme in terms of their beliefs. The classic real-life study of this kind was undertaken at Bellington, a women's college in the United States renowned for its espousal of liberal values. It was found that the longer students stayed at Bennington, the more liberal they became.

Jealousy and love are inseparable. It is almost impossible to love without also desiring exclusive possession of the beloved.

An early response to suspected infidelity might be anxiety; however, a shift of attention to the 'rival figure' will probably arouse anger, and a further shift to issues surrounding loss will probably result in depression.

Jealousy is more commonly associated with surveillance, confrontation, ultimatums, and even the use of violence.

Men seem to experience sexual jealousy far more keenly than women.

For the average human being, sexual experimentation can only be accomplished comfortably in the absence of love. Liberal thinking is no match for our evolutionary demons.

Sometimes we proclaim our love and there is no reply. Our words are killed by the dead acoustic of a cold heart and the ensuing silence is terrible.

The most prolific artists seem to be able to ride their energy surges in much the same way as a surfer rides a wave.

The immoderate behavior of artists has become a well-established cultural cliche, but its sustained popularity may be due to its very real effect on the brain. Artists have learned that by living life according to a repeating cycle of rapture and despair, an ordinary talent might be transformed into something that begins to look much more like genius.

The emotional rollercoaster of love is very similar to manic depression.

Although love is painful, it awakens dormant capabilities.

Geoffrey Miller in The Mating Mind: "Sexually mature males have produced almost all of the publicly displayed art throughout history. Males produce about an order of magnitude more art, music and literature...than women, and they produce it mostly in young adulthood. This suggests that...the production of art, music and literature functions primarily as a courtship display."

Whatever the music, whatever the words, all men sing only one song, and it goes like this: 'My genes are good -- mate with me, not my rival.'

When we fall in love, when we vacillate between rapture and despair, we shake off the psychic shackles that bind our personalities. Our creative potential is released, and suddenly there are words to express our feelings.

Artists, and particularly musicians, are always feared when they are sexual rivals.

The sexually sated male is rarely romantic, largely uncommunicative, and inordinately fond of stertorous sleep.

Sex is fundamentally different from playing a game of tennis or listening to the radio. It has profound psychological and emotional consequences. When we have sex, we play with evolutionary fire.

Sexual intimacy engenders chemical changes in the brain that make us feel attached. These same chemical changes underlie positive perceptual distortions. Thus, sexual partners appear more attractive than they actually are. Sex makes us more likely to hallucinate an ideal.
Asking God For Help
A friend wrote me: "I am sure if you ask God to bring about opportunities that will allow you to glorify Him using the gifts he has blessed you with, he will deliver."
To quote Dennis Prager, I believe in a God who asks things of me rather than the other way round (though of course I pour my heart out to him, as I do with my closest friends, but I don't expect them or Him to solve my problems).
'Women Don't Like To See Bad Things Happen To Bad People'
Dennis Prager says that on the basis of their nature, women don't like to see bad people hurt while men do. That's why women tend to be liberal and men tend to be conservative (when they follow their natures).
Pity for women, revenge is man's fair game

Fairness, empathy and retribution are fundamental drivers of society, helping to shape laws, judicial systems to carry them out and individual relationships too. But where do these powerful forces come from? Neuroscientists at University College London believe they have found evidence in the brain which helps answer this question – and may also explain a distinction between the sexes when it comes to the business of punishment. Men, they believe, are likely to take pleasure when they see someone punished for an unfair act ... but women are likely to feel badly for the culprit.
Prager loved this story:
TELEVISION has often been called a passion killer - but now an Italian researcher claims to have proved it. Couples who keep a TV in the bedroom have sex half as often as those who don't, according to psychologist and sexologist Serenella Salomoni. Her team quizzed 523 Italian couples to discover how TV affected their love lives. She found that turning on the TV turned off the romance for large numbers of couples.
I grew up at the Avondale and Pacific Union Seventh Day Adventist colleges. They were religious ghettos similar to Loma Linda. Until I was 15, all my friends were Adventists.
Loma Linda, famous for its groundbreaking medical center, is led by Seventh-day Adventists devoted to health and spiritual growth.

Lynn Foll watches the unusual procession every Saturday morning. His neatly dressed Loma Linda neighbors pile into their cars and quietly disappear.

That's when the 62-year-old financial advisor usually heads to the supermarket. It's the perfect time to shop, because the aisles are deserted, just like the city's baseball fields, sidewalks and coffee shops.

While the rest of Southern California is buzzing on the first day of the weekend, the streets in Loma Linda fall still as thousands of Seventh-day Adventists gather in church for the Saturday Sabbath.

"It's a peaceful, sleepy town in the morning," said Foll, a former Adventist living alongside the growing number of non-Adventists who call the San Bernardino County town home.
In Praise Of Barry Manilow
Dylan Schaffer lists the top five complaints against Manilow and then answers them in his 2004 novel Misdemeanor Man:
Five. We don't like his clothing, and we really don't like his hair.

Four. The fans are middle-aged housewives who worship Barry because he reminds them of their little boys.

Three/Two. The songs are overwrought and the sentiments are sappy. The purpose is exclusively commercial.

One. A man made famous, in part, by singing a song called "I Write the Songs" did not, in fact, write many of the songs that made him famous, including, 'I Write the Songs."

...[Y]ou need Barry. We all need him. Barry is us. ...He's the guy at the piano who is too shy, too unsure about his own voice, to step out in front. Even when he becomes the biggest recording star on the planet, you can still hear the bashfulness in his voice; you can still see he has no idea how he got there or how long it will last.

...Barry is hope and hopelessness. Harry is love, desire, passion. Barry is exuberance and heartache. He is falling down and beating your palms against the ground and hollering about the unfairness of it all... He reflects the essential, wondrous workings of human existence.

...Barry Manilow is the truth. Barry is the daunting, overwhelming, terrifying truth. And a lot of people can't handle the truth.
Who Protected Anthony Pellicano?
XXX writes:
Given that Anthony Pellicano was able to "operate" with impunity, and with knowledge of the authorities for such a long period of time, who was protecting him?

District Attorney Gil Garcetti was in office and had a "reputation" for providing favors for donors.

Are you familiar with the L.A. Weekly article, from years ago, about his fund raising practices?

After it appeared the D.A. tried to indict the publishers.
Mark Steyn in the Jan/Feb 2006 issue of The Atlantic on Hollywood Producer Moustapha Akkad
In an interview with Luke Ford for his 2002 book The Producers, he agreed with the author's estimate that Hollywood's muscle was "70 per cent Jewish", but reckoned he got along fine as long as you steered clear of certain subjects. "The media runs the world," he said. "No tanks or planes. The media and the public companies. This is what The Protocols Of Zion is all about. The Zionists, last century, were persecuted in Europe. So they immigrated to America. They had a target. They were united. They did not permit [statements] critical of Zion. They went all the way to control the world and to control the minds of the people through the media. There's a lesson to learn from them."

Anyone who's spent any time in the Middle East will have heard that, from Saudi businessmen and Bahraini doctors and Palestinian intellectuals and other urbane educated Arabs of the kind you find in the bars and lounges of the Hyatts and Radissons. But the professed admiration for the cunning of the Zionists is a more unexpected cliché from a man enriched by Hollywood whose children went to Los Angeles high schools filled with the progeny of liberal Jews. With hindsight, Akkad's "duality" seems more like a professional schizophrenia. And, though he claimed Halloween was nothing more than a savvy commercial decision, for a schlock horrorfest it was, at it happens, very Middle Eastern in its pathologies. Its principal character Michael Myers (no relation to Austin Powers' Mike Myers, though they're about the same age) begins his impressive tally of corpses with what can be read as an old-fashioned Muslim "honor killing": Michael stabs his sister to death after she's had sex with her boyfriend...

The "duality" of Mustapha Akkad finally came together in one freakish finale at the Amman Radisson. But he'd encountered terrorism once before, nearly 30 years earlier. Many Muslim scholars were outraged by The Message – or, as it was then called, Mohammed, Messenger Of God. Though Akkad had observed the prohibition against representations of the Prophet, even a rumored glimpse of his shadow (which the director had at one time considered) provoked objections. Hamaas Abdul Khaalis, formerly a Seventh Day Adventist called Ernest McGhee, decided to do something about the abomination. A dozen Muslims seized three buildings, and took 120 hostages, including (in an early example of the many internal contradictions of the Rainbow Coalition) the future mayor of Washington, DC, Marion Barry. He was one of a couple of dozen injured. Jewish hostages were abused. A reporter was killed.
I got an email from Mark Steyn's assistant: "Mark sends his best. He is very envious that you know Cathy Seipp." Dov Bear comments.
Reb Yudel writes: "Unfortunately, Luke did not make the index, which is particularly sad, because the vagaries of alphabetical order and this issue's contents would have placed him between Flynt, Larry and Frank, Anne."
Bava Kama Sutra posts: "World leaders read Mark Steyn and now they will be exposed to Luke Ford. This cannot be good for the Jews."
Invisible in Hollywood: Jewish women
STEVEN SPIELBERG has done it again. He has managed to make yet another film about Jews that reduces Jewish women to caricatures. Only this time, instead of simpering victims, we are either loyal, hapless wives committed to tortured Jewish men, or kindly grandmothers who run a country but leave the real work to men.

...At the end of ''Munich," the lead character, Avner (played by Eric Bana), is despairing over the fact that he has ''killed seven men." Well, actually, he has killed seven men and one woman, but she is invisible to Spielberg, and indeed to the movie reviewers, as not one mentioned this glaring omission. Jewish women are the disappeared of Hollywood because we are women and it is the sexism of men, not just Jewish ones, that makes popular culture a wasteland of sexist images that ridicule, degrade, and caricature real women's lives.
Luke Does London
I was reading the archives of Jackie D's blog and found this from Sept 8, 2005:
Wednesday night, waiting for my bus home from work, I had a flashback to when Cathy Seipp and her daughter Maia Lazar were in London. At that moment, the man standing next to me spat on the ground between us, and I wished dearly that I was in LA visiting them. Then, for some reason, I thought of how fun it would be if Luke Ford visited London. I couldn't help but smile.

This morning, I had an email waiting for me, from Luke. He arrives in London on September 18th.

The last time I saw Luke was at a screening of Blowing Smoke at the Directors Guild on Sunset Boulevard, LA. He cracked everyone up by laughing uproariously at every single joke in the film. Luke is not always so cheerful, so it was lovely to see him enjoying himself so much - quite rare, especially when you consider that it didn't involve him insulting anyone or making someone feel uncomfortable. (How's the Pico-Robertson Korean-Jewish Alliance doing, Luke?)

I hope I can entertain Luke that much when he's in London. I'll have my work cut out for me, as he was yesterday served with a lawsuit from Jeff Wald.

Another weird Luke story: I once dated a guy who said to me one day, when we were talking about internet personalities, "Have you ever heard of Luke Ford?" I said that I had, but not that I knew him. The guy then excitedly told me about how, when he and his friends had gone on holiday to LA, they actually saw Luke Ford in his serial killer van, and how excited they had all been to spot a real celebrity. "You have no idea how much Luke would love that story," I said. (For some reason, I didn't repeat the story to Luke for a long time, and I told it to Cathy before I told it to Luke. I hope it makes him feel good when he thinks about it.)
Bye Bye Diaspora, Hello 'New Jews'
Graduate student (can you tell?) J. Shawn Landres writes in the latest Jewish Journal:
Earlier this month, I participated in a consultation on "Jewish community in an era of looser connections." Despite the presence of various paradigm-shifting luminaries, more than one reference was made to three absent influences, specifically, two people and a book.
Chaim writes: "And the sad thing is, these people get grant money. Who? People who write about others who are building a "manipulative identy building agenda." You too have poles. Your torah pole. Your blogger pole. You should get a grant to explore this further in terms of queer theory and transgressive identity politics in the age of protofascism. Should not the socially marginal be free to write their own life stories?"
Tommy Tinxalicious writes:
Faggotry is poison to any society. I am willing to tolerate them in selected occupations; I can tolerate them in other areas so long as they at least pretent to pay obeisance to our dominant hetero culture, but this whole queer thing has gone way out of hand.

The one and only tv show that I watch is 24. This season the cast includes one Jean Smart, who was the bosomy gal on "Designing Women". Now she is in her mid to late forties, and she proves an important point: few physical attributes serve a woman better in her latter decades than a great rack. Great rack, smooth white skin, shapely gams. On the other hand, a degree in feminist/queer studies does not get her as far.
I was talking to a Jewish bachelor Friday night who said we should go to Mexico and South America to find a loving wife.
A 19-year old Jewish boy weighs in on white male/asian female pairings on CraigsList: "I think this relationship is popular because a lot of white women refuse to open up to us white guys, you are like a shell. This whole working woman liberal feminism thing will destroy the white race in new york city. We white guys love you white women, we want you, if you just stop putting relationships second to your job. Asian women are just EAGER to be in a relationship, they put it first, that is why, even though I don't support it, A lot of white guys go the asian route. Just open up to us and let us white guys into your shell of feminism, we are supposed to be together, don't be brainwashed by the feminist lie. just remember, no matter what, we white guys LOVE you white girls better than anyone else, you are us and we are you."
Such wisdom in one so young.
Chaim writes:
Between careerism and promiscuity, the white woman is sealing the fate of the white race -- the two pincers that white men must push against. We must contend with the White Woman stepping on our pride as she claws her way to the top, and also with the Yellow Woman, pulling on our penis. Even YellowWoman without any intention of having our children is a menace. She drains us of the will to break through to the white woman. I know a Jewish Man who says he wants to marry a Jewish woman, but he's dating YellowWoman now, and does not have the strength in him to fight her off.

I'll bet you could clean up if you focused in on Yellow women. If I were you, I'd leave the southern asiatics to rum, and key on Manchu, Korean, and Japanese women.

The Black Woman has almost no visibility in your worlds. Not in temple, not on the set, not at parties way up in Malibu, not amogst the smart set of bloggers. She has been overlooked to the point where she often cannot even get a pap smear that white and yellow women take for granted. Thank you, Dr. Reverend Martin Luther King.
More from Craigs List: "All males likes Asian females, no females like Asian males. All females like white males, no males like black females. In short, Asian males and black females have it tough, they should hook up."
Jane writes me: "Your posts remind me of a elderly (and brilliant) Chinese colleague of mine that once said to me: "I specialize in daughters, and my daughters specialize in Jewish husbands.""
Beth Jacob Honors Predator-Rabbi Aron Tendler
Aron Tendler was seated on the bima (elevated pulpit-like area in front of the shul) at Beth Jacob Saturday morning. Rabbi Steven Weil (who's kicked more than 50 people out of his shul since taking over about six years ago to create, he says, a safe haven for his members) said a few laudatory sentences about Aron Tendler. It's an annual thing for Rabbi Aron Tendler to come to Beth Jacob (and perhaps say a few words in honor of his grandfather Rabbi Moshe Feinstein).
I Pray With Black Christians At Friday Night Live
The Gwen Wyatt Chorale joined cantor Craig Taubman, Rabbi David Wolpe and charismatic black Reverend Mark Jones in a Sabbath service that commemorated the birth (1/15/29) and life of Martin Luther King.
Afterwards, many people told me they thought it was the best Friday Night Live ever (it's been running since early 1998).
Rabbi Wolpe and Cantor Taubman stood at the bima (pulpit) with big smiles.
"You sparkle," Rabbi Wolpe told Craig. "You shine," Craig responded.
The two Jews felt that their clothing, compared to the black Christians, was drab. So the blacks threw some purple and gold wraps up to them. Rabbi Wolpe wore the purple and Craig the gold.
Cathy Seipp Looks Radiant
I hung with some of my best friends Thursday night at the LA Press Club party for the new book by Don Wolfe -- "BLACK DAHLIA: THE ENDURING LEGACY OF THE MURDER THE TRANSFIXED LOS ANGELES."
Cathy sat on my lap. Joseph Mailander and Emmanuelle Richard sat beside me. Matt Welch served drinks. My friend and attorney Justin Levine was near along with Luke Y. Thompson (who's healed from his nasty appendectomy). My friend Donna Barstow has published a funny new book -- Love Me or Go To Hell: True Love Cartoons.
A friend writes: "You looked very happy tonight. You must tell me your secret sometime. And Cathy looked happy on your lap. I enjoyed the two of you vicariously."
Jim writes: "You should post a pic of Cathy on your lap. I want to see where your hands were."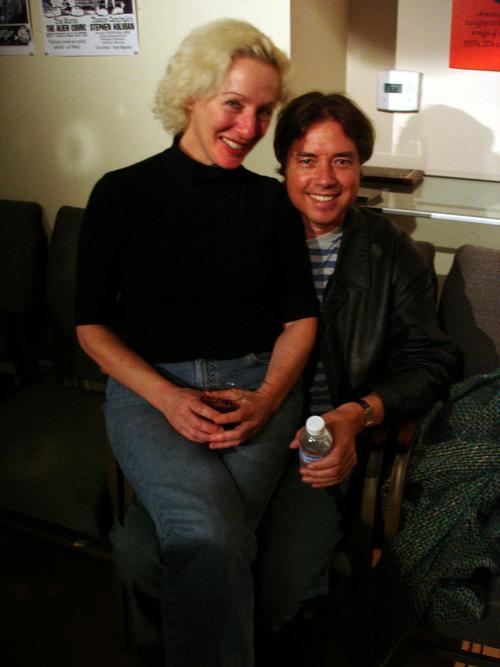 ...I also think that porn expert/former Seventh Day Adventist/current Orthodox Jew Luke Ford, whom readers here sometimes think I've made up, points to the possibility of a designer with a sense of humor -- along with giraffes, pelicans and most varieties of dogs. Here we are last night (pic courtesy Emmanuelle) at the L.A. Press Club event for the latest Black Dahlia book. (Author Donald Wolfe thinks that gangster Bugsy Siegel did it, angry that girlfriend Elizabeth Short was pregnant by L.A. Times publisher Norman Chandler).

Speaking of romance gone wrong, poor Luke has been torturing himself lately with a (behind-the-scenes) porn girl who just seems so very unremarkable, apart from the above-average skank factor. Take a look at Luke's report about how he invited himself to her New Year's Eve party, even though she'd dumped him a few weeks earlier, where he had a terrible time watching her flirt with a bunch of other ex-boyfriends. (Scroll down to the "Holly Spends New Year's Eve With a Man She Values" post.) But then, of course, outside observers never can figure these things out. And if people only got obsessed with other people who were worth it, we wouldn't have novels like "Of Human Bondage."

It's unusual, by the way, for Luke to allow a fully dressed woman on his lap. I think the last person photographed sitting there was Jenna Jameson.

Anyway, he's a bit cheerier now. (That Holly report really was like one of those Frank Sinatra suicide albums). And we had a nice time at last night's party chatting with fellow bloggers Matt Welch, Emmanuelle, Luke Y.Thompson, Christian Johnson and his wife Jody, and good old Joseph Mailander, who said he liked the way my hair looks these days even though the truth is I'm due for a root job.
If you ever want to see Cathy impaled on the horns a dilemma, ask her to decide which of my exes she thinks is the biggest skank.
Aly writes: "Can we all chip in to get Luke the domain name "Skanks_R_Us.com"?"
Joseph writes Cathy: "Is everyone just so Freudo-suave that it's simply too obvious even to mention...or is it too disturbing to note...or was it purely a happy accident that posed Luke's water bottle as a soldier rising to march...and Cathy's hands in the classic...never mind, I can't go any further, and adolescents read this blog."
PeeCee Richards writes: "What a wonderful photograph of you and Luke. Still, I'd like to know what his right hand was doing when it was taken."
Kate Coe writes: "My favorite Shelley Winters story is about her affair with Burt Lancaster. He was determined to raise her consciousness and educate her politcally. So, they're in the trailer, he's trying to interest her in some struggles of the workers and she's like all "Burt, just f*ck me so I can go home!"."
I write my new friend: "Everywhere I go people tell me I look happy. It's all due to you."
She replies: "Good, I'm so glad! I didn't expect to hear that from you; amazing what a lil [love] can do. It doesn't seem like you have any problems meeting women who are willing tho. *big hugs* I wish I could've spent a whole day with you in the room just talking & ....ing."
Doc Love Says:
...It's all right to carry bags and open doors for her. The important thing is whether or not she says "Thank you." Does she gaze into your eyes? Do they get real big when she sees you? Is she happy to be near you when you do these little things for her?

Because if she doesn't, this is the last time you're carrying her bags or opening the door or doing anything else for her. If she shows no gratitude or interest, this girl's a-goner and you're quickly moving on to a new adventure.

...When you're mingling with her and her friends, you have to gauge how much time she spends talking to you versus looking at and talking to other people around the table. Because if she pays more attention to the others than she does to you, that means she has low Interest Level.

Buddy, you're NEVER going to ask her if she wants to be your girl. She's going to have to bring it up to YOU. You'll only ask her that question after she suggests it. Begging is counter to Challenge.
'This Is More Than Sex'
Sunday, 9am. My roommate, standing in front of the mirror, says, "My lack of sleep is showing."
"How?"
"I have bags under my eyes. Why do you think I've been going around with my head up and my eyes half-closed? It's not just because I'm horny. People still tell me I'm beautiful.
"Did you accomplish everything you wanted?" she asks.
"Yeah."
"I mean at the convention."
"Yes. How about you?"
"I didn't see enough people and I didn't get laid enough."
"How often did you want to get laid?"
"I didn't mean by you."
"How many people did you want to lay you?"
"About four."
"Good luck today."
"I don't think I'll have enough time."
I walk into the parking lot at 9:30am and wait for my ride. I read my Philip Roth book, The Human Stain.
Professor Silk Coleman, 71, tells his 34-year old cleaning lady lover: "This is more than sex."
"No, it's not," she replies. "This is just what sex it is. All by itself. Don't f--- it up by pretending it's something else."
Dave Marash To Anchor Al Jazeera
Broadcasting & Cable magazine:
Al Jazeera International, the 24-hour English-language global-news network gearing up for a late-spring launch, settled industry rumors when it named ex-Nightline correspondent Dave Marash as the news anchor at its Washington broadcast center.

Marash, who covered international and domestic news for Nightline beginning in 1989, will be the senior anchor for the network's U.S. headquarters in Washington, leading the five-hour block broadcast from the U.S. each day...
Burt Kearns writes on Tabloid Baby:
I worked with Dave back in the 80s at WNBC-TV News. He was a "special correspondent," and had his own producer and a separate office down the hall from the newsroom, where he would write long essay scripts and play old jazz records. Jerry Nachman gave him a five minute spot on the 11 o'clock news, which I was producing, and the show would stop dead so Marash could blather on about aircraft parts or a Brooklyn school board while I wanted room for the story on what Bernie Goetz ate at the diner after leaving court.

Marash was "above it all" and flaunted it even then, but he had the right. He was a rumpled legend.
60 Minutes Attire
Pat writes:
Hello from Korea: A while back, I saw Mr. Ford on a 60 minutes interview. There was one part where he and Steve Croft were walking though a collection of...sets, and if I remember correctly, Mr. Ford was wearing a double breasted suit. This might sound weird, but I was wondering if someone could E-mail me a picture of that suit. I'm looking to get one made, and I'd like to use that as a template. A face shot is not necessary, just a good shot of the suit. Thanks.
Rabbi Aron Tendler's Days Numbered As Pulpit Rabbi
The notorious womanizer is finally feeling some heat from his behavior. The board of his shul Shaarey Zedek is investigating him again. This time they may not conclude that the female accusers are crazy but rather that the rabbi is a sick man (as he's confessed to many of the women he's been intimate with).
A popular excuse for not disciplining the rabbi for his behavior has been that it would ruin the shidduchim (marriage) chances of his children and deny him parnassa (a living).
Rabbi Aron Tendler has lost weight recently and shows the strain of his double life.
Rabbi Aron Tendler has told people, including women he was intimate with, that he was molested as a boy.
Instead of calling him "Rav Aron," his students was at YULA, behind his back, called him "Rub Aron."
"We were at an all-girls school," says a former student. "Our hormones were going nuts. And Aron Tendler was there. He was flirty. He had two or three buttons of his shirt unbuttoned, walking up and down the hallway. He provoked it. Kids bored in school were flirting with him. I can't say he touched people unwillingly. I think they did it and then afterwards asked, ohmigod, what happened?
"He wasn't someone who was going to force himself him on you. Years later the girls woke up later and said, this was wrong.
"Before he'd have an affair, he'd discuss the halacha [Jewish law] about wasting sperm.
"Whenever it gets down to it, Aron gets afraid and removes himself. I heard he removed himself from the RCC. I'm surprised he isn't resigning from Sharei Tzedek. He has to be crazy to want this all to go public.
"He was very careful in the girls that he picked. He always picked girls who came from troubled homes, so that if we went public, he could say that we're crazy.
"I don't judge anyone, but when you stand on a podium and portray yourself as better than everyone else, and you say that we're crazy, that's the issue I have. He's living a double life. He's been cheating on his wife for 20 years.
"When you're in the Jewish world and you look at Aron Tendler, you might think he's sexy, but when you're in the outside secular world, and you look at him again, it's like night and day.
"Aron told one of the girls that he had had an affair while his wife Esther was pregnant and she miscarried, and he always felt it was punishment for cheating on her.
"He told me stories about a woman in Beverly Hills and when her husband was away, he would go over to her house and they would just lie in bed naked together. He was all into the halacha against spilling your seed.
"He shouldn't be running a shul. If two adults want to have an affair, then have an affair. It's morally incorrect but not worth tattling about.
"[For several years after highschool], I couldn't be at an event where he didn't approach me. There could be 500 people in the room. He would make it straight to me and ask me if I wanted to go outside and talk. I thought, aren't people wondering what we're talking about? I realized he was telling people I had problems and I needed to talk to him. But really, he was flirting with me.
"When he'd walk away, he'd be standing with some single guy and they'd be looking back at me and laughing. I remember saying to him once, 'Were you talking against me?' I was so naive. I thought, he's not going to talk lashon hara [evil speech]. He's a rabbi. I must be imagining it.
"Then [fellow student and friend] would tell me things he would tell her about me, and he would tell me things about her, so finally I realized he was talking against me. When I'd bring this up to him, he'd say, 'You know I love you.'
"SSS was much more damaged by him than me. She confronted him recently. He said to her, 'I'd talk to you about it but I'm still sick.' He admits it.
"If I was him, I'd say, 'I need help.' Play the victim. Just stop telling people that we're crazy and lying. That just forces people to tell their stories.
"The Sharei Tzedek board was told two years ago these stories and all they did was blame the women.
"A letter was written to his wife Esther two years ago with everybody's story in it. Esther got it and almost had a heart attack.
"The wife had to know that what was in the letter was true because it was filled with intimate details about their marriage that he had told all of us. Even a girl who stayed in their house and the situation she had with him."
ESPN Courts Female Viewers With World's Emotionally Strongest Man Competition
BRISTOL, CT—Sports broadcasting giant ESPN, whose programming has long been a staple among male television viewers of all ages, made its first foray into women's sports programming with the introduction of the World's Emotionally Strongest Man Competition Monday.

The hour-long weekly show, which will run opposite ABC's Monday Night Football, features an international cast of powerfully caring, emotionally resilient, deeply sensitive men pushing themselves and each other to the limit with astounding feats of inner strength in domestic settings around the country.
Couple Upstairs Going At It Again
BROOKLYN, NY–For the ninth time in as many hours, the couple upstairs went at it yet again at 4 a.m. Tuesday, hammering away at one another in an impressive display of sexual stamina and tenacity, apartment-directly-below sources said.

"There they go again," said downstairs neighbor Murray Schuman, a 41-year-old bakery owner who gets up each day before dawn to decorate cakes, as a steady, rhythmic thumping knocked plaster dust from his ceiling for the umpteenth time.
NAOMI WATTS can work a slip like nobody's business, a gift she flaunts in the Peter Jackson remake of "King Kong." As Ann Darrow, the movie's spirited heroine, Ms. Watts whirls and shimmies like an overheated windup toy before the mighty Kong, sheathed all the while in a sliver of silk and lace.

She is but the latest in a long procession of big-screen temptresses - think of Jean Harlow, Elizabeth Taylor, Faye Dunaway - to have brought out the beast in their leading men while slinking around in a slip.
Judge Lisa Hart Cole May Recuse Herself From My Jeff Wald Trial
Jeff showed up to court this morning with his two attorneys. Judge Lisa Hart Cole began by drawing attention to a post by Joseph Mailander on Martini Republic about the Wald Vs. Ford case, noting I had written about Judge Cole before.
Here is attorney George J. Paukert's Opposition to my motiton to set aside the default. My attorney's reply.
The blogosphere is abuzz with the news that the world's number one moral leader, the Great Luke Ford, might be moving to British Columbia.

Mr Ford is under the impression that he's very famous in Canada. "Bigger than Sidney Crosby," he claims. "I even have groupies," he says. "Hot Chinese-Canadian groupies," he squeals.

He thinks that as soon as he deplanes at Vancouver International, he'll be mobbed by hundreds, perhaps thousands, of horny Asian girls screaming: "We love you Luke Ford! Please have sex with us!"

Holly who? indeed...
Mary writes me: "Don't go. Low crime and socialized medicine is so overrated."
Gentle reader, to you I am Luke Ford, intrepid journalist of the New Media - but I'm also something of an old-school intellectual and social theorist with the itch to gather data. Take dating. Rather than merely regurgitate the sordid details of my private dating life to the public in a book (my Jewish liberal friend Chaim Amalek thinks I should write a book entitled "J-Date Confidential"), I've decided to expand the parameters of "the Bachelor Project" by investigating what women really want, by letting them tell me what they want through a venue where they think they can express their deepest desires without fear of criticism. To that end I posted a series of personal ads on Craigslist in various cities, each describing the keen marriageable wife-seeking man that I am, with just a few details left to vary from ad to ad.
..........
Well there you have it. The sort of women who answer personal ads from putative billionaires are the sort of women who say they are not at all impressed with his wealth, yet they do not answer nearly identical ads from men that make no mention of wealth. Say what you will about women who do **rn, at least a fella knows who she is right out of the box.
Got a question? I and my team of cracker-jack advisors have got an answer. Write to Just_ask_Luke@yahoo.com and we will do our best to help you out.
PS. Does anyone know how to insert a countdown clock? I've multiple uses in mind for one or two of them.
There could be several clocks: years/days/hours since Moses received the Law on Mt Sinai; days/hours until Luke turns 40; days since "X" stomped on Luke's heart. That sort of thing.
Then I want another clock that counts down to the arrival of the Shabbos Queen. I want a cell phone service that dials the number of every Jew's cellphone exactly one hour before she arrives to herald her arrival.
I love these chicks who insist money does not count. Like a man saying looks don't count.
If a porner can make money by offering porny ringtones and video clips, then why can't I make money off of Torah commentary?
What Do Men Want?
I heard this from Dennis Prager and I believe it is 100% true -- a man wants to feel like he is the number one priority in the life of his woman. Not just the number one person, but the number one priority. The most important thing.
I just spent a lovely few days with a lovely woman. I told her I had a great time. She replied: "I'm good at making guys feel special if I want." Damn straight.
Ways to not make a man feel special:
* Take cell calls when you are out with him.
* Leave up pictures of ex-lovers around your website, home.
* Drape yourself over your ex-lovers. Kiss them on the lips.
* Don't schedule special time for just the two of you. Just call him up for booty when you feel like it.
* Talk whistfully about ex-boyfriends.
* Drive. It emasculates a man to have a woman drive him, even when it is her car. If you want to make your man feel like a man, ask him to drive. All the women I've dated who insisted on driving were ballbusters. All the women who asked me to drive made me feel like a man.
Jack writes: "You have been the only person daring enough to talk about Aron Tendler. I can't tell you how I know but a lot is going on under the surface. You want a big scoop, go find out whatever you can about this case. What is happening in NY with his brother is causing people to look into things in CA to cover their own asses. People do not one want to be held responsible for doing nothing to stop him. Some might cover things up. But some might expose him so that they are net held liable. This will be a big story."
Jane writes: "Does that happen with rabbis? Often? I hate to hear that. I like to pretend that Jews are nearly flawless, and that it's the rest of the world that is plagued with such problems."
What you do when your mom is dependent?
Maia Lazar writes:
My mother [Cathy Seipp] is now sick three days a week instead of two and this fact has destroyed her morale. She is on the verge of 'giving up' and says she cannot take 'this' [i.e the chemo] anymore. In a bleak perspective, the term giving up means facing her death. As she sobbed on my shoulder, I lightly slapped her cheek and told her she was being ridiculous and hysterical. "Mom, sure you feel like shit two days out of seven days but if you seriously prefer death to nausea, I don't admire you anymore. You can do this!" She said my previous posts about my shit called depression made her cry.
No More Blogging
Until I can stop being depressed. I've always been a bit depressed from time to time but its been getting worse gradually. I should just mentally battle it myself from now on instead of excreting it all out.

My mother does not think I am depressed. It's just a part of life. But these days seem to be more blue than gay and happy. I had a gay old time when my boyfriend visited and when my mom feels better during the weekend but other than that each day seems to be a challenge and though yes I have a healthy lifestyle with friends, I get really anxious when I go to a party and it wasn't like that before. I enter a room of old friends and I feel so self conscious I get shaky. I have doubts and am beginning to loathe myself and my thoughts. Wasn't this stuff supposed to happen a few years ago?
I Turn 40 May 28

Chaim writes: "As a mark of your devil-may-care attitude and insousiance over the prospect of soon turning forty, you should have one of those time counters up on your sites, "X Days until I turn forty." And rub it in the faces of the Juden by going to every Friday Night Live until you do. Maybe wear a t-shirt with your bday on it."



Well Plato, I'm of two minds on this. On the one hand, the libertarian within me applauds all forms of race mixing, especially this one. On the other hand, I know from experience that the increase in white male/Asian female miscegenation is but a token of the moral decline of the white woman in the west, which is not a good thing, given the numbers involved.

You see, many white men find themselves turning to Asian women because the old virtues that we men continue to value are increasingly to be found in the Asian woman, and decreasingly found in the women of our own race. Asian women tend to be serious about life, loyal to their husbands in all ways, interested in marriage and children and as devoted to raising their kids right as our bubbies (Jewish grandmothers) used to be in generations past. Plus, they are tasty, too, as they bathe without prompting from us, and are as smooth as cake. Yellow Cake.

But the white woman? Where the Asian woman sees her vagina as the sacred birth canal through which all human life begins its journey on earth, all too often the MTV poisoned white woman has turned her vagina into the anatomical equivalent of the "Love Canal" - a toxic waste dump of sewage that a man dare not enter without galoshes and a full chemical suit. Even when they deign to permit a man's semen to fuse with an egg and decide against abortion, these women often make dubious mothers, drinking, smoking, doing drugs and otherwise engaged in activities not conducive to good mothering.

If you are a white woman, either you are one of the "good ones" and have nothing to fear, or you are one of the increasing number of bad ones who should be worried, but who likely who is oblivious to this. The truth is that for you, the Asian woman is the Yellow Peril, the al Qeada of the vaginal world who through her femininity and diligence is quietly redirecting the best streams of semen away from your uterus. Be afraid. Be very afraid.
I have a new favourite website. It's like crack for me. I visit everyday. I download the videos and save them to my hard drive so I can watch them over and over (and over). They make my heart race and my pulse quicken.

I didn't use to feel this way. There was a time when I was disgusted by this sort of behaviour. How could people do such a thing, I wondered? Have they no self-control?

Now I like it -- a lot!

Not that I would ever do it myself, of course. But I sure get turned on watching two men do it.

Is it really so wrong from me to enjoy these videos?

I know Dennis Prager wouldn't approve. In Luke Ford's fascinating profile of his moral leader, we discover that when Dennis was growing up in New York City he liked to visit Madison Square Garden. And sometimes -- right in front of wee lil' Dennis -- men would start doing it! Everyone else would stand up to get a better look, but young Dennis "would stay seated to show his disapproval."

So what does My Moral Leader think? Should I stop going here?
From the Luke Fan Blogger: According to My Moral Leader, I "must" guest blog for him during his five day "spiritual retreat" in Las Vegas.

I've been given a list of topics that I can and cannot discuss: no Kitten Natividad (of course); no Holly Randall (who?); but lots about Luke -- the hovel-dwelling, moral-leading Jewish theologian.

Yeah, sure.

I haven't been reading Luke for weeks. I needed a little break from all the self-absorption.

So, after being given my guest blogging instructions, I decided to check out the Luke Family of Blogs™, including the naughty one (that I'm not allowed to mention). Perhaps, I hoped, Mr Ford has changed; perhaps he is now a more outward-focused, giving, and thoughtful human being, entering into mature, healthy relationships with other similarly well-grounded people.

Er, no.

If anything, Hovel Boy seems to be regressing.

Since I'm not allowed to discuss Holly Randall, I will discuss a completely different person: Rolly Handall (not her real name).

If I have the story right, Our Moral Leader started dating Rolly last Fall. Soon, Luke, a hopeless romantic, fell madly in love with the Shiksa goddess.

Luke's invisible friends [!] (i.e., the voices inside his head[!!]) convinced him that soon he'd be marrying Rolly and moving into her fabulous Malibu mansion (with its cosy book-lined study overlooking rolling hills, and horses, and a sandy beach, and the Pacific Ocean), and starting a family of ridiculously good-looking Aryan children (raised as Orthodox Jews, of course).

Too good to be true?

Afraid so.

In fact, Rolly didn't even know that Luke was her "boyfriend," and couldn't even be bothered to invite him to her parent's New Year's Eve party.

Undeterred, Our Moral Leader attends the big party. As he chats with prospective father-in-law Kumphrey Hnipe (not his real name), imparting some much needed Dennis Prageresque wisdom on the old boy, he can't help but notice his "girlfriend" throwing herself (all ho-like) at various "gentlemen," including ex-boyfriends. Eeeeewwwww!

Luke, the sensitive artiste-type, storms out of the house and races back to Hovelworld (in the Serial Killer Van), where he writes an angry email to Rolly announcing that the marriage is off and their relationship is over.

The End.

So what is the moral of this heartbreaking story of unrequited love/lust?

Is it that mixed relationships don't work? That a socially conservative, religious Jew like Our Moral Leader needs to stick with his own kind (who hate and reject and refuse to have sex with him), rather than running after a pagan princess (with whom he has been having weeks of blissful, chemically-enhanced sex)?

Hell, no!

The problem is that Luke Ford is a narcissist, and he must be the centre of attention in a romantic relationship. His partner must play the supporting role -- financial and emotional -- paying his (modest) bills and constantly stroking his fragile ego. Rolly, alas, is also an attention hog. She even has her own interior-type blog: a tell-tale sign of NPD.

Let's be real: there can only be one superstar in a successful relationship. Around here that superstar is Luke Ford. And don't you forget it!